When we think of utility companies, we simply think of a boring regulated business providing a steady dividend income stream. The business is a necessity in our lives so much so that it needs to be regulated.
I would say that utilities have a place in every portfolio to provide safety and regular income. How much of it depends on your investment goals. Will utility stocks be impacted when interest rates go up? Possibly is the answer. It is still a stock and investor will compare the rate they can get for less risk whenever they can. In broad terms, the only difference between a bond and Fortis when it comes to income is that you can also get a profit from the stock appreciation.
Fortis Summary
As you can see below, while Fortis (NYSE:FTS) grows organically through population growth, it mostly grows its business through acquisition. Fortis's latest acquisition of ITC Holdings Corp. gives the company a large presence in the U.S. and will allow the company to generate 61% of its operating earnings from the U.S.
Stock: [TSE:FTS]
Market Cap: $16.74 B
P/E: 22.44
Dividend Yield: 3.85%
Dividend Payout Ratio: 86.49%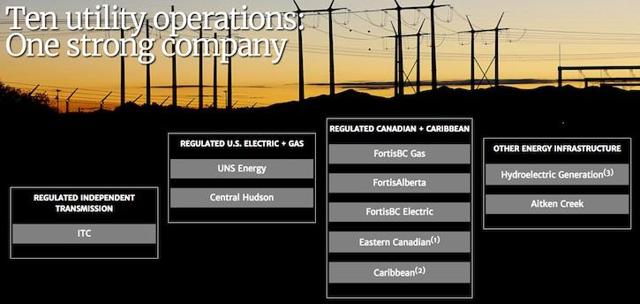 Source: Fortis corporate site
Here are the drivers of revenue for Fortis and the potential impact on the top line for the company. As you can see, the ITC acquisition will have an impact moving forward.

Source: Fortis Investor Relations
Core Metric #1: Dividend Growth
Fortis Inc. is not only matching the US Dividend Aristocrats requirements of 25 years of dividend increases, but it is also nearing the Dividend King status with 42 years of consecutive dividend increases. I refer to it as a Canadian Dividend Achievers with 10 years of dividend growth considering the Canadian Dividend Aristocrats list only needs 5 years.
Below are the numbers for the 3, 5 and 10-year CAGR. The growth is in line with what you would expect from a utility company. It's not high growth since the revenue is mostly regulated. As it stands, Fortis has committed to increasing the dividend by 6% through 2020 (Source: Fortis Events & Presentations).
3-year average of 4.49%
5-year average of 5.15%
10-year average of 9.03%
Canadian Utilities (OTCPK:CDUAF) and ATCO (OTC:ACLTF), the parent company of Canadian Utilities, currently outperforms Fortis Inc. in the dividend growth front, but the source of revenue streams differ greatly.
Core Metric #2: Dividend Payout Ratio
On average, the dividend payout ratio appears to hover around 70%, which is in line with utilities. Only Emera (OTCPK:EMRAF) is doing slightly better.
3-year average of 71.83%
5-year average of 71.12%
10-year average of 66.09%
Core Metric #3: Consecutive Dividend Increases
Fortis has the longest streak of consecutive dividend increases in Canada with 42 years. I don't see them breaking that anytime soon and considering only one cent qualifies, we can assume they can achieve that unless a new power source becomes available…
With that said, growth is the name of the game for investors and one cent doesn't represent much growth. Being a utility, it's understandable that 6% is considered good growth. If we can believe that they can deliver 6% through 2020, we can pay attention to how they do it. Will it be by growing the earnings or by increasing the payout ratio?
Investment Philosophy #1: Business Quality
As mentioned, the utility business is boring but everyone needs energy. It's usually an oligopoly when it comes to the presence within a province or a state. Organic growth is either through renewable energy, storage, or distribution while new customer growth is executed through acquisitions.
Very few competitors exist when it comes to providing electricity or gas to homes and gas marketers have not made much of a dent in the business. We can conclude the revenue from customers is locked and you have to look into management's ability to control cost and do smart business acquisitions.
I expect more acquisitions, or consolidations, between utility companies and some synergy towards renewable energy while the non-environmentally friendly sources of energy are phased out.
Investing Opportunity Score: 66%
Based on my Opportunity Score formula, Fortis has a score of 66% (the higher the better) for being an investing opportunity. Above 60% is a good range to pay attention to timing. Anything around 80% will have a short window of opportunity unless the stock got beaten down.
I hold a few utility companies in my portfolio and I believe your portfolio should have some exposure to the sector for a good diversification. It's a matter of establishing how much exposure to the sector you want to have.
Disclosure: At the time of writing, I am long FTS. See my Stock Portfolio for my current holdings.