Yesterday I wrote an article on STAG Industrial (NYSE:STAG), a REIT that is expected to generate steady earnings and dividend growth in 2017. As I explained in the article,
some property sectors are likely to perform better than others and the Trump presidency should become a catalyst to drive earnings for many REITs.
Some readers commented that my article was "too political" because I mentioned our new President and failed to address the investment attributes of the investment alternative.
My response to that is that I'm an investor and I'm always seeking catalysts that could move shares in a REIT that I own or would like to own. Voting is over and whether or not you like or don't like Donald Trump, we are all investors who are hoping to generate sound returns on hard-earned principal.
As I explained, I view the Donald Trump presidency as a catalyst (for most REIT sectors) that "should lead to rising demand for commercial real estate space or as President John F. Kennedy once said about economic development that "a rising tide lifts all boats."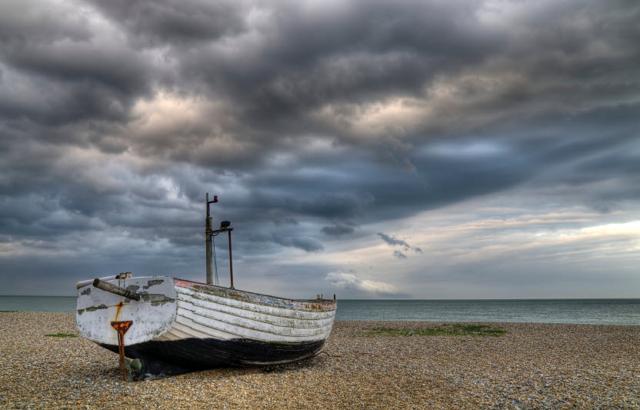 A Smart REIT Driven by Smartphones
In the upcoming edition of the Forbes Real Estate Investor, I am providing a sector-by-sector outlook that will include my top picks in each category. One of the sectors that I am bullish on is the Cell Tower sector. We like Cell Tower REITs because the sector boasts stronger organic growth rates compared to the other REIT peers.
Back in June 2016 we explained that Crown Castle (NYSE:CCI) was "priced for perfection" and since that time shares have returned ~10%. As a result, we decided it was a good time to take another look at this Cell Tower REIT.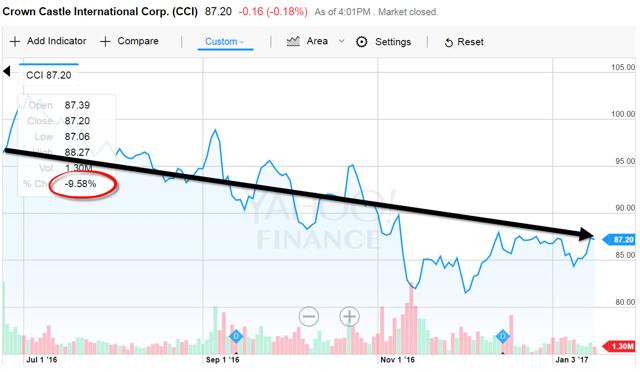 CCI is a wireless infrastructure landlord and the company commenced operations in 1994. On January 12, 2007, it completed the acquisition of Global Signal Inc., a rival U.S. tower operator based in Sarasota. Then, in 2011, CCI purchased NextG Networks for around $1 billion. In September 2012, the company entered into a lease agreement with T-Mobile USA (NASDAQ: TMUS) and another deal with AT&T (NYSE: T) in 2013.
CCI completed the $1.6 billion sale of its Australian assets in May 28, 2015, and at the time of the sale, the Australian portfolio was 77.6% owned by CCI, and the REIT generated net proceeds of around $1.3 billion.
Yesterday CCI announced it had completed its previously announced acquisition of FPL FiberNet Holdings, LLC and certain other subsidiaries of NextEra Energy, Inc. (NYSE:NEE). CCI had come to a $1.5 all-cash arrangement at the beginning of November, with the deal set to extend its fiber network by 11,500 route miles in South Florida and Texas, about 6,000 of those in metro areas.
CCI now owns, operates and leases shared wireless infrastructure, including: (1) towers and other structures, such as rooftop towers, and (2) small cell networks supported by fibers. The cell towers have a significant presence in each of the top 100 US markets, and as of Q3-16, the company owns, operates and manages approximately 40,151 towers in the United States.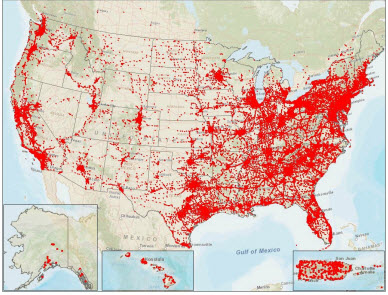 CCI is the only Cell Tower REIT that focuses exclusively on U.S. assets and the other largest Cell Tower REIT is American Tower (NYSE: AMT) - I will reference valuation at the end of this article.
CCI's core business is providing access, including space or capacity, to wireless infrastructure via long-term contracts in various forms, including license, sublease and lease agreements. The company seeks to increase site rental revenues by adding more tenants onto wireless infrastructure, which is expected to result in significant incremental cash flows due to relatively fixed operating costs. Here's a snapshot of its top customers:

During the first quarter of 2016, CCI changed its operating segments to consist of (1) towers and (2) small cells. The growth opportunity from small cells, combined with the growth from CCI's towers, uniquely positions the company to capitalize on the evolution of wireless networks through the extension of the shared infrastructure model that continues to efficiently and cost effectively serve carrier needs.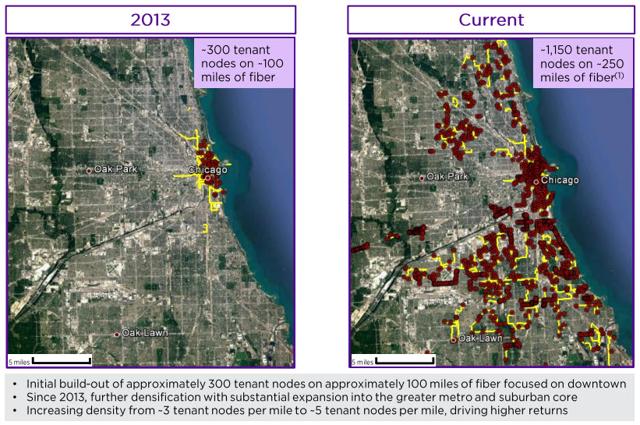 Chicago Example:
In 2013, CCI had approximately 300 tenant nodes on air on approximately 100 miles of fiber or approximately 3 tenant nodes per mile of fiber. Of these 300 nodes, approximately 90% are focused in the downtown area. Fast forward to today, CCI has approximately 1,100 nodes on air and under construction on 250 miles of fiber, with the tenant nodes density at approximately 5 tenant nodes per mile. This results in a yield on investment in Chicago of about 10%.
The expansion beyond the central business district into the surrounding Chicago suburbs is an example of why CCI believes the total addressable market for small cells will be so significant. Chicago is representative of what CCI is seeing throughout major U.S. metro markets.
The Balance Sheet
During Q3-16, CCI accessed the investment grade bond market to issue $700 million of unsecured notes to refinance debt maturities coming due in 2017 and borrowings under the credit facilities.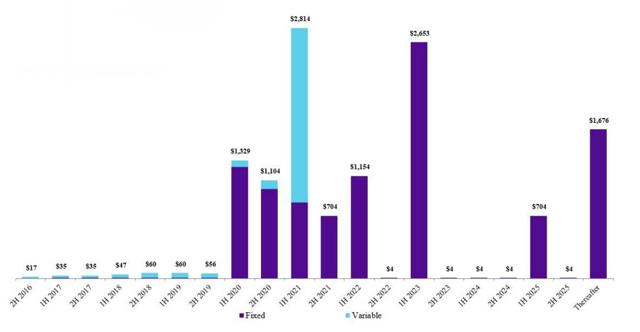 CCI has no significant maturities between now and through 2020 with ample liquidity under the credit facilities and approximately 80% fixed rate debt.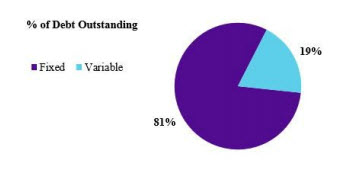 Fitch affirmed CCI's long-term issuer default and senior unsecured debt ratings at BBB- and maintained the company's stable ratings outlook.
Among other things, Fitch credited the affirmation to CCI's strong recurring cash flows from its tower portfolio, leasing business and robust EBITDA margins; its deleveraging progress thanks to EBITDA growth; and its recent $461 million acquisition of Tower Development Corp., which the rating agency believes is relatively leverage-neutral and is likely to inject up to $27 million into CCI's site-rental gross margin.
Fitch also affirmed CC Holdings GS V LLC's BBB- long-term issuer default and BBB senior secured note ratings. Crown Castle Operating Co.'s BBB- long-term issuer default rating was withdrawn, as the subsidiary repaid its debt.
This credit profile underscores the stability and quality of CCI's long-term cash flows, and it lowers the company's overall cost of capital, which is an advantage in CCI's business of providing shared wireless infrastructure. Following the $1 billion offering, the only debt maturity that CCI has prior to 2020 is a $500 million tranche of notes due at the end of 2017.
CCI's goal is to match the quality of the business with a strong balance sheet, and because of the investment grade balance sheet, the company has access to deep, stable and low cost of capital. In addition, it provides CCI with financial flexibility to pursue potential investment opportunities.
The Latest Earnings
CCI's Q3-16 results for site rental revenues, site rental gross margins, adjusted EBITDA and AFFO each exceeded the high end of the previously provided Q3 outlook, reflecting the continued strength of the overall operating environment. For AFFO, the quarter benefited from $7 million in lower than expected sustaining capital expenditures.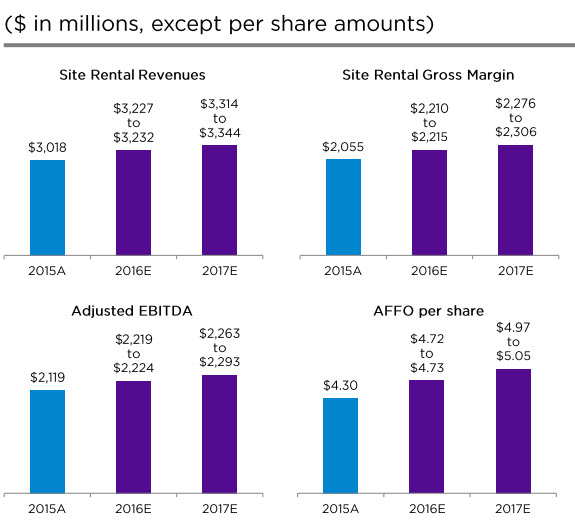 At the midpoint, CCI's updated full year 2016 outlook for AFFO per share of $4.73 is up 10% compared to 2015. This growth includes approximately 200 bps of benefit from acquisitions.
The above-referenced Fibernet deal should be immediately accretive to AFFO at the closing and that saw contributions of $105-$110M to gross margin from the deal.
CCI provided outlook for full year 2017 results, which at the midpoint caused AFFO per share of $5.01, up 6% over the updated 2016 outlook.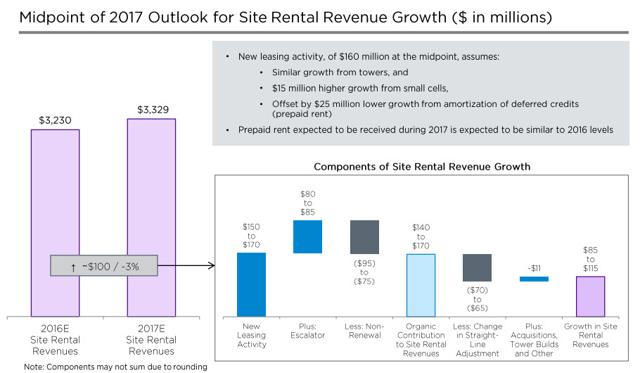 Additionally, CCI increased its dividend by 7% from an annualized $3.54 per share to an annualized $3.80 per share, demonstrating strong belief in the growth in the cash flows. During Q3 CCI returned dividend to investors of $299 million or $0.885 per share.
A Rising Tide That Lifts All Boats, Part 2
As I referenced above, CCI is our top pick in the Cell Tower sector, based upon the company's reliable and predictable dividend history. In addition we find CCI more attractive than AAT based on valuation. Take a look at the FAST Graph for AAT below: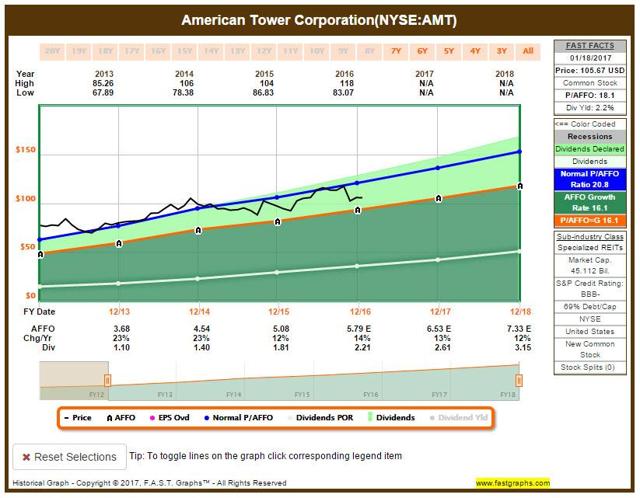 As you can see, AMT's dividend yield is 2.2%, but we prefer the higher yielding CCI: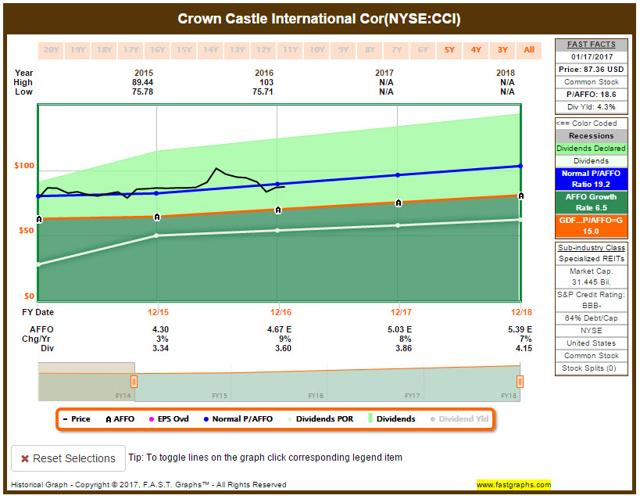 As you can see, CCI boasts a dividend yield of 4.3% and the P/AFFO valuation is 18.6x.
CCI's fundamentals provide confidence in the company's ability to increase AFFO and dividends per share by 6% to 7% per year over the coming years, which when combined with the current dividend and yield of approximately 4.3% offer a very attractive risk/return profile.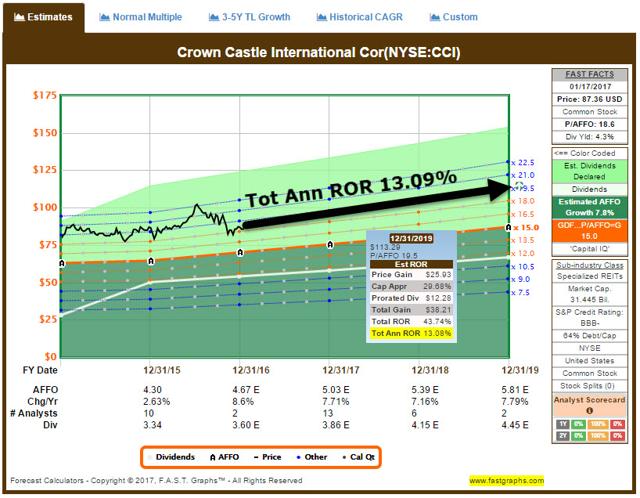 CCI will provide Q4 earnings results on Jan. 25th.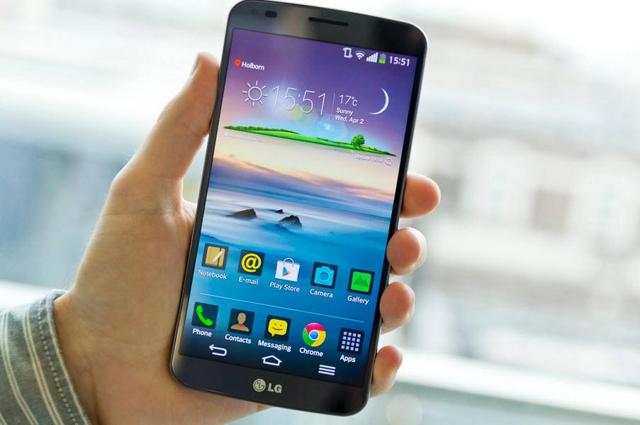 Note: I will be attending the presidential inauguration this week and I will not be returning messages as timely as usual. It is an honor to be attending this historic event.
Join me at the DIY Investor Summit where I share detailed tips on my core investment strategies, top advice for DIY investors, and specific ways I'm positioning for 2017.
I am honored to partner with Seeking Alpha and Investor in the Family as a presenter at the DIY Investor Summit. In total, 25 of the best investors on Seeking Alpha have gathered to share detailed tips on our core investment strategies, top advice for DIY investors, and specific ways we're positioning for 2017.
This is a unique event that you will not want to miss. FREE REGISTRATION IS NOW OPEN (for a limited time). Learn more by clicking here.
Source: FAST Graphs, and CCI Filings.
Author Note: Brad Thomas is a Wall Street writer and that means he is not always right with his predictions or recommendations. That also applies to his grammar. Please excuse any typos, and be assured that he will do his best to correct any errors if they are overlooked.
Finally, this article is free, and the sole purpose for writing it is to assist with research, while also providing a forum for second-level thinking. If you have not followed him, please take five seconds and click his name above (top of the page).
Disclaimer: This article is intended to provide information to interested parties. As I have no knowledge of individual investor circumstances, goals, and/or portfolio concentration or diversification, readers are expected to complete their own due diligence before purchasing any stocks mentioned or recommended.
Disclosure: I am/we are long O, DLR, VTR, HTA , STAG, GPT, ROIC, HCN, OHI, LXP, KIM, WPC, DOC, EXR, MYCC, TCO, SKT, UBA, STWD, CONE, BRX, CLDT, HST, APTS, FPI, CORR, NHI, CCP, CTRE, WPG, KRG, SNR, LADR, PEB, BXMT, IRM, CIO, LTC, DEA, NSA, HASI, VER, SRG, SPG.
I wrote this article myself, and it expresses my own opinions. I am not receiving compensation for it (other than from Seeking Alpha). I have no business relationship with any company whose stock is mentioned in this article.