On Wednesday, February 29, gold plunged 5.0% and silver plunged 5.7% presumably because traders had incorrectly bet that Ben Bernanke would use the occasion of his semi-annual Congressional testimony to either announce or telegraph a third round of quantitative easing (QE3). Indeed, Bloomberg reported the following:
In the week ended Feb. 21, hedge funds and money managers boosted bullish bets on gold futures by 9.9 percent to 179,132 contracts, the highest since Sept. 13, the latest government data showed on Feb. 24.
It is likely not a coincidence that the last time big traders crowded into the gold trade, it also preceded a large drop in gold and silver.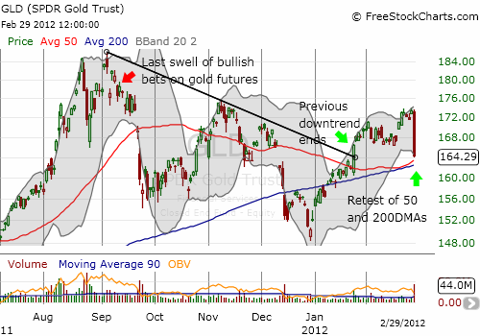 The SPDR Gold Trust (GLD) plunges for a second time in six months.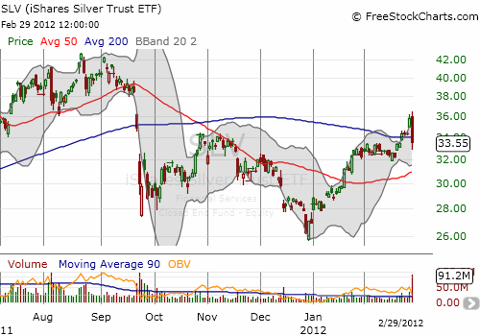 iShares Silver Trust ETF (SLV) accompanies gold on a wild ride.
Notice that in the charts of both GLD and SLV (using the ETFs as sufficient proxies for the trends on spot prices), the large one-day sell-offs have nearly invalidated recent breakouts. GLD is clinging to support at its 50-day and 200-day moving averages (DMAs) and its breakout from the previous downtrend from September's highs. SLV had just broke out above its 200DMA and looked primed to finally recover all its losses from September's sell-off.
Given the size of the sell-offs, I have to assume that the traders who were betting on QE3 or otherwise over-leveraged for short-term bets are washing out of these trades. These weak hands can cause a lot of noise when they all try to exit the same trade at the same time. Once this washout exhausts itself, both gold and silver will offer the intrepid trader and investor the next big buying opportunity in these precious metals.
I would like to think that the current support levels will hold firm, but I doubt it. Neither the 50 nor the 200DMAs provided much support earlier, so there is little reason to believe this time is any different. In fact, to the extent that strength in the U.S. dollar equates to lower gold and silver prices, the dollar's potential to rebound on a brief relief rally suggests that gold and silver have a little more downside.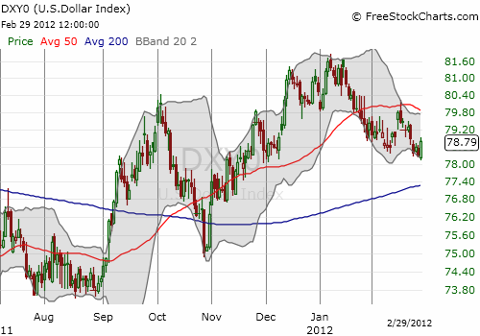 The U.S. dollar's recent slide comes to an abrupt end.
As an initial guess, a relief rally could take the dollar up another 1.3% to its 50DMA for another retest (that I think will fail) or another 3.8% to retest the highs for this year. Either way, it makes sense for new buyers to stay patient and let this latest noise work itself out.
Even I am guilty of piling into the short-term trade by buying calls on Monday in the Market Vectors Gold Miners ETF (NYSEARCA:GDX) in anticipation of what I thought was a high chance of a fresh breakout (see my twitter feed for the announcement of the trade using the #120trade hashtag). Just ahead of the big sell-off, I even tweeted proudly that I was going to hold onto my GDX position even as its profit swelled. I completely overlooked the Fed announcement, and I am frankly surprised anyone is still trying to place bets on another round of quantitative easing. The Federal Reserve's promise to keep interest rates low through 2014 is accomodative enough for me to stay long-term bearish on the U.S. dollar (versus precious metals).
In late September, I insisted the sell-off in gold and silver set up buying opportunities. I think this latest cycle is little different from the last in that respect. Gold and silver bears will lick their chops as their broken clocks strike midnight one more time in eager anticipation of a collapse. Let's first see whether they can break the lows from December. I remain eager to add to my long-term positions at a discount. Until then, if you so dare, you can buy a little Proshares Ultra Short Silver (NYSEARCA:ZSL) as a small hedge or a pure speculative trade as teh fund attempts an impressive bounce from all-time lows (technicians will notice the bullish engulfing pattern).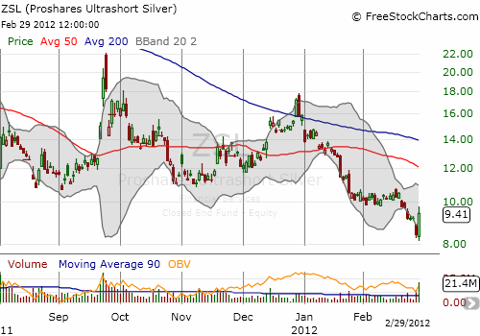 ZSL surges off its all-time lows on heavy buying volume.
Source for all charts: FreeStockCharts.com
Be careful out there!