As we expected, Netflix (NASDAQ:NFLX) blew past analyst estimates in Q4 and shares are up more than 8% in after-hours trade. Although the stock has had quite the run-up over the past several months, we continue to see upside as the company's underlying growth story is strengthening with original content, international growth, and margin expansion. Leverage remains a concern, but there are already signs of high-growth returns, so we remain bullish on the stock's long-term growth potential.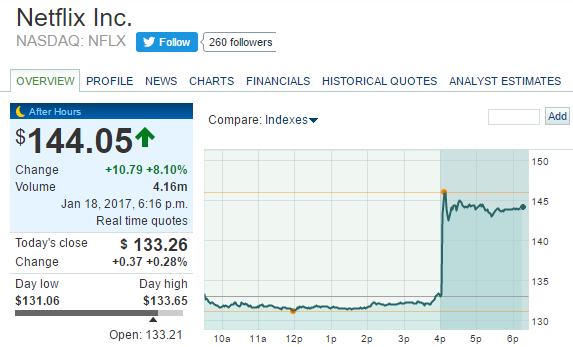 (Source: MarketWatch)
We have 3 key takeaways from the report.
Despite a larger base, sub growth is accelerating, even in supposedly "saturated" markets like the US. With 7m net adds in the quarter, Q4 was the company's largest quarter of net adds in its history. It is unique to see a hyper-growth company like Netflix continue to accelerate sub growth despite a rapidly growing base. This is especially impressive considering growth is being driven by both the international and domestic markets. The US saturation argument seems to be losing credence, as domestic net ad growth is actually picking up. As expected, the same thing is happening in international markets. All together, sub growth is picking up in a bullish manner (19m net ads this year versus 17.4m last year).
Original content is the growth driver, and that has long-term bullish implications for both sub growth and ASP growth. When the SVOD marketplace became saturated with competition, Netflix transitioned to developing original content to flesh out some semblance of a competitive moat. A few years later, Netflix's original content has become not only a competitive moat to secure the existing sub base, but also the platform's biggest catalyst for accelerated sub growth. In this sense, Netflix's quality and diverse original content is both acquiring new subs and convincing them to stay. This dynamic gives the company a huge and growing sub base with very little churn, allowing them flexibility with price hikes. Moreover, with big names such as Jerry Seinfield and Brad Pitt set to star in upcoming Netflix originals, we think the sub base has lots of room to grow both domestically and internationally.
The company's margins are beginning to benefit from scale, and this trend will continue. Domestic contribution margins expanded nearly 400 basis points YoY, while international contribution margins went from -19.2% in Q4 last year to -7% in Q4 this year and are expected to actually be slightly positive next quarter. Management expects operating margins, which have been trending around 4%, to push up to 7% next year. As the sub base and ASPs continue to grow, Netflix will continue to benefit from scale, and margins will continue to expand. We expect to see significant operating margin expansion over the next several years.
The biggest risk to Netflix is that its a levered growth story. The company is tapping into the debt markets to fund its working capital needs, so it needs these huge investments in original content to pay off. The past several quarters have affirmed that the original content investments are paying off better than anyone expected. While the stock is expensive here, original content fueled growth implies long-term value from a low-churn, global sub base. At only 94m global subs (3.5 billion-plus Internet users in the world) and 4% operating margins, the company has lots of room to grow. We maintain our thesis that the stock has doubling potential in 4 years.
Disclosure: I am/we are long NFLX.
I wrote this article myself, and it expresses my own opinions. I am not receiving compensation for it (other than from Seeking Alpha). I have no business relationship with any company whose stock is mentioned in this article.