When I last wrote about Wintrust (NASDAQ:WTFC),following it's 3Q'16 results, I concluded thus:
"You pay around 15x current EPS with the upside defined by execution of the growth strategy going forward. My guess is 12% annual is easily plausible given the solid starting point in asset quality and underlying sector growth rates."
Well, the stock is up 26% since then and that 15x current year has become 15x two year forward EPS, so 2018. Let's walk through the main 4Q numbers and then think about whether that valuation makes sense.
First the balance sheet, which is up strongly through the last two years with a stable loan/deposit ratio. About 13% of new loans in the quarter were acquired with the purchase of First Community Financial, meaning underlying growth was about 2% QoQ. Such acquired growth is a staple part of Wintrust's strategy and it should be able to continue in the Trump era, where there is generally an expectation of increased M&A among banks.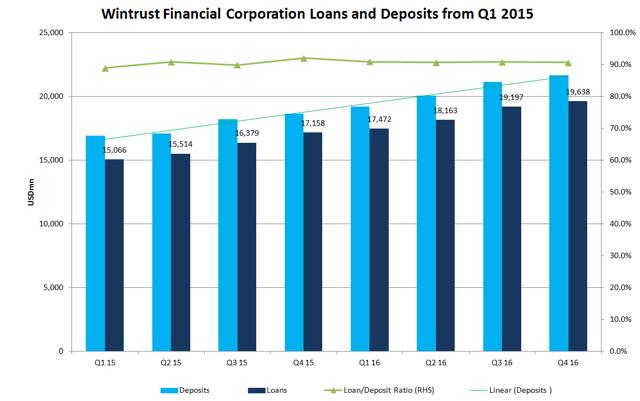 Company data
Revenue trends were solid with NII, the main revenue component growing 3.3% in the quarter and 14% YoY.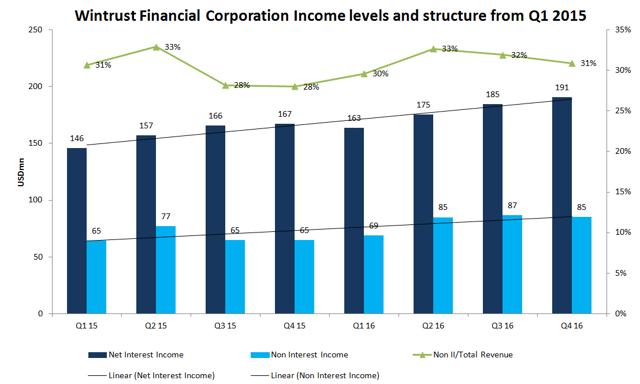 Company data
Non-interest income was fine; mortgage banking revenue grew about 3% in the quarter which is notable given that seasonality is weaker in 4Q. Wealth management edged up again. Securities gains contracted, which is no surprise given the move in yields. Qualitatively speaking, the better stuff is doing a little better than the less visible elements of the non-interest mix.
Bring costs into the picture and Wintrust is looking very good. Average efficiency in 2016 was better than 2015, depicted by the green line in the chart below.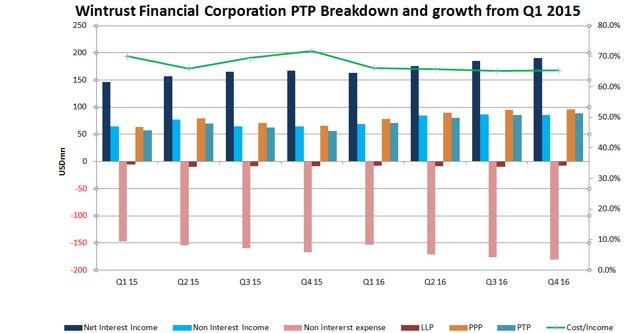 Company data
We've also seen the benefits of rate hikes coming through with a slightly stronger net interest margin (NYSE:NIM) in 4Q while asset quality has remained strong and credit costs at the low end of the typical range.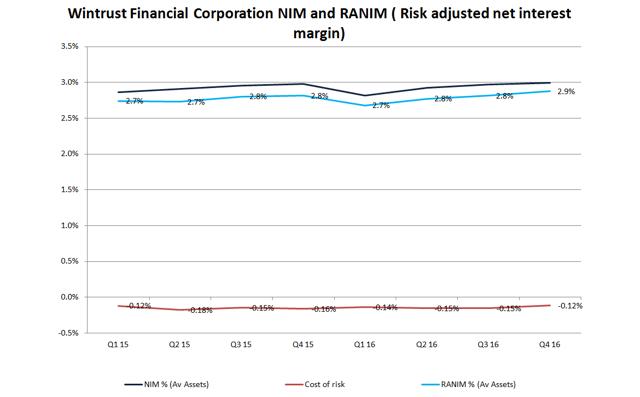 Company data
The management of the company remains conservative opposite credit allocation and also in dealing with problem loans quickly. Investors naturally have concerns about a higher rate phase for the US economy and the impact this might have on asset quality. The best stance at the moment is a wait and see attitude. While it's good to be on the lookout for a downturn in credit quality, it is hasty to expect this while real interest rates are low and when the raising policy is well telegraphed like now. Yellen's warning of a potential nasty surprise down the line if rates don't systematically, but gradually - move higher now is bang on the money.
Conclusion
After 15% revenue growth in 2016, it's clear that Wintrust can move higher assuming some kind of torque in underlying loan demand under Trump, as well as the natural tightening of labour markets and associated wage growth that is taking place anyway. The numbers below assume 16% then 17% revenue growth and a stable efficiency experience which is arguably conservative. This bank is small enough to really step on the gas if tax cuts spur a step change in growth and to my mind the shares are not really pricing this in. The below growth assumption and a 20% tax rate out in 2018 would imply a PE of 11x. I'd continue to own WTFC.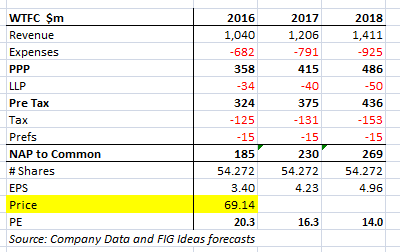 Disclosure: I/we have no positions in any stocks mentioned, and no plans to initiate any positions within the next 72 hours.
I wrote this article myself, and it expresses my own opinions. I am not receiving compensation for it (other than from Seeking Alpha). I have no business relationship with any company whose stock is mentioned in this article.