Oil prices came under pressure on Wednesday after the U.S based Energy Information Administration (EIA) released its drilling productivity report on January 17th. The WTI and Brent were trading at $51.55 and $54.42 respectively at the time of writing this article. In my earlier articles, I have stated that oil prices (NYSEARCA:USO) will continue to remain under pressure from supply side (especially the U.S oil production) in the near future. I also stated that oil prices will be mostly affected by the OPEC-non OPEC oil deal, global oil inventories and the U.S oil production. When we look at EIA's latest report on the U.S shale patch, we see that its overall output is going to increase in February.
U.S Shale patch to increase its output in February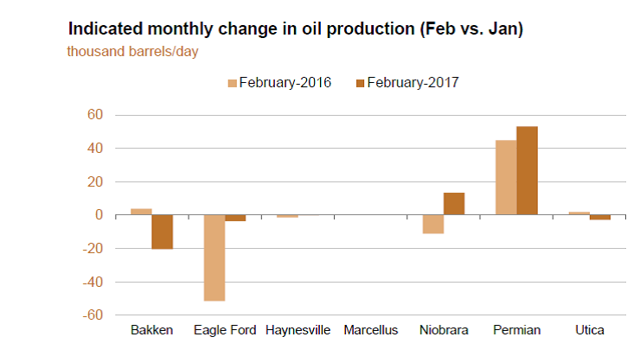 Image Source : EIA DPR
According to the drilling productivity report, crude oil production in the U.S shale patch will increase in February, and this will put an additional downward pressure on oil prices. Highest gains will be reported in the Permian region where oil production will increase by 53,000 barrels per day (month over month) in February 2017. This will be followed by 13,000 barrels per day (month over month) increase in the Niobrara region and 1000 barrels per day (month over month) increase in the Marcellus region. Although the rest of the shale patch will experience a decline in production, their overall efficiency will improve because of the increasing new-well oil production per rig. Investors must note this.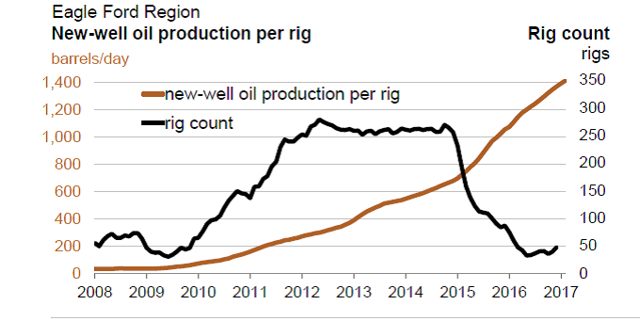 Image Source : EIA DPR
OPEC releases its monthly oil market report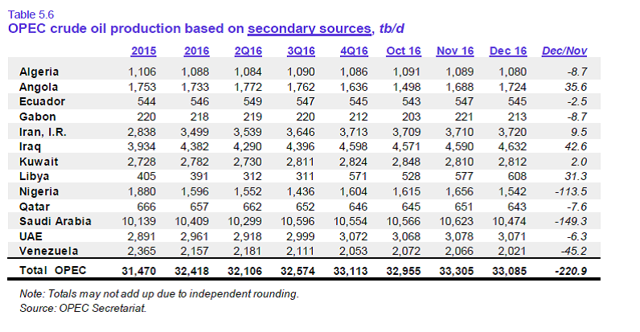 Image Source : OPEC OMR
As per the latest OPEC oil market report, the cartel's crude oil production declined by 220,000 barrels per day in December to average 33.08 million barrels per day for the month of December 2016. Saudi Arabia, Nigeria and Venezuela were the countries that witnessed the largest decline, while output increased in Iraq, Angola and Libya. If these figures are accurate, then an overall decline of 220,000 barrels per day is a positive development as it is very close to OPEC's target of 32.5 million barrels per day. However, investors must note that there are discrepancies in production figures when we compare OPEC's oil market reports for December 2016 and January 2017. As per the December report, OPEC produced 33.87 million barrels per day in November 2016. However, the latest report pegs this figure at 33.30 million barrels per day! In my opinion, oil prices will keep swinging by the market sentiments that will be guided by OPEC-non OPEC oil deal and the rising U.S oil production.
Takeaway for investors
"Some bargain hunters are happy to pick up oil at the bottom of the range. We are just watching for the next catalyst which could come from OPEC, non-OPEC, U.S. shale producers, rig count and of course, inventories. But still the market appears to be very range bound", said a Sydney based market analyst- Ben Le Brun. On Wednesday, the American Petroleum Institute (API) reported a 5.042 million barrels decline in the U.S crude oil inventories. Although this was far higher than the market expectations of a 1 million barrel decline, oil prices still went down on Wednesday. In my opinion, oil prices may move up (slightly) if even EIA reports a similar drawdown on Thursday. However, oil (NYSEARCA:OIL) (NYSEARCA:UWTI) will continue to remain under pressure because of increasing U.S oil production and decreasing optimism towards the OPEC-non OPEC production cuts. Investors must take note of this.
Disclosure: I/we have no positions in any stocks mentioned, and no plans to initiate any positions within the next 72 hours.
I wrote this article myself, and it expresses my own opinions. I am not receiving compensation for it (other than from Seeking Alpha). I have no business relationship with any company whose stock is mentioned in this article.