Trump's Infrastructure Plan
Among the many campaign promises that President-Elect Trump made last year, his pledge to expand infrastructure may be the "low-hanging fruit," as it is among the lesser controversial ideas and is likely to receive support from both parties. If Republicans and Democrats manage to agree on any of Trump's proposals, infrastructure is a leading candidate.
The Trump campaign's web page on infrastructure includes a call to... Harness market forces to help attract new private infrastructure investments through a deficit-neutral system of infrastructure tax credits. Although he obviously prefers private financing of projects, and the privatization of public infrastructure revenues, the website is short on details, so this recent paper from two of his economic advisors, Peter Navarro and Wilbur Ross, is commonly cited for specifics.
Their plan calls for $1 trillion in investment over ten years, paid for by $140 billion in federal tax credits plus the revenues from the completed projects. The idea is that builders would elect to pursue projects with the highest returns. More than toll roads and bridges, the concept could be applied to airports, water systems, passenger rail lines, and more.
CNN Money describes the process...
Under the plan, private investors could invest in an infrastructure project by putting a certain portion of money down and borrowing the rest. They would recoup 82% of their down payment through the federal tax credit. And the future revenue the project generates would cover the money they borrowed plus interest, and possibly more.
Liberals such as Paul Krugman and Bernie Sanders criticize the plan as a giant giveaway to developers.
Industry Players
Trump's election caused a spike in traditional infrastructure players like Caterpillar (NYSE:CAT), Deere & Co. (NYSE:DE), Vulcan Materials (NYSE:VMC) and U.S. Concrete (NASDAQ:USCR) - see the chart below.

Source: MyCharts
These and other companies that supply infrastructure builders were justly rewarded by investors. They figure to gobble up a significant piece of that $1 trillion pie. But what about the developers themselves - the ones that stand to gain from the "giant giveaway?" Presumably, those prime contractors would profit even more. But who are they?
U.S. Road/Bridge Building
My research led me to two names - Bechtel and Lane Construction. Bechtel is the biggest, by far, construction company in the U.S. A focus area is infrastructure, but they are also heavily involved in other aspects of construction such as oil, mining, defense and environmental cleanup. Lane is as close to a "pure play" as you can get, having been ranked the "#1 Highway Contractor" for the last three years by Engineering - News Report (Source: Lane Construction website). Other building giants such as Fluor (NYSE:FLR) and Halliburton (NYSE:HAL) are much more focused on oil.
As of January 1, 2016, both Bechtel and Lane were private companies. This explains why there are few, if any, analysts focused on the public infrastructure building segment. However, in Q1 2016, Lane was acquired by Italian infrastructure company Salini Impregilo (OTC:IPGOF) for $406 million. This represents about 30% of Salini's current market cap of EUR 1.47B.
Introducing Salini Impregilo
Salini is a major player in infrastructure worldwide. Some of their many showcase projects include the Panama Canal expansion (delivered), subway lines in Qatar, Peru and San Francisco, a freeway in Colombia, the world's tallest dam in Tajikistan and another series of three dams in Ethiopia (first one delivered). Salini has a projects backlog of EUR 38.4B (Source: Salini Impregilo H1-2016 conference call)
Salini has been steadily increasing revenues for the past several years, but decreasing margins have been a concern (see chart). Management's plan to increase margins is to focus more on projects in developed countries, and the Lane acquisition is key to this strategy. According to CEO Pietro Salini,
We are in the best possible position to achieve a winning growth strategy in the United States and this will catalyze our global growth.
The company is targeting 9% EBITDA margins in 2016 and 10% going forward.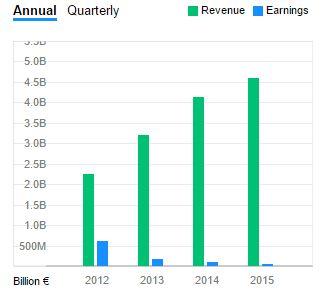 Source: Yahoo Finance
Lane Construction subsidiary
Indeed, Lane is ideally positioned to be a leader in a prospective U.S. infrastructure spending binge. According to their website...
Lane is one of America's leading heavy civil construction companies. We specialize in highways, bridges, mass transit and airport systems, as well as the power and energy sector. We are one of the largest producers of Hot Mix Asphalt in the United States. We provide full-service construction management and self-perform a majority of the work, in addition to selling plant and aggregate materials directly to our clients.
Lane is an international player, too, having won a 65% stake in the contract to expand the runways and passenger terminals at Dubai International, which will be the world's largest airport upon completion.
Lane has extensive experience in the Public/Private Partnership (P3) model, having completed the I-495 Express project in Virginia, and currently working on the Purple Line (light rail) in Maryland, and major Interstate projects in Pennsylvania (I-70), Texas (I-65) and Florida (I-4 Ultimate), among others.
Salini merged into Lane its existing U.S. subsidiary, S.A. Healy (acquired 1982), a 90-year-old leading tunnel boring company whose work includes commuter train tunnels in Chicago and Washington, DC, and sewage tunnels nationwide. They have already partnered with Lane in completing excavation of the over 4-mile-long Anacostia River tunnel to bring sewage from central Washington, DC, under the river to DC's Blue Plains treatment plant.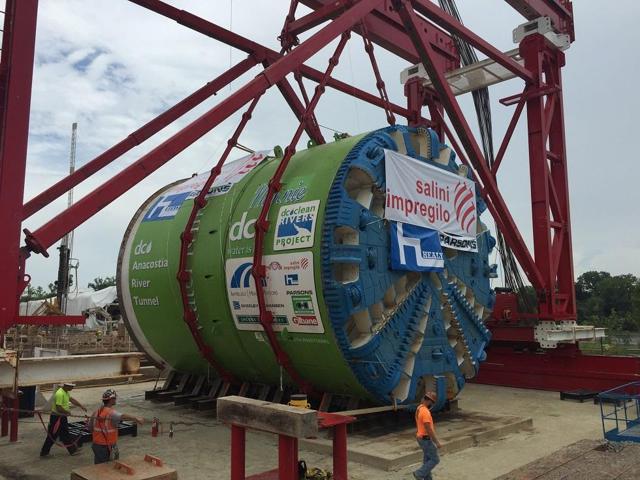 Source: Lane Construction
Stock
Salini's stock trades on the Milan exchange, in Euros, under the symbol SAL. There is a U.S. ADR, but it appears to be infrequently traded. There is a tracking symbol in the US, IPGOF. The best way to buy the stock appears to be in Milan through the Global Desk of your broker.

Source: Yahoo Finance
Salini's debt-to-equity ratio of 0.85 is considered low for the construction industry.
The stock has not been a stellar performer. Over the past year, it has traded roughly in tandem with the Italian index, suffering from Brexit last summer and the Italy banking crisis towards the end of 2016. Both Salini and the Italian index received a bounce following the constitutional referendum vote on December 4, 2016. But Salini has lagged the index all year due to the disappointing 2015 earnings.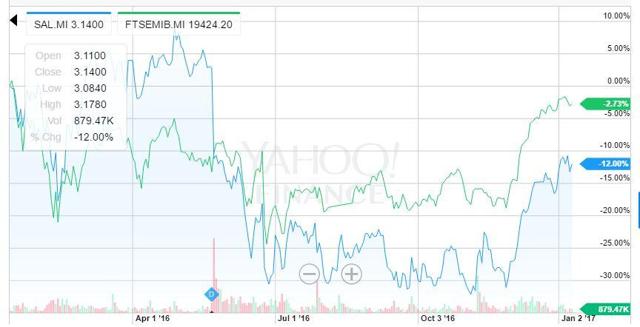 Source: Bloomberg
Opportunity/Catalyst
There are no U.S. analysts that I know of following the U.S. road- and bridge-builder sector because there has never been a public company that is anything close to a pure play. I think this is the reason that no one seems to be talking about how to invest in the Trump proposed infrastructure plan (beyond the usual equipment and material providers).
The value proposition is, quite simply, that if the plan is implemented similarly to how it was proposed, investors are quickly going to demand to know who is the beneficiary of what many Democrats are categorizing a "government giveaway," and are going to want to get in on the action. The most direct way to do this will be with Salini Impregilo.
I will not attempt to estimate an upside figure, as there are nearly an infinite number of variables and I do not have the technical tools to do so. Besides, such analyses tend to be wildly speculative. Instead, I will let the article stand as more of a market/political analysis, and an introduction to a mostly-unknown company in the U.S. market - one that appears ideally positioned to take advantage of infrastructure spending/privatization.
Risks
The Trump infrastructure push may never happen. After all, George W. Bush declared himself to be a "domestic" president when elected, but those plans were quickly derailed by 9/11. Even if there is an infrastructure bill passed, it may be drastically different than the one his advisors favor. However, with Republicans in charge of Congress and the White House, a proposal on the table to privatize new infrastructure, and the Democrats not wanting to be seen as trying to obstruct everything, I see this plan as having a good chance of being implemented.
Other risks include currency, European and global market factors, and Salini's profit margins remaining in the doldrums due to a potential failure of their strategic plan.
Conclusion
Although there are risks, I see much more upside than down. Even if Trump does not emerge with his infrastructure plan intact, and Lane does not see a surge of new projects, along with tax breaks and revenue flows from user fees, Salini Impregilo will still be a company with a 110-year history, an excellent reputation for completing some of the planet's most complex infrastructure projects, 35,000 employees, surging revenues and a vast pipeline of new work, combined with a 125-year-old company rated America's #1 road- and bridge-builder, itself newly merged with one of America's leading tunnel boring firms. And January 2017 offers an opportunity to buy SAL at a depressed price, largely owing to market factors.
This is my first article for Seeking Alpha. I hope you found it interesting and useful. I am not a financial professional, but someone who believes that there are great rewards for investors who can spot emerging trends early and identify off-the-radar companies positioned to prosper from them. I'm an American ex-pat, retired and living the good life in the Colombian Andes. I spend a lot of my time studying the markets and trading for my own account.
Disclosure: I am/we are long IPGOF.
I wrote this article myself, and it expresses my own opinions. I am not receiving compensation for it (other than from Seeking Alpha). I have no business relationship with any company whose stock is mentioned in this article.
Editor's Note: This article discusses one or more securities that do not trade on a major U.S. exchange. Please be aware of the risks associated with these stocks.