Last fall semester, I got my first internship and it was at a small real-estate firm. With real estate being one of many interests I have, I learned a lot of things about the industry.
So I decided to buy a REIT for my personal portfolio. Instead of buying a specific sector REIT (healthcare, office, etc), I decided to focus on a diversified REIT. I wanted a REIT that would provide me with a steady flow of income without much market value fluctuations akin to the stock market. After doing research on which REIT to buy, W.P. Carey, Inc (NYSE:WPC) stood out.
Company Diversification
91% of their AFFO (adjusted funds from operations) comes from owned real estate portfolio which is well diversified by property type and geographically.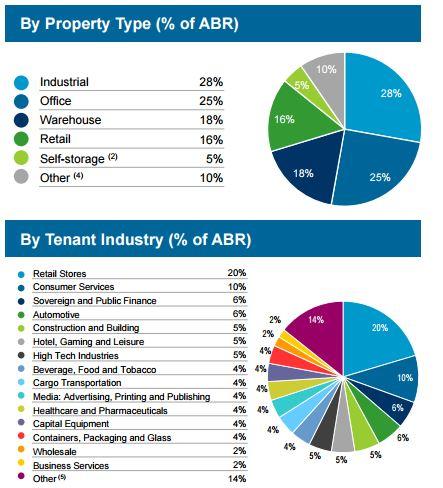 Source: Third Quarter 2016 Investor Presentation (Page 12/13)
They currently have 910 commercial properties across 19 countries with 222 tenants. No tenant accounts for more than 5% of their revenue. Majority of their revenue comes from the U.S. (63%), where real-estate developer Donald Trump was elected to be the President.
With Donald in the office, it means higher inflation due to his fiscal policies. If inflation shoots higher as expected, it would bring in more revenue for the company, with minimal exposure to operating expenses. 94.9% of net leases have rent increases, of which 66% is based on inflation and 28.9% on fixed rent increases.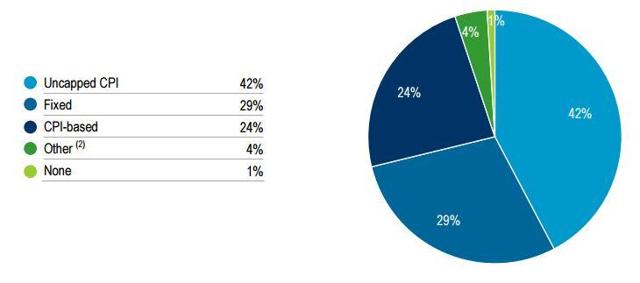 Source: Third Quarter 2016 Investor Presentation (Page 14)
Their net leases follow a model known as triple-net. Under the triple-net lease, the tenant is responsible for property taxes, insurance and maintenance in addition to the rent. W.P. Carey stands out against other triple-net lease REITs in several ways.
For one, diversification. Unlike other big name triple-net REITs like National Retail Proprieties (NYSE:NNN), Realty Income (NYSE:O) and VEREIT (NYSE:VER), Carey does not primarily focus on a specific sector and one country. The company is so diversified that they won't be negatively affected more than their competitors in case of a recession.
Valuable "Tractor"
Another big differentiator of WPC is their investment management platform. Only 9% of their AFFO comes from there, but it is a valuable and profitable "opportunity generator" with approximately $12.2 in AUM and growing.
In the third-quarter, the non-traded REIT management division's revenue grew 35% year-over-year (Y/Y), which accounted for 20% of the total revenue last quarter. The year before, it accounted for 16%. The revenue comes from being an advisor to the publicly owned and non-listed managed programs.
This channel - in addition to being an additional source of cash flow - allows the company to raise capital for new acquisitions when traditional public markets are experiencing periods of market crisis. This also allows the company to expand their footprint by acquiring its own "clients." In other words, more flexibility and M&A opportunities for Carey.
On January 31, 2014, W.P. Carey merged with CPA (Corporate Property Associates) 16 in a transaction valued at approximately $3.7 billion. The deal substantially increased the number of properties and the company's carrying value of real estate by $2 billion during year ended December 31, 2014.
Consequently, FFO (Funds From Operations) increased 135% to $455 million in 2014 from $194 million in 2013, primarily due to the acquisition of CPA 16. In 2015, it increased only 1.9%.
W.P. Carey has the second lowest FFO multiple in the group of triple-net lease REITs. The multiple stands at 12.22, below the triple-net division average of 15.36.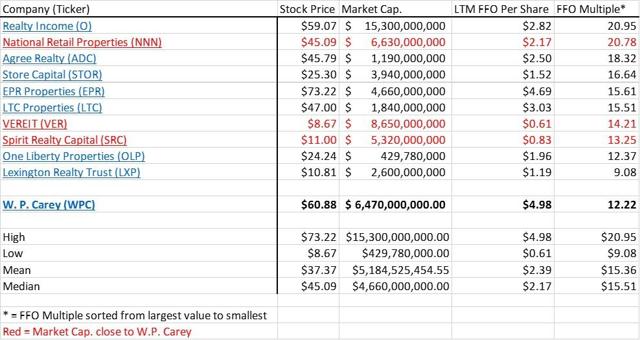 Source: Investor Relations Website and Yahoo Finance
The REITs in red color are Carey's competitors with similar market cap. The table is sorted by the FFO Multiple, from highest to smallest.
The multiple varies with markets conditions and specific REIT sectors. Instead of just comparing the multiples of "Triple Net Lease" companies, I will also compare WPC's own sector.
If we were to look at "diversified" REITS, the average multiple is 13.38 (Page 18), which underscores WPC is fairly valued relative to the sector.
Not only did CPA 16 with $3.3 billion in assets increased FFO, but also the dividend. The dividend jumped to $3.80 per share in 2014 from $3.39 in 2013, primarily due to the acquisition of CPA 16. Since going public in 1998, W.P. Carey has increased its dividend every year. WPC pays the second highest yielding dividend (6.9%) in triple-net REITs.

Source: Third Quarter 2016 Investor Presentation (Page 24)
See the big bump in dividends in 2012/2013? This occurred when WPC converted to a REIT in September 2012.
Many real estate companies can grow their FFO through acquisition, just like W.P. Carey did. As required by the law, REITs must pay out at least 90% of its earnings as dividends. Because of the low capital leftover, many real estate companies obtain a loan(s), and/or sell their assets to finance the acquisitions. In Carey's case, their investment management is unlike no other.
If the company announces another merger with their non-traded REITs in the future, expect a bigger dividend hike.
LTM (Last Twelve Months) FFO payout ratio* is 78.39%, which is higher than its peers. Triple-net lease REITs have an average payout ratio at around 76%** (I say "around" because its an estimate since I had to manually get all the data), with highest being 94% and lowest at 57.56.
Diversified REITs, on the other hand, have an average payout ratio at 66.95%***. Because I believe Carey is a strong company with growing earnings, chances of a dividend cut is very low. However, in the past three years, annual dividend growth has been slowing and might not grow as it did over the years for various reasons.
Rising Yields
Higher inflation due to stimulus proposed by Trump, such as tax cuts and increased infrastructure spending, means faster pace of rate-hikes. Trump's spending plan may be financed through debt. Deeper debt for the U.S. government translates into higher yield as foreign investors may see the U.S. assets more risky than usual. 10-year treasury yield is currently at 2.36%, up from 1.88% on the U.S. election day.
In exchange, the cost of capital rises, the lifeline REITs depend on to further grow their portfolio. 78% of WPC's total debt is at fixed rate while the 22% is at variable rate. On their 3Q 10-Q filing, they (and what basically everyone) stated,
The value of our real estate is also subject to fluctuations based on local and regional economic conditions and changes in the creditworthiness of lessees, which may affect our ability to refinance property-level mortgage debt when balloon payments are scheduled, if we do not choose to repay the debt when due. [The bold is mine]
This year, $478 million mortgage debt is due and that's all fixed.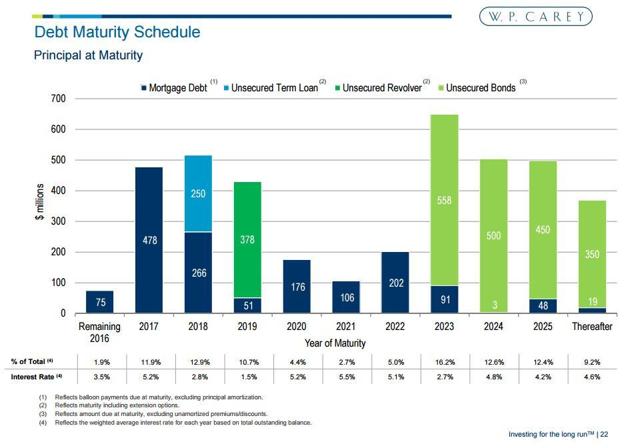 Source: Third Quarter 2016 Investor Presentation (Page 22)
They currently have just over $200 million in cash, about 23% of their total debt obligations that's due this year (both fixed and variable rate). But, I wouldn't worry too much about that at the moment as they still have money under their credit facility revolver, which can be used to fund its obligations in times of insufficient cash flow. Think of it as a credit card you have.
Some of their variable-rate loan is based on the LIBOR plus interest, which is due January 31 ($250 million), which was extended by a year last year. They can extend the maturity date by another year if they want to.
On their 10-Q filing, they also stated,
Annual interest expense on our unhedged variable-rate debt that does not bear interest at fixed rates at September 30, 2016 would increase or decrease by $7.8 million for each respective 1% change in annual interest rates. [The bold is mine]
Recently, LIBOR hit 7-year highs. Carey's debt-to-equity ratio is the second highest among the triple-net lease REITs, at 1.30, above the average and median of 0.97 and 0.90, respectively. One Liberty Properties (NYSE:OLP) is the outlier at 1.54 that's pulling the mean higher.
Because the company has been aggressively financing its growth with debt, their earnings have been violent and interest expense has significantly increased over the past five years.
REITs, just like other equities, have a second source of capital; common shares. Since converting to a REIT in late 2012, Carey's diluted shares outstanding have skyrocketed 122%. Since 2013, it increased 53%.
If WPC decides to issue more shares in the future instead of obtaining more debt, the value of existing shares will get diluted and the dividend yield increases (considering dividend amount stays the same as I believe).
It's not like the management will say, "Hey, let's cut our dividend" which will weight on shares as investors say, "Hey, you been raising dividend each year since 1998, dividend cut is a sign of trouble so we must sell our shares." Instead, the management might first do secondary offering. After its share-price falls (in theory), then they might cut the dividend. The downturn in the stock price should be only be temporary as Carey's fundamentals are strong overall, in addition to their access to foreign markets unlike other U.S. REITs.
Correlation and Beta
Not surprisingly, 10-year bond yield have a strong correlation (70%) to "All Equity REITs" yield. Not surprisingly again, 10-year bond yield have a weak correlation to "All Equity REITs" price (-75%). Not 100%, but third-quarter of it.
The REIT yield is currently at a premium versus the 10-year yield. In the past when it was also at a premium (around 1974, 1990, 1999, 2009), the REIT yield eventually caught up to the 10-year yield. This time is likely to be different, unless Congress doesn't even pass Trump's policies. Or if the Federal Reserve are forced to go back into the easing mode.
In case of a recession, the stock market tends to plunge. But REITs do not follow the stock market strongly, over the long-run. The longer the investment horizon, the less correlation there is between REITs and the stock market. REIT-stock correlation is just 28% in a five-year term.
Not only did REITs have been less tied to the overall stock market, but they are one of the sectors that has the lowest correlation to S&P 500 Index. Since 1990, REITs sector have had a 0.55 correlation with the index.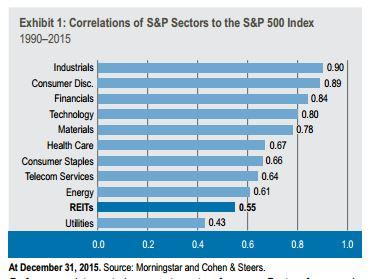 At December 31, 2015. Source: Morningstar and Cohen & Steers
REIT-market correlation is slow, so is beta. REITs are one of the lower-beta sectors, at 0.72 (green bar).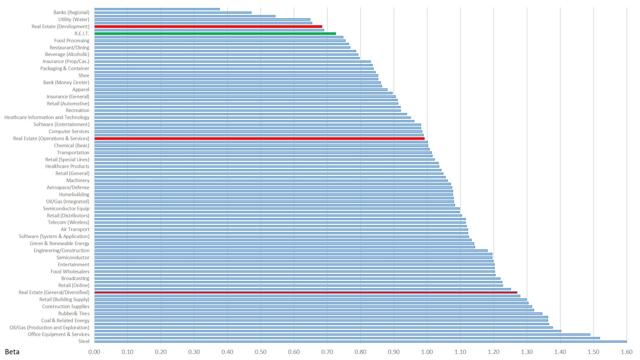 Beta by sector. "R.E.I.T" is highlighted green. Real Estate is highlighted red.
Source: New York University (excel download).
Since WPC began trading as a REIT on the NYSE (October 1, 2012), its correlation to the S&P 500 Index is 0.528. However, the beta is 0.998, mostly likely due to the fact W.P. Carey is more leveraged than its peers.
Because the company owns investments outside the U.S., they are subject to foreign exchange risk which can negatively impact their revenue and the carrying values of debt. There's also uncertainty regarding the EU elections and Brexit.
Traditional investors with stock/bond portfolio may want to take a closer look at the real estate sector. REITs provide a strong portfolio diversification with lower exposure to market volatility and attractive dividends. W.P. Carey itself is also highly diversified both by the property sectors and the global locations.
That's why I'm buying WPC, despite its risky balance sheet relative to its peers (but still manageable and has investment-graded credit ratings), and slowing dividend growth (but WPC's yield is still high).
Oh wait, there's another source of capital. Learn more about it on my Seeking Alpha article: Industry Game Changer: How The Tel Aviv Stock Exchange Is Changing US Real Estate.
*I'm using FFO because of data I had at this time of writing. I did not have all the data for AFFO. But, FFO and AFFO payout ratio tends to be close to each other in their own sector.
**Mix of LTM, 3Q YTD ratios and one AFFO ratio.
***3Q ratio
Disclosure: I am/we are long WPC. I wrote this article myself, and it expresses my own opinions. I am not receiving compensation for it (other than from Seeking Alpha). I have no business relationship with any company whose stock is mentioned in this article.
Additional disclosure: All information I used here such as multiples, beta, etc are found from the official investor relations websites, Bloomberg terminal, REIT.com, Yahoo Finance, Morningstar, Cohen & Steers and NYU Business School. The pictures you see here are my own, except for the slides from "Third Quarter 2016 Investor Presentation" and "Beta by sector."