I like finding companies that can grow their net income in good or bad economic times, and Delphi Automotive (NYSE:DLPH) seems to have the goods.
A review of their financials indicates that they are capable of delivering net income to shareholders whether sales are up, down, or flat. Although the auto sector may present some challenges during a Trump administration, I take the view that, sooner or later, people will realize that vehicle components, and electrical and electronic powertrains will need to be manufactured, and Delphi Automotive will benefit. In the meantime, the shares are priced at a steal.
A Look at Financials
I like the fact that, since 2012, revenue has been basically flat (down about .7% CAGR actually), while net income has grown at a CAGR of about 9%. This is a company that has a demonstrated ability to boost returns in the face of flatlining revenues, which is far more impressive a feat in my view than simply growing profitability in the face of growing sales. Sooner or later, every business' revenues slow, which means that they need to figure out how to deliver earnings in the teeth of anemic demand. Delphi seems to have figured that out.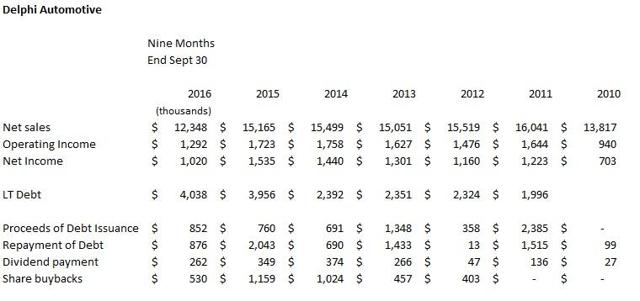 Long Term Debt
Even the most well run companies have characteristics about them that make me nervous and Delphi is no exception. Long term debt has nearly doubled from 2011 to now, and currently long term debt represents about 138% of equity. This isn't the worst I've seen, but it's distressing to me. I'm going to keep an eye on the debt level to see if the company can take levels down from these levels. I would be even more comfortable owning shares for the long term if the debt level came down. The good news is that approximately 73% of debt is due after 2023.
The Stock
As investors we need to pay as much (possibly more) attention to the dynamics of the stock as we do the underlying business. In terms of Delphi, I like the dynamics of the stock as much as the underlying business. At the moment, the shares of Delphi trade at about a 35% discount to the overall market, which I consider to be excessive. This company has been delivering sustainable results for years, and for that reason the current discount makes no sense to me.
Appeal to Authority: Insiders Know More
One of the benefits of being a relatively humble investor is that there's no difficulty in acknowledging that others know more than I do. Insiders, in particular, have insights into the operations of this company that those of us on the outside cannot have. Insiders live and breathe the business daily, which presents an individual that is far more aware than those of us who, by definition, must have a more superficial level of knowledge. With that in mind, I'm quite happy to be in the same company as the two insiders (Kevin Clark and Timothy Manganello) who bought approximately $1.8 million of the shares between late 2015 and early 2016. The fact that these, much more well informed, people were willing to put their personal cash on the line suggests to me that this is a fairly decent investment.
Technical Snapshot
As per our TrendCharts Daily Price Model the daily trend for DLPH would turn Bullish with a daily close above $72.00. The stock has been trading between $63.00 and $72.00 since the beginning of September 2016: a daily close above $72.00 would signal a Bullish breakout. A break above $72.00 could propel the stock up the $81.00 level over the next two months. On January 18 we will purchase the DLPH 19MAY17 70 Call Options which will provide us with approximately 7x leverage our on LONG trade (we prefer to anticipate price breakouts rather than wait for them to happen). Our initial stop-loss exit signal for the trade will be a daily close below $71.00.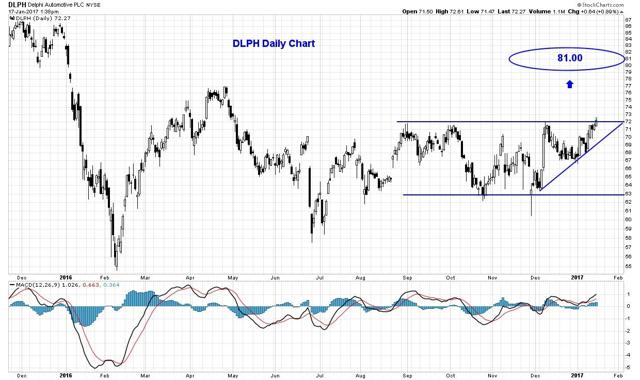 Conclusion
While I have nervousness about the level of debt here, I take heart in the fact that there's no imminent danger of a debt crisis at the firm, given its long dated nature. Since that's the only thing that troubles me about the company, I have a Buy rating on it. The shares are inexpensive relative to the overall market, the company has a history of delivering higher earnings in the face of volatile revenue, and, perhaps most importantly of all, insiders have put their own capital on the line here. I suggest investors join them.
Disclosure: I/we have no positions in any stocks mentioned, but may initiate a long position in DLPH over the next 72 hours.
I wrote this article myself, and it expresses my own opinions. I am not receiving compensation for it (other than from Seeking Alpha). I have no business relationship with any company whose stock is mentioned in this article.