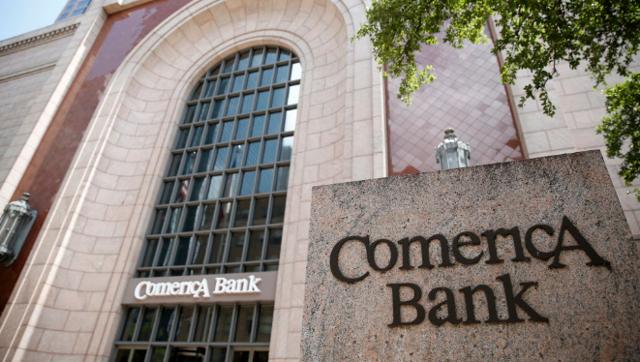 To say that I've been critical of Comerica (NYSE:CMA) in recent quarters is an understatement. I even posted last week about how expensive and overvalued CMA was heading into Q4 earnings and as it turns out, not even a decent report could keep the stock from getting hammered. With shares down better than 6% yesterday, the temptation is to buy the perceived bargain but the report itself still wasn't that great and with CMA hovering around 16.5 times this year's earnings, it is still on the upper end of bank valuations. With the stock being rebuffed from breaking out to new all-time highs, it still looks like a sell to me.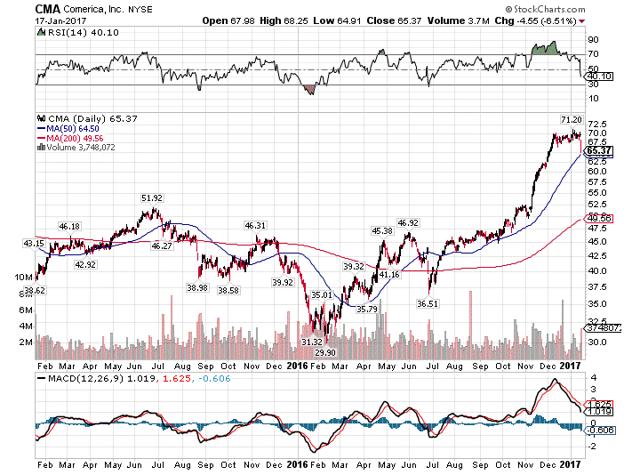 Revenue was roughly flat in Q4 against Q3 as CMA managed to come in light against my expectations. I was looking for a low single-digit gain but weak fees and lower-than-expected NII growth crimped CMA. Commercial lending fees were the culprit for the former and as for the latter, it was a combination of weak loan growth and very slightly improved margins.
I mentioned in my preview article that CMA has no viable way to grow into its massive valuation and Q4 seems to have proven that once again. Average loans were up 0.6% against Q3 so loan growth was virtually nonexistent. Part of the problem I have with CMA is that its loan-to-deposit ratio is already very high and that leaves little to no room for it to grow its loan book going forward. Its LTD ratio is still 82% after Q4 after accounting for a 3% rise in deposits and just a 0.6% increase in loans. It's great that it is collecting deposits still and 3% Q/Q growth is strong. But given its very high LTD ratio, there still isn't really anywhere for CMA to go in terms of loan growth and Q4 showed us what that looks like. I have to believe 2017 is going to look a lot like Q4 in terms of loan and deposit growth and while that is okay for safety and soundness, it is subpar for growth. Management said it would see loan growth in 2017 in line with GDP, which doesn't exactly inspire confidence from a growth perspective for a very expensive bank stock.
NII was up fractionally at just over 1% due to the rate hike and because CMA had a large amount of debt mature in Q4. The fact that it is seeing a lower cost of funding via lower outstanding debt is great and will help with margins going forward. I've consistently said this earnings season that NII growth isn't a Q4 story but that looking forward, the banks need to show us something. It's okay that CMA was up only 1% in Q4 but guidance, again, for 2017 wasn't particularly great. Management's guidance for NII increases this year is less than 4% as it reckons loan yields will compress. For a stock that is still going for 16.5 times this year's earnings, loan yield compression isn't really acceptable. CMA's ultra-premium valuation - even after yesterday's shellacking - is too high for this sort of thing.
Where CMA is doing very well is in expense reductions and we saw some of that in Q4 as noninterest expense was down about 6.5% Q/Q. That's a very strong result and CMA's efforts are certainly paying off. Its efficiency ratio moved from 68.2% in Q3 to 63.6% in Q4 so the improvement was large. But given that it is still so high after the sizable improvement means that CMA has a long way to go. I don't want to sound like a broken record but this is not what a top tier bank stock looks like in terms of efficiency ratio. CMA still has another 800bps or so to go before it would match the best, most efficient banks and guidance would suggest that sort of improvement is unlikely to say the least. This is yet another case where the valuation and the fundamentals simply don't match up.
The thing is that overall, CMA's Q4 wasn't bad, it just wasn't that good. Unfortunately for longs, investors finally figured out yesterday that CMA's valuation was pricing in excellence and what they actually saw was also-ran results. CMA just isn't anything special so pricing it like it is leads to situations where a decent earnings report sends the stock down 6%. And at its current valuation, it still certainly has some additional room to the downside. There are much better banks out there that are growing much more quickly and don't have LTD ratios of 82% and efficiency ratios of 63%. CMA still looks very expensive to me even after the selloff.
There's also the matter of it being rudely rebuffed at the $71 level, from which a breakout would have produced new all-time highs. With the stock coming off of those levels investors have made it clear no new highs are coming and that means $71 is the top until further notice. With the momentum indicators both rapidly sinking still, the rally that lost most of its steam heading into the report is officially dead. It would take an enormous buying effort from here to get CMA going again and investors have just told us that is not going to happen with the huge selloff yesterday.
CMA's fundamentals aren't particularly bad but they aren't great either and given all of the things I've discussed, there is simply no way for it to grow into this valuation either. I still think CMA's bias is to the downside and while shorting it here isn't as obvious as it was at $71, I still think there is some room. CMA is still very expensive on both an absolute and relative basis and for that reason, I'm going to continue to short it.
Disclosure: I am/we are short CMA.
I wrote this article myself, and it expresses my own opinions. I am not receiving compensation for it (other than from Seeking Alpha). I have no business relationship with any company whose stock is mentioned in this article.