In this article, I am going to discuss the fundamental environment of restaurant stocks. I am going to do this based on leading indicators and coincident indicators. Although I explain what every indicator means, it might help if you read my article about indicators. You'll learn a lot more about the importance of leading indicators.
Article: Establish A Solid Macro View Using The Top-Down Method
The first leading indicator is the ISM non-manufacturing industry sentiment for accommodation & food service companies. This index shows us the relative performance in comparison to other non-manufacturing companies. We see a huge acceleration in 2014 and a peak in 2015. Since then, there has been a steep decline. The December number is one of the lowest since 2014.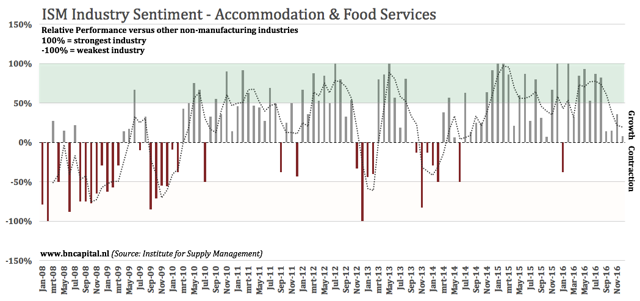 The Restaurant Performance Index, published by the National Restaurant Index, shows the same. A massive rally in 2014 and a peak in 2015. Note that this is also a leading indicator form one of the biggest restaurant organizations in the country.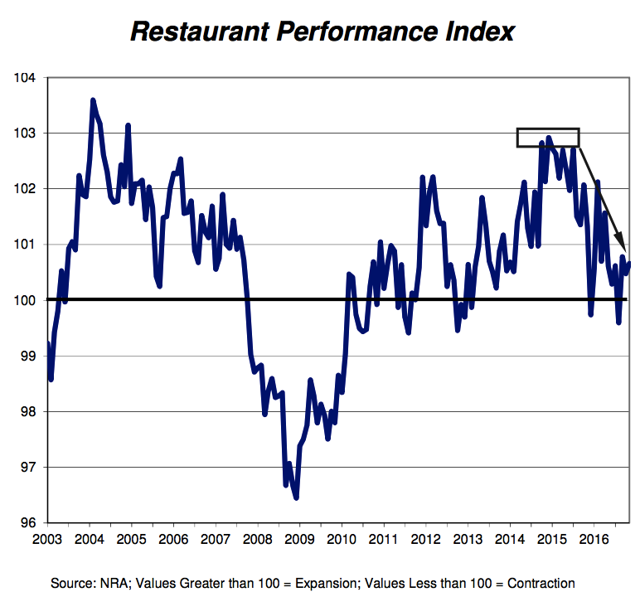 At this point, we see that two important leading indicators are pointing towards very weak growth. Both peaked in 2015 after a massive rally in 2013 and 2014. This should mean that coincident indicators have reacted accordingly.
The first coincident indicator shows food service & drinking places retail growth. Year-on-year growth has fallen below 3% after growing more than 6% in 2014 and the first months of 2015.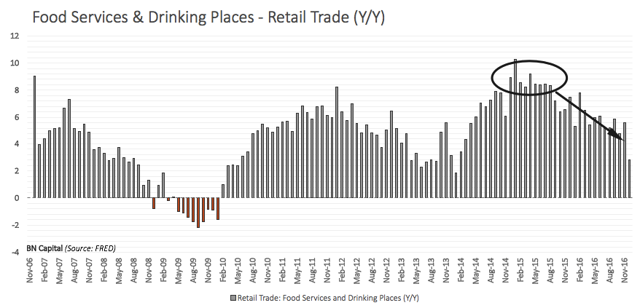 How is this affecting employment? This question is important since the food & drinking business is one of the biggest 'employers' in the US.
Total employment growth is declining since 2015. The current employment growth rate of 2% is the lowest number since 2011. Job openings are currently contracting after losing steam in 2015. Note that the job openings peak has been reached in 2014.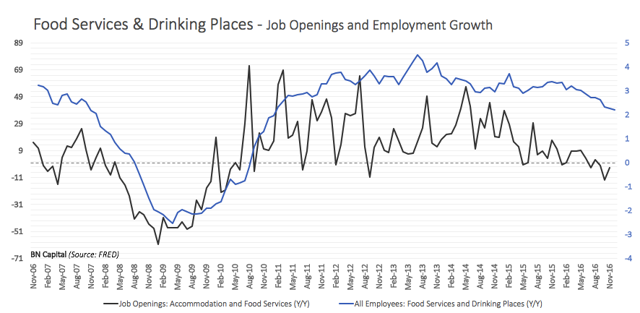 The graph below is also part of the National Restaurant Association report. It shows that almost every single month in 2016 had more companies with lower same-store sales than companies that reported higher same-store sales. Especially August of 2016 came in very weak.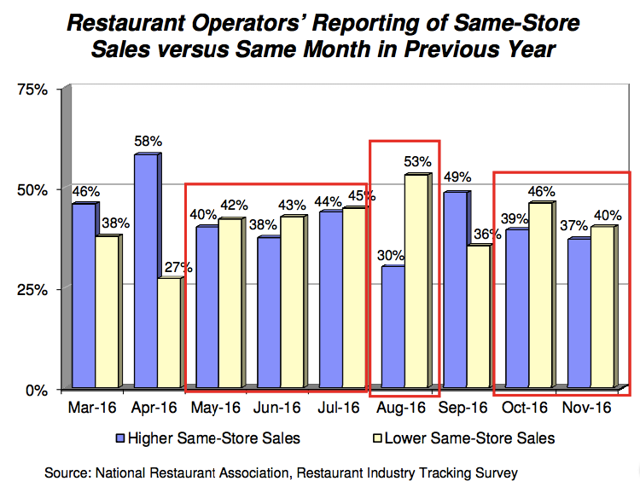 Another thing that has to be included in this article, is the fact that restaurants are more positive about the general economy since November. This confirms the outlook given by the ISM index and several other leading indicators.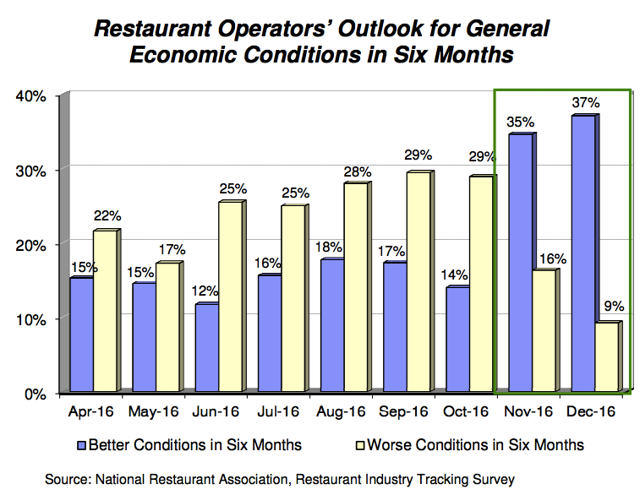 Conclusion
The restaurant business is losing steam after performing really well in 2014. This is being confirmed by the ISM restaurants sentiment and the NRA restaurant performance index. Coincident indicators are confirming this outlook. Retail sales and employment are gaining momentum to the downside. On the other hand, restaurants are more positive about the general economy. This supports indicators about the general economy. I therefore believe that restaurant stocks are going to be underperforming over the next 1-3 months.
Many thanks for reading my article. Please leave a comment below if you have questions or remarks.
Disclosure: I/we have no positions in any stocks mentioned, and no plans to initiate any positions within the next 72 hours.
I wrote this article myself, and it expresses my own opinions. I am not receiving compensation for it (other than from Seeking Alpha). I have no business relationship with any company whose stock is mentioned in this article.