In my previous article, I said that Goldcorp (NYSE:GG) seems ready to shift gears and could present a great long-term growth story during the investor day on January 17. The company has not only released an ambitious five-year growth plan, but also achieved last year's targets.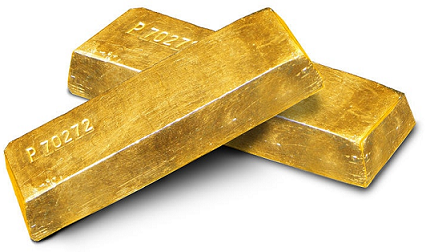 Goldcorp, the world's third largest gold miner in terms of market cap and fourth largest in terms of output, has reported declining production and reserves. The company's proven and probable gold reserves have shrunk 21.8% since the end of 2013 while its annual gold production fell by 17% in 2016 and could decline an additional 13% in 2017, as per its latest forecast.
However, Goldcorp will reverse this trend in the long run. The company has said that it aims to grow its reserve base and production by 20% by 2021. This ambitious double-digit growth forecast is in stark contrast to a number of other miners, such as Barrick Gold (ABX), who are focused on reducing costs and improving free cash flows, rather than growth.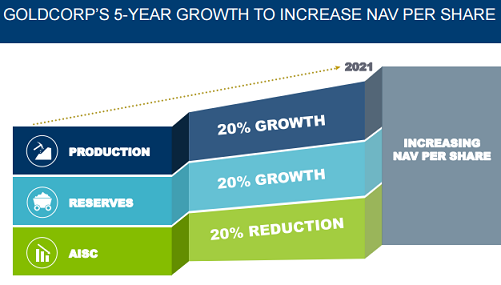 Source: Goldcorp investor presentation Jan, 2017.
Goldcorp has previously said that it wants to increase its reserve base by exploring its existing resources. Yesterday, the company revealed that it will grow its asset base by almost one-fifth to 50 million ounces by 2021, largely by converting resources at Peñasquito mine in Mexico, Pueblo Viejo mine in Dominican Republic, Cerro Negro in Argentina and by completing the analysis of Porcupine Camp's new Dome Century project.
Meanwhile, Goldcorp said that gold production is projected to drop from 3.46 million ounces in 2015 to 2.5 million ounces in 2017 and will remain largely flat at that level in 2018. But output will begin to climb from 2019 as the company completes Pyrite Leach Project at Peñasquito and Materials Handling Project at Musselwhite in early 2019 followed by commercial production from Borden development at Porcupine in Q3-2019. Ramp ups of Éléonore and Cerro Negro will also lift production. The Coffee gold production located in Yukon, which Goldcorp acquired following its takeover of Kaminak Gold, will also begin commercial production from Q1-2021. These projects will increase Goldcorp's output to 3 million ounces by the end of 2021.
What I find interesting here is that although the 20% growth forecast looks ambitious, it could actually turn out to be conservative. Remember, David Garofalo, Goldcorp's CEO, recently told Bloomberg that his company would be interested in growing its reserves and production by entering into partnerships with other miners to develop assets that are not a part of Goldcorp's portfolio. But the abovementioned growth forecast does not include the impact of any such partnership. Production growth could also come in higher if Goldcorp brings some other projects online which are not reflected in the growth projection, such as Dome Century and Nuevaunión.
But I what I particularly like about the latest forecast is that Goldcorp is not just going after growth, the company is also targeting 20% reduction in all-in sustaining costs from around $850 an ounce expected for 2017 to $700 an ounce in 2021.
One of Goldcorp's weakness has been its high cost structure, which is one of the reasons why its stock underperformed last year. Companies like Barrick Gold have made remarkable progress in the downturn on the cost cutting front by bringing the AISC to around $700 an ounce, but Goldcorp's costs have remained north of $800. However, now, it is encouraging to see that with support from $250 million of annual efficiencies, uptake in production and lower sustaining capex, Goldcorp is also aiming to become a truly low cost producer.
Goldcorp has laid out its long term plans. Now, it all comes down to execution. Goldcorp, however, has a reputation of over-promising and under-delivering. The company has frequently missed analysts' consensus estimates. This raises concerns about the company's ability to deliver on its promises.
However, Goldcorp has delivered decent performance in the last two quarters of 2016, which has allowed it to meet the annual production and AISC guidance. In 2016, the company produced 2.87 million ounces of gold, which was within the 2.8 million to 3.1 million guidance range. It has also said that AISC for the full year will come in close to the low end of the guidance range of between $850 and $925 per ounce. Positive results like these can go a long way in alleviating investor's concerns.
Nonetheless, the growing reserves and production, with upside potential, and significant decline in AISC over the next five years make Goldcorp the most exciting gold stock to watch.
Note from author: Thank you for reading. If you like this article, then please follow me by clicking the "Follow" link at the top of this page.
Disclosure: I/we have no positions in any stocks mentioned, and no plans to initiate any positions within the next 72 hours. I wrote this article myself, and it expresses my own opinions. I am not receiving compensation for it (other than from Seeking Alpha). I have no business relationship with any company whose stock is mentioned in this article.