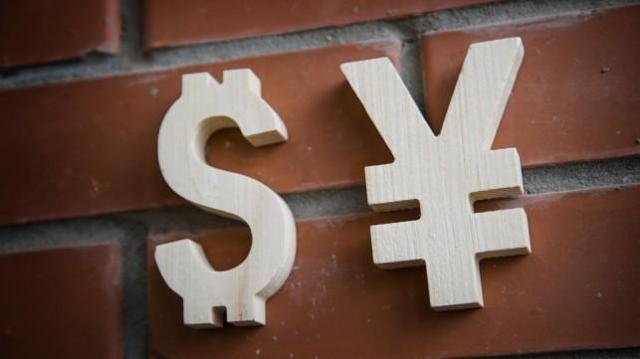 Trump Rally Takes A Break
By James Harte
The two-month "Trump Rally" saw the US dollar soaring against the Japanese yen, helped along also by the BOJ's "yield-curve control" approach which has kept JGB yields subdued amidst rising global yields. A lot of investor attention and uncertainty is currently aligned to anticipating the policies due to be presented by the Trump administration which will officially come to office on January 20th. Despite this, markets are likely to stay muted yet sensitive over the coming months as investors wait to see whether the president carries out his fiscal promises.
The path of the US economy this year, which is currently near full employment, is likely to depend more on policy introduction rather than cyclical changes. As such it is difficult to accurately gauge and forecast market developments until US fiscal policy becomes clear. If fiscal policy supports the economy, and thus increases expectations of a faster Fed rate path, USDJPY could rally again to top the 120 level.
Buying Remains In USDJPY
The pullback n USDJPY from the upper 118 level has been labored with buying remaining present throughout the move. Some importers may have seen their dollar-buying contracts knocked out which will have forced them to repurchase. Institutional investors will likely have hesitated to purchase new, unhedged foreign bonds at the richer level of 115 but could gradually start to unwind their hedge, USD short positions as the rate lowers.
USD selling from an unwinding of speculative long positions could well be absorbed by such purchases from Japanese corps and investors with USD short exposure. This should ultimately underpin USDJPY on the approach to 110.
Investors Awaiting Confirmation of Inflationary Backdrop
The promise of an inflation-fueling US policy mix is what drove USDJPY so significantly higher over November and December of last year. The current pullback can be attributed to the market coming to terms with the realization of the hard work facing the President to get his proposals through the House.
As such we have seen a flattening of US yields and an unwinding of USD long positions. However, following the sharp and sudden USD acceleration, the current pull back is likely just that; a breather, rather than a full reversal. Markets are awaiting signs that the drivers which supported the USD rise can now deliver on creating a sustained inflationary backdrop.
Studying The Past
Studying previous cycles of USDJPY expansion in 2012-13 and the end of 2014 is extremely enlightening when studying the current chart. Each of three trends (two period and one current) was fueled by central bank policy action at around the same time of year. Furthermore, the retracement following each of the prior uptrends was around a quarter of the size of the uptrend.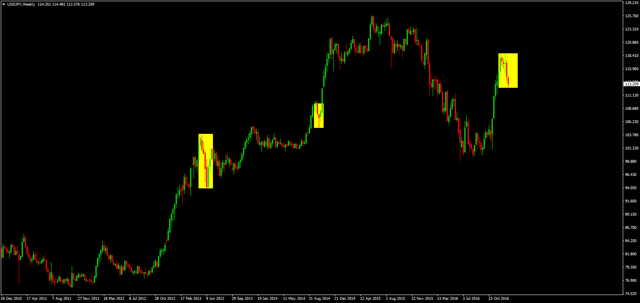 The fall in 2012-13 was 8.4% following a 33% rally and the fall in 2014 was 4% following a 15% rally. The current rally was 15%, so a repeat of past patterns projects this retracement stalling around the 122-113 level which USDJPY is currently trading. A full repeat of past price dynamics would include a rally from these levels back above the previous peak, e.g. back above the upper 118 high.
Key Data Upcoming
The next key data points for the US dollar will be the release of December CPI later today. Core inflation is forecast to rise to 2.2% from 2.1% while the headline reading is expected to rise to 2.1% from 1.7%. US inflation has been steadily rising over the past four months. A solid print today could lend USD support, encouraging the view of positive momentum in the US economy.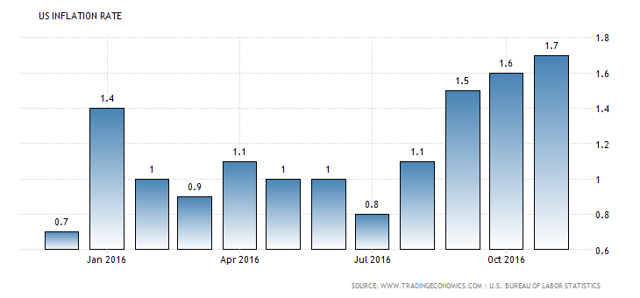 Technical Perspective
USDJPY is approaching a good technical level where we have confluence between a corrective symmetry swing, the 38.2% Fibonacci retracement from last year's lows along with previous highs from early last year, offering further support.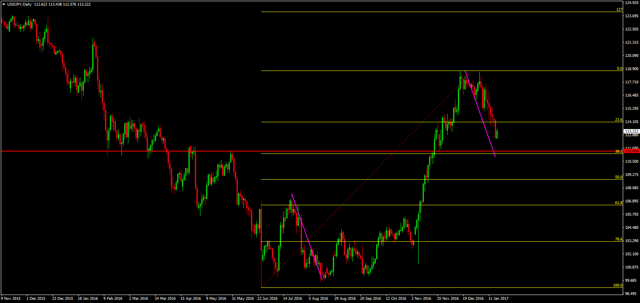 Disclosure: I/we have no positions in any stocks mentioned, and no plans to initiate any positions within the next 72 hours.
I wrote this article myself, and it expresses my own opinions. I am not receiving compensation for it. I have no business relationship with any company whose stock is mentioned in this article.