4Q recap
While JPMorgan's (NYSE:JPM) 4Q EPS was well above consensus, it was affected by several lumpy one-offs, including a tax benefit of USD475mn. The bank also released provisions in its Mortgage, Oil & Gas and Metals & Mining portfolios. As a result, pre-provisioning earnings, while strong, were slightly below estimates. However, it is important to note that market expectations were high.
Rates business will drive FICC profits in 2017
In our view, the key takeaway from the numbers was strong performance in FICC trading, primarily driven by the rates business.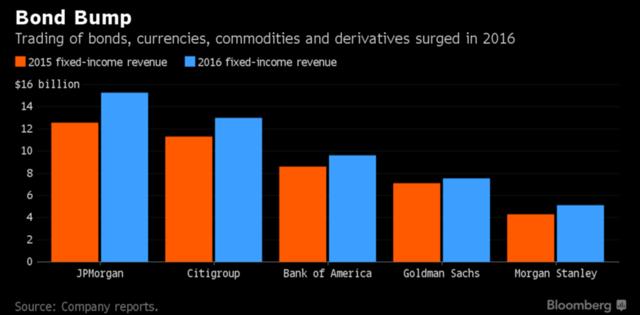 Source: Bloomberg
The company's FICC trading was up 31% y/y in 4Q. This compares to an annual growth rate of just 12% at Bank of America (NYSE:BAC). It is key to note that there is a reason JPM has outperformed BAC in FICC trading. While market volatility around the U.S. elections and the December Fed meeting was a tailwind for the whole FICC segment, the rates business was the main beneficiary due to rapidly changing policy rate expectations (see the chart below).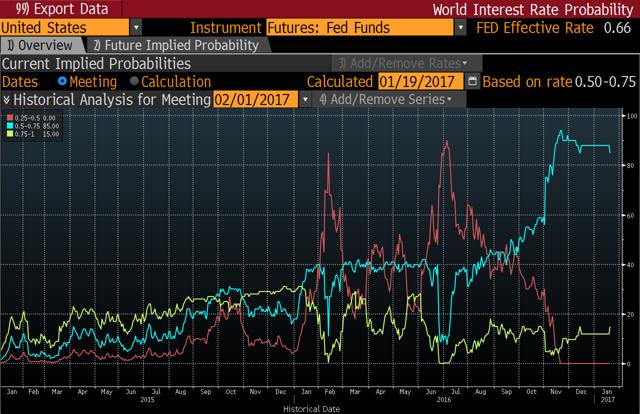 Source: Bloomberg
JPM is more weighted towards the rates business, compared to BAC (biased more to credit trading) or Citigroup (NYSE:C). As a result, JPMorgan delivered the best FICC results among large-cap U.S. banks in 4Q.
We expect uncertainty around actions by global central banks to remain elevated. That should lead to higher client activity in the rates business. Thus, favorable outlook for the rates bodes well for strong FICC results at JPM in 2017.
JPM deserves a premium valuation
As one of the very few U.S. banks delivering excess returns, JPM continues to generate value for its shareholders. JPM's 2016 RoE came in at 10.1%, above the company's cost of equity of 9.25%, based on our estimates.

Source: Renaissance Research estimates
As such, we believe JPM deserves to trade above its book value, given that the bank's RoE is higher than its CoE. More importantly, it is key to realize that JPM does not look overvalued compared to its peer group. In fact, as the chart below demonstrates, JPMorgan is trading at a slight discount to the sector.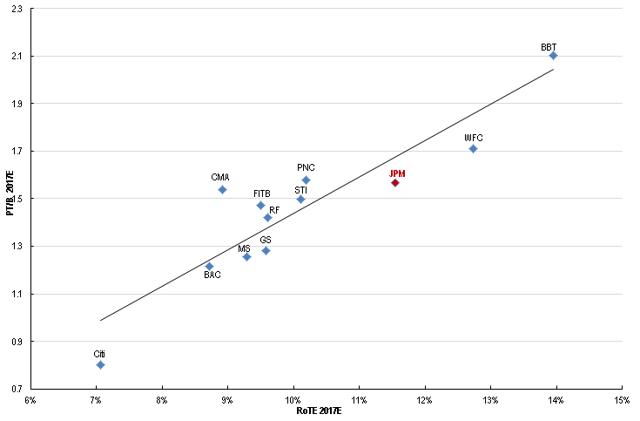 Source: Bloomberg, Renaissance Research
Bottom line
In our prior article, we noted that we were selling covered calls on the stock ahead of Q4 earnings. The trade was good and allowed us to earn an additional return of 2%. We still view recent multiple expansion as excessive, given that the stock is currently trading at a hefty premium to its average P/B valuation during the Taper Tantrum period. That being said, we are long-term bullish on the stock and JPM remains a core holding of our banking portfolio.
As a buy-side analyst and a deputy portfolio manager, I oversee a financials-focused fund and will be continuously providing research coverage on developments with global banks, insurers, asset managers and other financial companies. If you are interested in the topic, consider following us by clicking the "Follow" button beside our name at the top of the page. Thank you for reading.
Disclosure: I am/we are long JPM.
I wrote this article myself, and it expresses my own opinions. I am not receiving compensation for it (other than from Seeking Alpha). I have no business relationship with any company whose stock is mentioned in this article.