Hopefully this article will help you grow your assets.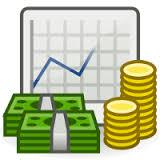 New Residential Investment Corp. (NYSE:NRZ) Is a US REIT with a $3.5B market capitalization. It was spun off from Newcastle Investment Corp. on May 15, 2013. In its brief lifetime it has performed well (see chart below).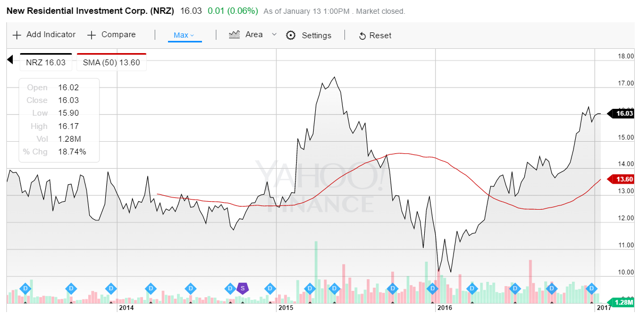 Some might think the chart above belies my statement of good performance. However, the Jan. 16, 2017, closing price of price of $16.03/share is significantly above NRZ's spin off value of $6.70/share (or $13.40/share after considering the 1-for-2 reverse split in late 2014). In addition, NRZ has paid an annual dividend in excess of 10% annually. In other words, it has returned in excess of 15% per year. Most investors would like such a return.
On top of the above, things are looking up for NRZ. The positive economic psychology associated with Trump's proposed stimulus policies, the recent fed funds rate raise (+0.25% in December 2016), and the recent much larger rise in the 10-year U.S. Treasury Note yield (about +1% from the July 8, 2016, low of 1.36%) are making the outlook for MSRs (mortgage servicing rights) rosier going forward (at least in the near term). Specifically, MSRs do badly when there are a high number of foreclosures, a high number of refinancings, and/or a bad economy. The chart below shows how high a percentage MSRs are of NRZ's assets.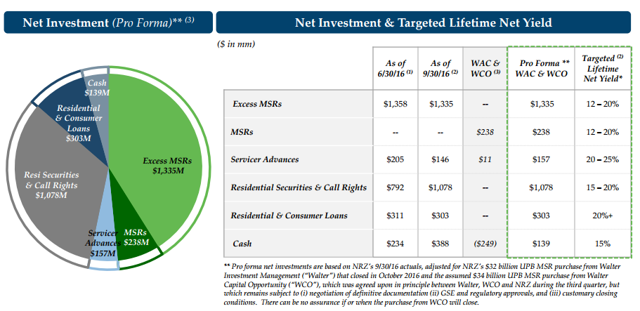 The MSRs were almost half of NRZ's assets as of Q3E 2016.
Let's look at the recent movement in the Freddie Mac mortgage rate from the Primary Mortgage Market Survey as of Jan. 12, 2017 (see chart below).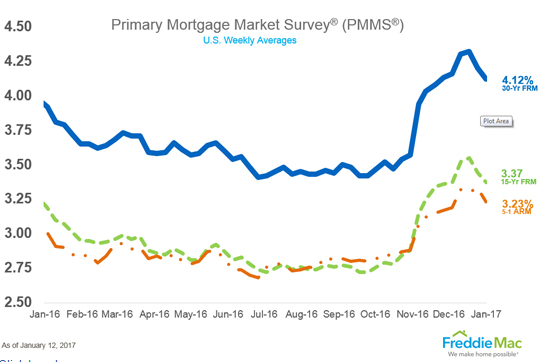 As readers can see the 30 year FRM mortgage rate has risen roughly 0.6% since just before the election of Donald Trump as president of the U.S. This should lead to fewer refinancings in the next six months to one year. Homeowners often cannot refinance at lower rates, after rates have moved substantially higher. Hence, many will have much less motive to refinance, and they will not. The Mortgage Bankers Association of America Refinancing Index shows a strong downtrend in the weeks since the election (see chart below).
The chart includes the time of the large rise in the 10-year U.S. Treasury Note yield and the Dec. 16, 2016, fed funds rate increase of +0.25%. If there are roughly half as many (or less) refinancings now, it stands to reason that the value of NRZ's MSRs has gone up. They should earn more with lower amortization costs due to lower refinancings. I will wait for NRZ's earnings announcement to see the actual numbers; but they should be very good. That should mean a nice book value gain for NRZ.
The chart of the U.S. foreclosure rates is below.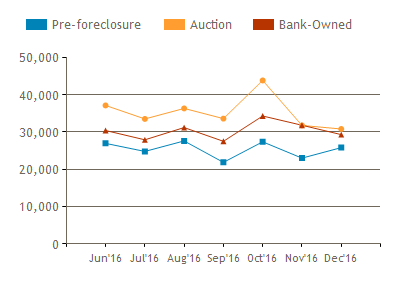 As readers can see in the chart above the foreclosure total trended downward in Q4 2016. However, the events mentioned above do not seem to have had a large impact on foreclosures. That might indicate a steady economy, which should be good for NRZ in its other investment areas.
It is a good thing that this growing part of NRZ's portfolio is looking up. NRZ announced on Dec. 28, 2016, that it had entered into an agreement through a subsidiary to purchase $72B in UPB of agency and private label MSRs from a subsidiary of PHH Corp. (NYSE:PHH) for a purchase price of $612 million. NRZ will also purchase $300 million in servicer advances from PHH. NRZ has further agreed to have PHH Mortgage subservice the mortgage loans underlying the MSRs NRZ purchased. The above means the pie chart of NRZ's portfolio displayed above is already substantially different than the Q3E 2016 status. It means NRZ is betting heavily on MSRs. This bet could pay off handsomely if the economy improves steadily under Trump. However, there are worries in regard to the U.S. economy. MSRs will likely experience problems if the U.S. experiences a recession. Investors will want to monitor economic conditions closely.
For Q3 2016, the earnings results are below: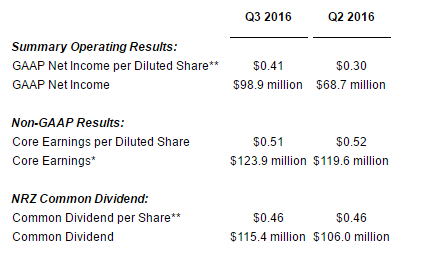 Over the past month analyst earnings estimates for Q4 2016 have risen from $0.50/share to $0.53/share. FY2016 earnings estimates have risen from $2.01 to $2.04 per share. This is very positive going into the Q4 earnings season. It is also supported by the downtrend in refinancings in Q4 2016. The late December 2016 purchase of MSRs is a positive for Q1 2017 and beyond given the current U.S. economic conditions for both book value and future earnings. Investors will want to watch economic conditions carefully; but NRZ appears to be a buy at this time.
The technicals, shown in the chart at the top of this article, look good too. NRZ is in a strong uptrend. The upgrades in analysts' earnings estimates make it likely that this uptrend will continue. The downtrend in refinancings (see chart farther above) make it likely that these assets gained book value in Q4 2016. The purchase of still more MSRs near the end of Q4 2016 should provide still more solid income in the near term.
My main worry with that purchase at this time is that NRZ might have bought nearer the top of the MSR market than I would have liked. Still the added income stream should be good for the near term. NRZ's price/book is a reasonable 1.28. The annual dividend is an enticing 11.55%. The trailing 12 months P/E is only 9.70. The outlook after the move down in refinancings and the latest MSRs buy is rosy. NRZ is a buy. However, investors might want to trim their holdings of NRZ (or sell entirely) at significant signs of an economic downturn in the U.S.
Note: Some of the fundamental fiscal data above is from Yahoo Finance.
Good Luck Trading/Investing.
Disclosure: I/we have no positions in any stocks mentioned, but may initiate a long position in NRZ over the next 72 hours.
I wrote this article myself, and it expresses my own opinions. I am not receiving compensation for it (other than from Seeking Alpha). I have no business relationship with any company whose stock is mentioned in this article.