Rare earth metals are a collection of 17 elements. Technology has increased demand for these metals over past years and if recent history is any guide, they are the commodities of tomorrow. Many of these metals are toxic and environmentally hazardous to mine. The vast majority of mining in the rare earth metals takes place in China these days and where China does not produce the metals within their borders, they are producers nonetheless as a result of strategic investments around the world. China owns the lion's share of annual production of these commodities.
Technology has created new demand verticals for many of the rare earth metals which are composed of the lanthanide series of elements that tend to occur together in nature and are difficult to separate from each other. Many rare earth metals have properties that make them perfect for the manufacture of strong magnets. Others are useful in the production of fuel cells, mercury vapor lights, electronics, glass strengthening techniques, computer applications, hybrid cars, advanced smart weaponry, nuclear power plant and weapons, medical technology as well as a myriad of other applications.
The world depends on these metals and applications will continue to grow in the years to come. The prices of rare earth metals moved to highs in 2011, but since then they had been falling, dramatically.
Rebound in an important sector
The VanEck Vectors Rare Earth/Strategic Metals ETF (NYSEARCA:REMX) is a gauge of the price performance of rare earth metals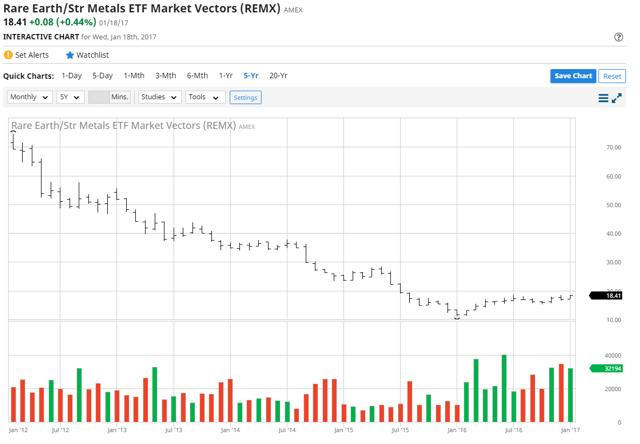 Source: Barchart
As the chart highlights, the ETF hit a low of $11.07 in January 2016 and has since recovered to the $18.40 level, a recovery of over 66% in the past year.
Rare earth metals hit their lows at the same time when many other commodities traded to multiyear bottoms. In early 2016, copper traded to lows of $1.9355 per pound and has since recovered to over $2.60. Crude oil which made a low of $26.05 on February 11 is currently trading around the $52.50 level, double the price it was less than eleven months ago. In another sign of the improvement in the commodities sector, the Baltic Dry Index, a shipping index representing the cost of moving dry bulk commodities around the globe via ocean vessel has moved from 290 last February to over the 900 level today.
Rare earth metals have moved higher but they are still cheap compared to prices seen in 2011.
Rare earth metals are still cheap
After a 66% rally over the past year, REMX remains a bargain compared to where it traded just six years ago.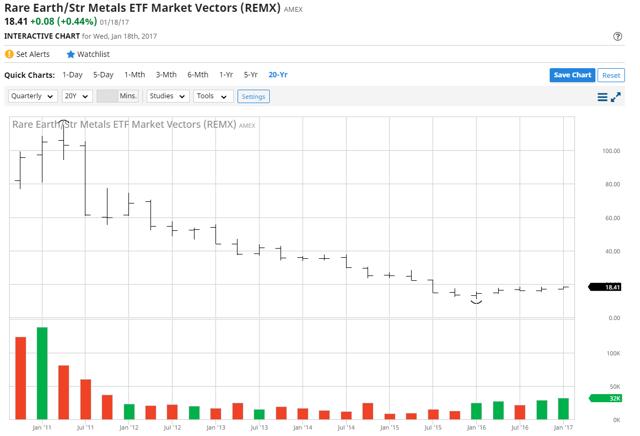 Source: Barchart
As the longer-term chart illustrates, the REMX traded to its all-time high in 2011 at $115.64 and today is more than six times cheaper than it was then.
When it comes to illiquid commodities that do not trade on the world's futures exchanges, price volatility tends to be high and fundamentals or supply and demand analysis often leads to a good picture of the path of least resistance for prices. With China controlling over 90% of the world's supply of these commodities and lots of that production coming from within the nation's borders, when China becomes an importer of these metals, it could cause a huge price recovery that may have started throughout 2016.
China to become a net importer
Adamas Intelligence, a rare metal research firm, recently reported that since the 2011 highs, the market for rare earth metals has suffered from widespread demand destruction. Over the past five years, there has been over a 30,000 ton decline of annual rare earth oxide demand as consumer concerns over supply security grew. Additionally, a decline of 20,000 more tons of annual demand came from a phasing out of mature technologies like fluorescent lamps, NiMH batteries and hard drives for PCs.
According to the report, demand will return to the sector in the years ahead as increasing requirements for neodymium, praseodymium, dysprosium, and lanthanum will boost prices and cause supply tightness in the market. Aside from being the world's largest producer and investor in rare earth metal supplies, China is by far the world's leading consumer.
According to the report, demand for many of these metals will grow steadily until 2020 at which point the need for new mines and additional output could create shortages from 2020 through 2025. Domestic demand in China's manufacturing sector will eventually overwhelm available supplies at which point the world's leading producer could find itself a net importer of many of these metals.
A long-term view for an important commodity sector
When it comes to investing in illiquid commodities, it is critical to take a long-term view and the only time to enter the market is when a fundamental change in a market is on the horizon. In other words, it is only appropriate to buy illiquid commodities when they are very cheap, when a price trend appears to be turning and one must be prepared to hold the long position for a long time, sometimes years.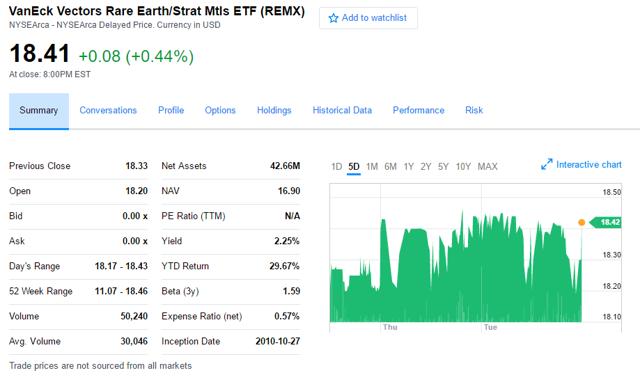 Source: Yahoo Finance
REMX offers investors a reasonable level of liquidity as the trading vehicle has $42.66 million in net assets. REMX trades at an average of just under 30,000 shares each day and charges an expense ratio of 0.57%, which is reasonable in the world of ETF products. Now may be a good time to add some rare earth metals to your portfolio but be prepared to live with the exposure for years rather than weeks or months. However, the payoff could prove worth the wait.
Low risk and high reward potential
REMX has traded in a range from $11.07 to $115.64 over the past six years and at $18.41, it remains a lot closer to the lows than the highs. Risk-reward favors a long position in REMX at this time. Not only will demand increase for the technology that requires these commodities in the years ahead but the prospects for shortages in China that could turn the world's largest producer into a net importer of these metals will likely have a dramatic effect on the prices of these commodities. At $18.41 per share, the downside risk is still a lot lower than the upside opportunity in these metals.
Rare earth metals are the commodities that are likely to make tomorrow's technology work in many cases. Consider a small long position in REMX. However, leave some room to buy, scale down if the prices move lower and offer even more of a bargain before reality of future shortfalls causes the price to rebound. Illiquid commodities tend to move furiously on both the downside and the upside. Over the past six years, we have witnessed tremendous price destruction and it now appears that these metals are in the early stages of recovery.
I have introduced a new weekly service through Seeking Alpha Marketplace. Each Wednesday I will provide subscribers with a detailed report on the major commodity sectors covering over 30 individual commodity markets, most of which trade on U.S. futures markets. The report will give an up, down or neutral call on these markets for the coming week and will outline the technical and fundamental state of each market. At times, I will make recommendations for risk positions in the ETF and ETN markets as well as in commodity equities and related options. You can sign up for The Hecht Commodity Report on the Seeking Alpha Marketplace page.
Disclosure: I/we have no positions in any stocks mentioned, and no plans to initiate any positions within the next 72 hours.
I wrote this article myself, and it expresses my own opinions. I am not receiving compensation for it (other than from Seeking Alpha). I have no business relationship with any company whose stock is mentioned in this article.