By Doug Short
The National Association of Home Builders (NAHB) Housing Market Index (HMI) is a gauge of builder opinion on the relative level of current and future single-family home sales. It is a diffusion index, which means that a reading above 50 indicates a favorable outlook on home sales; below 50 indicates a negative outlook.
The latest reading of 67, down 2 from last month, came in below the Investing.com forecast of 69. The previous month was revised downward from 70 to 69.
Here is the opening of Wednesday morning's monthly report:
Builder confidence in the market for newly-built single-family homes remained on firm ground in January, down two points to a level of 67 from a downwardly revised December reading of 69 on the National Association of Home Builders/Wells Fargo Housing Market Index (HMI).

"Builders begin the year optimistic that a new Congress and administration will help create a better business climate for small businesses, particularly as it relates to streamlining and reforming the regulatory process," said NAHB Chairman Granger MacDonald, a home builder and developer from Kerrville, Texas. [link to report]
Here is the historical series, which dates from 1985.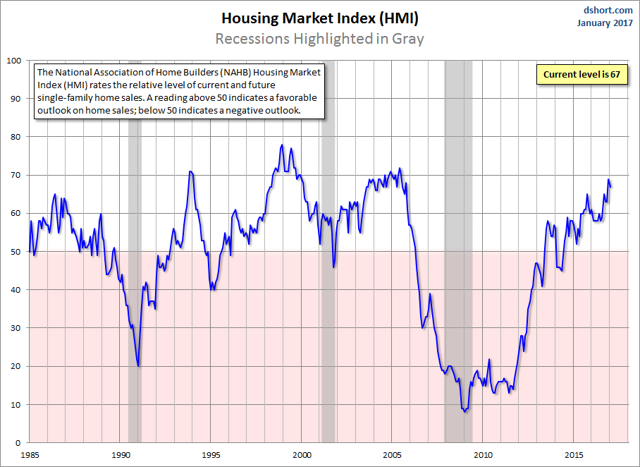 The HMI correlates fairly closely with broad measures of consumer confidence. Here is a pair of overlays with the Michigan Consumer Sentiment Index and the Conference Board's Consumer Confidence Index.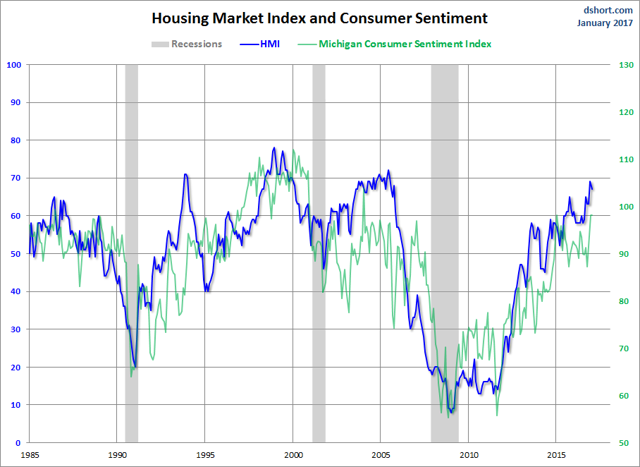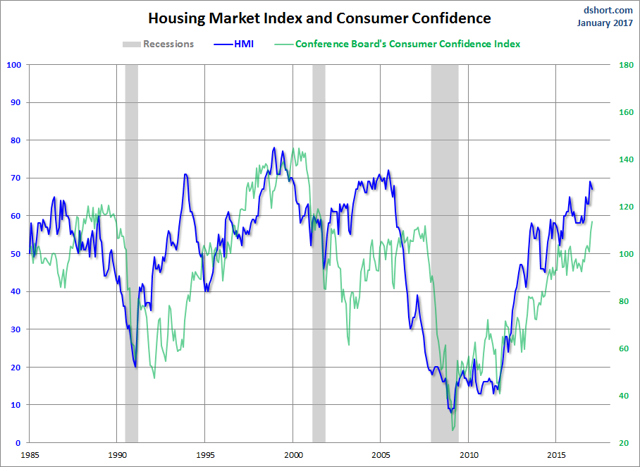 The HMI is an interesting prelude to Thursday's release of Building Permits and Housing Starts.