Exploring the intersection of geopolitics and financial markets is the Heisenberg raison d'être - if you will.
Understanding the nexus between politics and asset prices is, I think, a prerequisite for making sense of the world. Or at least that's the case for those of us affected by market outcomes.
As regular readers know, I strongly believe that political outcomes (in a broad sense) are far more important than idiosyncratic factors when it comes to explaining markets. Sure, factors unique to certain assets can and do drive short-term and sometimes long-term price action. And sure, some political outcomes can be described as idiosyncratic (or "country specific"). But when it comes to triggering multi-sigma events, there's nothing quite like a far-reaching geopolitical earthquake.
Given all of that, it's been interesting to watch how the British pound (NYSEARCA:FXB) has traded over the past several sessions.
It's been one hell of a ride for sterling since last summer's Brexit vote. We even got a good old-fashioned flash crash in October, when GBPUSD suddenly fat finger'd it, plunging more than 6% out of the clear blue (more here for those interested).
Needless to say, sterling has traded off political soundbites and headline hockey since the Brexit vote. Have a look:

(Charts: Barclays, Bloomberg)
Although there have been some ups and downs (tied in part to the Supreme Court's debate on Article 50), I think it's fair to say that markets were already pretty pessimistic going into last weekend (actually I know markets were pessimistic, assuming the sellside is a good indicator).
Be that as it "may" (no pun intended), the violent market reaction to a piece published in The Sunday Times seemed to suggest markets were still hoping for some manner of compromise between London and Brussels.
The article - which revealed the details of UK PM Theresa May's Tuesday speech - was effectively leaked on Saturday evening. Despite the fact that it contained absolutely nothing that should have surprised traders, I knew as soon as I saw the Bloomberg headlines that cable would likely be crushed in early Asian trading the following day. Note the timestamps: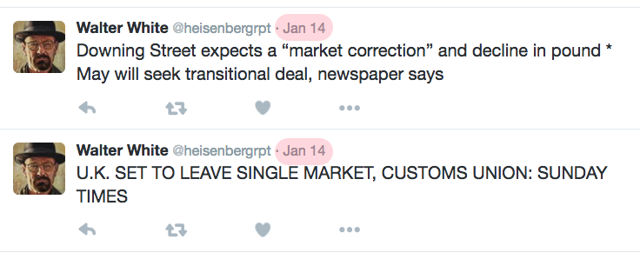 Indeed, the sterling crashed right out of the gate, falling below 1.20 for the first time since the October flash crash.
Then, two days later when May actually delivered the speech that the Times detailed on Sunday, cable had its best day since 2008 - only to retrace by ~1% at session lows on Wednesday:

Ah, politics.
The catalyst for Tuesday's ramp was May's supposedly "conciliatory" tone, and more specifically, the PM's promise to put the final Brexit deal to a vote in Parliament (full summary here).
Note that May's decision to pursue a complete break with Brussels represents the triumph of political expediency over economics. Here's the juxtaposition in two simple headlines:
Brexit must mean control of the number of people that come to Britain from Europe and that's what we will deliver.
Staying in the single market would mean to all intents and purposes not leaving the EU.
In short, May is looking to appease the anti-immigration lobby at the long-term expense of the UK economy. The more conciliatory her tone with regard to the prospects for economic cooperation, the more optimism in markets. Technically speaking then, sterling is trading off the economics - but the economics are being dictated by the politics.
Clearly, there are any number of unanswered questions here. If you're a trader or an investor, your main concern should be whether politics will continue to trump economic concerns or whether, at some point, the tail will stop wagging the dog (so to speak).
For their part, Goldman isn't optimistic. "Whether the European Union will be willing to negotiate free tariffs agreements while the UK restrains immigration from EU countries and removes itself from the European Court of Justice's jurisdiction remains highly unlikely, in our view," the bank wrote, in a note out Wednesday morning.
The pound's Tuesday rally may have occurred "because the market prices that a free-trade deal with the EU could take place with a higher probability than we do, or perhaps because it expects little fallout from Brexit on the economic outlook, a view to which we and our economists do not subscribe," the bank went on to say.
Here are some additional annotated charts that show how the pound has traded the Brexit chatter and how the sterling reacted during May's speech: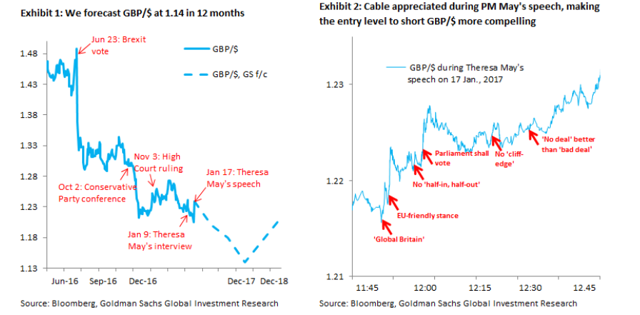 (Charts: Goldman)
Prior to the speech, Deutsche Bank said the following with regard to the UK's stance on immigration and the impact a hard line would have on the country's ability to negotiate a deal that works for the economy:
Perhaps most importantly, the quid pro quo for UK economic demands will be the ability to compromise on other issues in the negotiation. On immigration, it will be important to see if May defines further the phrase 'full control of the borders.' If taken in a narrow sense this could mean simply repatriating power over immigration consistent with articles in the EEA Treaty. A more specific definition (e.g. prescriptive sector based quotas or a points-based system) would make the UK stance less flexible and imply less prospect of compromise.
After the speech, the same analyst appraised the situation as follows:
The speech struck a generally positive tone on the benefits of migration, particularly in skilled sectors. More importantly, May offered no red lines other than the UK regaining control of its borders and was very vague about details. In terms of market implications, we see the speech as a moderately positive outcome relative to weekend headlines signaling a hawkish stance on immigration and relaxed attitude towards EU tariffs. Nevertheless, it is not a game changer.
In other words: "we tried to read into it as much as we could, but in reality, May just said the same things she's been saying and the only positive here is that she didn't take the hawkishness up a notch."
Deutsche does note that compared to the post-Brexit vote panic, shorts are not at extreme levels: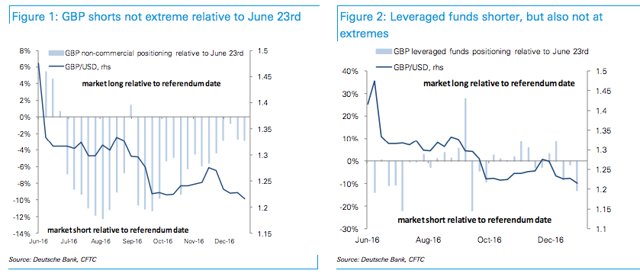 (Charts: Deutsche Bank)
That said, Goldman and SocGen think any pound strength might present a good opportunity to add to or establish shorts.
"We see the squeeze higher in Sterling as a better entry point to take short positions on GBP/USD," Goldman wrote, in the same note cited above. The bank continues: "Our forecast remains GBP/USD at 1.20, 1.18 and 1.14 in 3, 6 and 12 months, with the risk that this forecast materialises sooner rather than later."

"There really wasn't anything new in Theresa May's speech yesterday, reaffirming her stance on Brexit," SocGen said on Wednesday morning, adding that traders should "expect more of this kind of jerky trading [while keeping in mind] that a -1.9% real Gilt yield is the albatross around sterling's neck." "A tactical EUR/GBP short appeals here, but we would look to get short GBP/USD on any further gains," the bank concludes.
Speaking of a "tactical EURGBP short," Barclays agrees, noting that "UK Prime Minister May's speech was more conciliatory than expected and has reduced the probability of significantly lower GBP exchange rates." The best way to play it Barclays goes on to say, is against the EUR (NYSEARCA:FXE) which hasn't properly priced "risk associated with Dutch elections." Once again, it's all about politics.
For what it's worth, Barclays suggests the sterling is significantly cheap on a REER basis: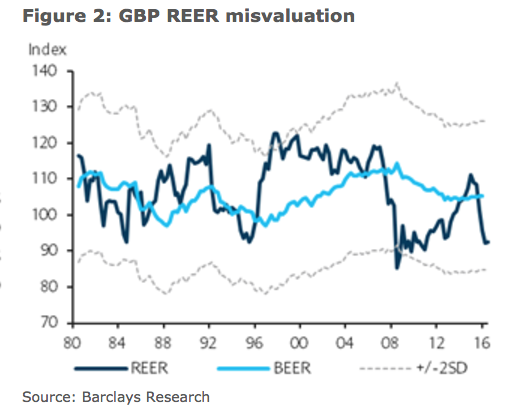 (Chart: Barclays)
So that's all well and good and it's interesting to those of us who enjoy parsing tons of research, but to tell you the truth, trying to predict where the pound is going to trade next week (let alone next month or next year) is an exercise in futility.
Currencies' fortunes can turn on a dime and are, perhaps now more than ever, almost completely beholden to the vagaries of politics.
For instance, EURGBP dynamics would completely change if Marine Le Pen, Geert Wilders, or Frauke Petry's AfD were to outperform election expectations. Similarly, GBPUSD will hinge at least in part on whether Trump can make good on his promise to strike a "quick and proper" trade deal with London.
In other words, the fate of FX markets is now tied inextricably to the fate of populism. The more the political balance shifts in favor of populist politicians, the more volatility you can expect in FX.
So buckle up.
Disclosure: I/we have no positions in any stocks mentioned, and no plans to initiate any positions within the next 72 hours.
I wrote this article myself, and it expresses my own opinions. I am not receiving compensation for it (other than from Seeking Alpha). I have no business relationship with any company whose stock is mentioned in this article.