I believe there is a realistic pathway for Berkshire Hathaway's (BRK.B, BRK.A) book value to grow in excess of $95 billion to approximately $365 billion from the end of last quarter (3Q 16) until the end of fiscal year 2017. This growth is largely predicated on 4Q 16 investment portfolio performance, a reduction in Berkshire's deferred tax liability resulting from corporate tax reform, and an increase in the holding value of its investment in Kraft Heinz (NASDAQ:KHC) based on the switch from equity method to fair market value accounting in the event that Berkshire's ownership falls below 20%. While the latter two of these growth drivers are both hypotheticals at the moment, they are not necessarily improbable and would have a large positive impact on Berkshire's book value.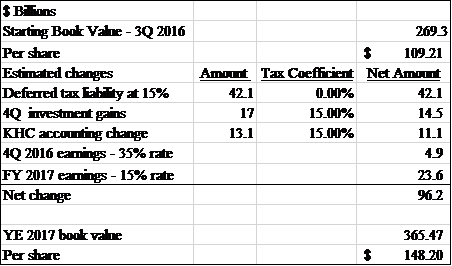 Berkshire had a net deferred tax liability of $73.6 billion at the end of the third quarter, more than any other company I have come across. Given recent investment appreciation, this is likely closer to $80 billion at the end of fiscal year 2016. This liability stems from Berkshire deferring cash tax payments on unrealized gains in its investment portfolio and timing differences in depreciation schedules between tax and GAAP accounting that largely derive from capital expenditures in the railroad and its various utilities businesses. Importantly, Berkshire calculates this liability under the assumption that it will pay a 35% tax rate when these earnings are recognized. President-elect Trump has said he plans to implement a 15% tax rate for US corporations. This means that Berkshire would not only generate higher earnings on a recurring basis, but also realize a massive windfall from a recalculation of its net deferred tax liability. To my understanding, if you owe $73.6 billion in taxes at a 35% rate, you would only owe $31.5 billion at a 15% rate. The difference, $42.1 billion, or over $17/share in earnings, would be deducted from Berkshire's liabilities and increase shareholders' equity by that amount. For perspective, $42.1 billion is only slightly less than what Apple (NASDAQ:AAPL), the largest corporation in the world by market capitalization, earned in all of 2016.
Berkshire also stands to potentially benefit from a somewhat esoteric accounting concept. Berkshire owns 26% of Kraft Heinz, or 326 million shares. KHC shares are currently trading at $88.35. 326 million * $88.35 = $28.8 billion. However, a quick glance at Berkshire's balance sheet shows it is holding the investment at a value of $15.7 billion. The reason for this discrepancy arises from the fact that Berkshire utilizes the "equity method" to account for its stake in KHC. Essentially, Berkshire marks its investment at cost and then makes periodic adjustments to account for its proportional share of earnings (positive adjustment) and dividends (negative adjustment). However, if Berkshire's ownership stake were to decline below 20%, it would likely revert to fair market value accounting (the market value of the shares) and recognize what is currently a pre-tax $13.1 billion gain (28.8-15.7). We know this from Berkshire's 10-K,
"We utilize the equity method to account for investments when we possess the ability to exercise significant influence, but not control, over the operating and financial policies of the investee. The ability to exercise significant influence is presumed when an investor possesses more than 20% of the voting interests of the investee."
To be clear, I do not think that Berkshire will liquidate any of its shares. A more likely scenario is that KHC makes an equity-funded acquisition, diluting Berkshire's ownership position below 20% in the process. There have been numerous media reports that KHC may be pursuing acquisitions (e.g. Mondelez (NASDAQ:MDLZ)). I have no idea whether this happens, but if it does, KHC would likely need to issue shares a part of the consideration given its already significant financial leverage.
In addition to the fact that no deal may occur, there are two other important caveats. First, even if a deal were announced, it would be unlikely to close in 2017 unless the announcement were made in the next few months. Second, if Berkshire drops below 20% ownership, it still has two employees on Kraft Heinz's board, Buffett and Tracy Britt Cool. Whether two board members means that Berkshire maintains "the ability to exercise significant influence" is unclear to me. It would be great to hear the opinion of readers.
My next point is relatively straightforward. By my calculation, Berkshire's investment portfolio increased in value by around $17 billion in the fourth quarter of 2016. Gains were driven by banks, notably Wells Fargo (NYSE:WFC) common stock and Bank of America (NYSE:BAC) warrants. I also include a $1 billion gain on the conversion of Dow preferred shares to common shares representing the difference between the fair market value of the converted shares and the par value of the preferred shares (I could not find Berkshire's holding value in any filings so this might be wrong). No further appreciation in the investment portfolio is assumed after YE 2016.
Finally, I estimate that Berkshire will generate $28-29 billion in retained earnings in the five quarters from 4Q 16 to the end of FY 2017 (assuming a 15% tax rate for FY 2017). For reference, I show side-by-side comparisons of my 2017 estimates using 35% and 15% rates. I usually add back the amortization of acquired intangibles when looking at earnings, but do not do so here as we are only concerned with changes in book value opposed to cash flow. Moreover, I do not include any value from the retained earnings of Berkshire's investees, an amount that is likely to exceed $4 billion in 2017. Again, the focus of this exercise to track changes in book value rather than underlying earnings power.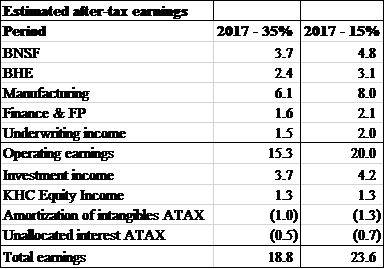 Investors should make up their own minds as to how likely the events, namely tax reform and to a lesser extent an equity funded KHC acquisition, are to transpire. However, with the S&P trading at 17x+ forward earnings (assuming ~$132 EPS) it appears that the broader market is relatively bullish on prospects under Trump. This bullishness has not found its way to Berkshire, perhaps the largest single beneficiary of Trumpenomics, which is trading at 1.39x YE 2016 estimated book value of $285 billion, relative to the 30-year average of 1.57x. This is in spite of the fact that book value could grow by a record amount in nominal terms in 2017.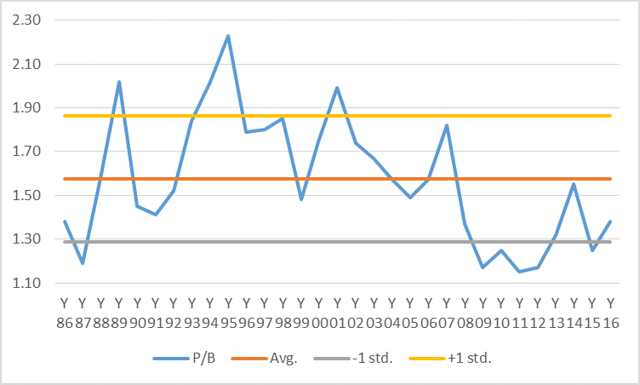 There is a second consideration to bear in mind should the aforementioned items come to fruition during 2017. Berkshire has an existing share repurchase agreement to at 1.2x book value. If book value at the end of 2017 were ~$150, this would imply that Berkshire would be repurchasing shares up to ~$180, a price significantly higher than the current one. While there is no guarantee that the shares would not trade below this level, they have not breached the repurchase level in the six years that the buyback has been authorized. If this is indeed the case, then it would seem that Berkshire presents a highly favorable risk/reward relationship at the current price.
I believe that a reasonable, but ultimately short-sighted, argument against my thesis could rest on the fact the major sources of book value appreciation (deferred tax liabilities and accounting changes) do not have a corresponding 1:1 impact on intrinsic value, which is ultimately what Buffett cares about. For this reason, he may choose to lower the repurchase level as a percentage of book value or simply not repurchase shares if the opportunity presented itself. However, at $180 per Class B share, Berkshire's market capitalization would be approximately $444 billion. Assuming no acquisitions between now and the end of 2017, Berkshire cash balance should approximate $115 billion, around $95 billion of which could be used to make acquisitions or shareholder distributions. This means that an investor would be paying around $349 billion ($444-$95) for $28 billion in earnings ($23.6 billion in reported earnings + $4.4 in retained earnings of equity investees, both my estimates). This works out to an ex-cash P/E ratio of slightly less than 12.5x earnings and 12x if intangible amortization is added back to earnings on an after-tax basis. For this reason, I do not think that Buffett would be reluctant to aggressively repurchase shares at this level, with the standard caveats that it would depend on cash levels and the presence of other more attractive opportunities.
Disclosure: I am/we are long BRK.B.
I wrote this article myself, and it expresses my own opinions. I am not receiving compensation for it (other than from Seeking Alpha). I have no business relationship with any company whose stock is mentioned in this article.