In Tuesday's edition of Lightning Round on his Mad Money program, Jim Cramer was bullish on just 3 stocks and bearish on 7. His bullish picks were Check Point Software (NASDAQ:CHKP), Hershey (NYSE:HSY) and Avenet (NASDAQ:AVT), while his bearish picks included Zagg (NASDAQ:ZAGG), Activision (NASDAQ:ATVI), Viacom (NASDAQ:VIAB), Baker Huges (BHI) and Vivus (NASDAQ:VVUS).
As always, I will only be examining his bullish calls to determine if it makes sense to open a position in his recommended companies at current levels. Some basic information about his bullish picks is presented in the table that follows:

Hershy and Check Point have a very similar market capitalization and are the large cap stocks on the list. AVT is a relatively unknown name. This Phoenix, AZ based company is a distributor of electronic components, computer products and software. It has a market cap of $5 billion.
HSY is the only dividend payer among the 3 companies. The stock was a strong performer during the TTM providing a return of 18% (including dividends) during this time period. CHPK did one better by delivering 140% returns over the last 5 years.
To get a better understanding of these companies, I evaluated the historical growth rates of revenue, income and book value, and the projected growth rates. These are summarized in the table shown below: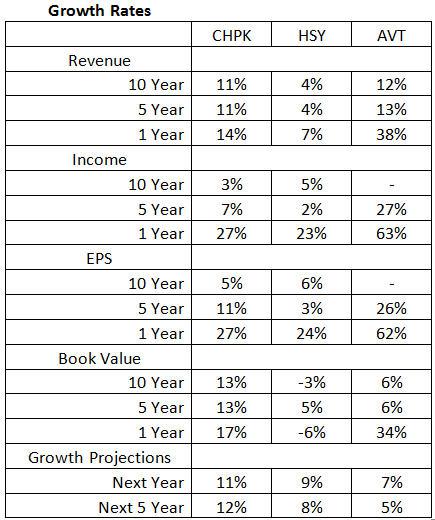 CHPK and AVT have grown their revenues at a very respectable rate over the 10 year, 5 year and 1 year period. AVK's revenues, earnings book value growth have all significantly accelerated during the last year, however going forward, analysts expect the company to grow at a measly 5% rate easily trailing the anticipated growth rates of the two other firms on the list. CHPK impressed me the most with its consistent historical and projected growth rates. HSY is a mixed bag. Although the revenues and earnings increased, its book value fell last year.
The next step in the fundamental analysis was the evaluation of margins and operational effectiveness of the 3 companies. The table that follows presents the evaluation results.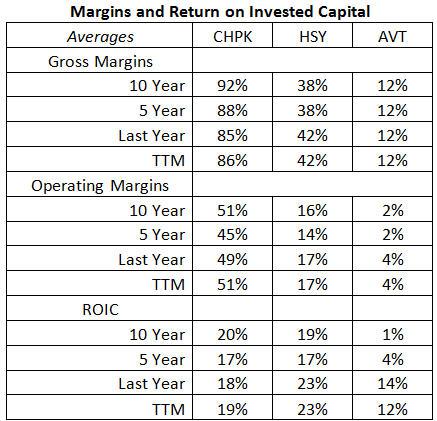 AVT's gross margins have held steady over the last decade while it has doubled its operating margins from 2% to 4%. Although I prefer firms to deliver a minimum ROIC of 15%, AVT's 12% ROIC is acceptable to me. HSY and CHPK reported strong margins and ROIC during the analyzed time periods.
Having developed a good idea about the fundamentals of the 3 companies, the next step was to perform relative valuation. The multiples used in the analysis were based on historical analysis of individual company and industry multiples.
The table below presents the valuation analysis results.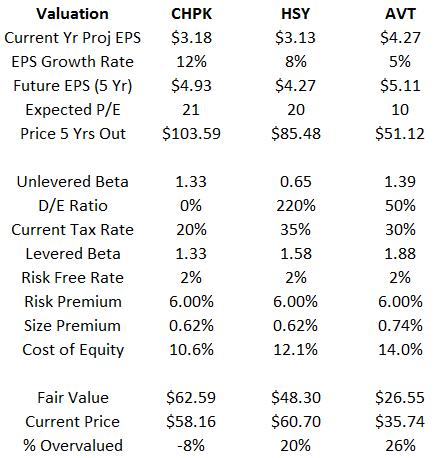 As shown in the table above, CHPK is the only undervalued firm on the list and offers a return of 8% from current levels. I would wait for a pullback to the $50 levels before opening a position in CHPK. AVT and HSY are both significantly overvalued in my opinion and make good short candidates.
Disclaimer: Kindly use this article for information purposes only. Please consult your investment advisor before making any investment decision.
Disclosure: I have no positions in any stocks mentioned, and no plans to initiate any positions within the next 72 hours.