Note: Company's FYE is 3/31.
Thesis: Transcat, Inc. (NASDAQ: TRNS) ("Transcat" or the "Company") is a major player (~18% market share) in a fragmented market, high cost of failure industry which generates over 50% of revenue through recurring-in-nature service revenue with a diverse customer base in a range of stable end markets. Additionally, the Company's non-discretionary services entrench Transcat within a customer's operations and the moderate to high regulation of the industries they service create a meaningful barrier to entry for new market participants.
Furthermore, the Company has been pursuing a roll-up strategy via buying smaller regional players at favorable multiples to increase Transcat's service offering and geographic reach. As the Company expands their services business and integrates acquisitions, margins should continue to expand.
The Company has transitioned from a $5MM EBITDA testing equipment distribution business in 2008 to a LTM 2Q 2017 $12MM EBITDA high value service and value-add distribution business while the Company's current EV/EBITDA of 7.75x remains below historical valuations, peer valuations and DCF valuations which conservatively assume performance and margins below the low-end of management guidance.
The Company's ability to generate recurring revenue and create material switching barriers to a diverse customer base while upholding regulatory standards and providing a full suite of product sales options creates a one stop shop with stable and growing cash flows.
Why Transcat is Mispriced: Transcat has undergone a transformation in recent years in which service revenue has gone from ~1/3 of total revenue in the 2010-2012 period to just over 50% of total sales in the LTM 2Q 2016 period. Over this same period, total revenue and EBITDA have grown at a CAGR of 7.6% and 15.2%, respectively. Over this period, the Company's EV/EBITDA has declined from 10.71x FYE 2010 to 7.75x (1/11/2017), while FCF per share has increased 54% from $0.46 to $0.71 and book equity has grown at a 11.5% CAGR.
The market appears to continue to value this Company as a lower margin , predominately equipment distribution Company as opposed to the recurring services, growing, roll-up player with expanding margins. As the Company continues to grow both organically and via acquisition and services revenue continues to generate increasingly dependable cash flows, the market should recognize the long-term value potential at Transcat and valuations should fall closer in line with peers. Additionally, Transcat could make a very attractive target for a private equity firm looking for a platform for a roll-up strategy of a stable, recurring service revenue business.
Strengths: The Company's transition to a predominately recurring service business while the market valuation remains closer to a distribution valuation has resulted in an opportunity for investors, as such the below strengths focus on the transition to and go-forward strengths of this operational shift. The distribution business should perform with relative stability, and is enhanced by the new rental and used sales business as well as the differentiation that the service segment provides.
Service Revenue: As of the LTM 2Q 2017 period, the Company's service revenue surpassed distribution revenue as the largest component of total revenue. As shown below, this a result of material growth in the service segment while distribution has experienced softness in certain periods:

Source: Info from Company Filings, Chart Self-Made
The Company's momentum towards a majority service revenue Company is attractive given the recurring nature of the services, the more specialized nature of the work, the qualifications and regulation of the services and industries served, the ability for the Company to embed itself within the customers' operations, among other considerations. The Company performs recurring services in three to twenty four month intervals depending upon the equipment and services.
The Service segment also produces higher segment EBITDA margins than the Distribution segment, with service EBITDA margins of 12.5% FYE 2016 and versus Distribution EBITDA margins of 4.6%. It is relevant to note that Service capex has been meaningfully larger than Distribution capex historically (FYE 2016 service capex of $3.2 and distribution capex of $0.7), however a portion of this capex is presumably tied to the strong growth in services.
Stable and Diverse End Markets and Customer Base: As shown above the Company serves a diverse range of highly regulated and cycle-resistant end markets, including Aerospace & Defense, Pharmaceuticals, Biotech, Energy/Utilities and more. This should enable the Company to continue to generate sufficient cash flow during macro-economic headwinds to invest in the Company's growth or return money to shareholders. As shown below, the Company experienced revenue growth from 2008-2010 and though EBITDA margins contracted, they were back above 2008 levels by 2011.
The Company's profile has changed to one of a more stable business model with the growth of services since the recession and today should demonstrate even greater stability to a macro-economic headwinds. In addition to providing stability and potential for growth during macro-economic softness, this proliferation of end market should continue to drive the material growth the Company has displayed in recent periods in "normal" economic conditions.
This ability to continue to generate cash to reinvest in growth and grow enterprise value (or begin returning cash to shareholders) in a range of economic conditions should lead to valuation expansion for the Company. Additionally, the Company has a large customer base of 17k customers for the services segment and 21k customers for the distribution segments, approximately 30% of which are customers of both segments.
Source: Info from Company Filings, Chart Self-Made
Embedded within customer operations: The Company's service offering provides a differentiated value proposition with the distribution offering (and vice versa), but more importantly the Service segment embeds the Company within its customers operations. In certain cases the Company provides these services on a permanent, embedded basis at a customer site, while in many cases the Company will collect devices, perform services at a Transcat facility, log all data into the CalTrak/3C system, and return the calibrated/repaired/etc. device to the customer for continued use.
The Company's knowledge of the customers' operations and equipment, management of customer data, and track record in growing quality service provides a very meaningful and quantitative (due to the high-cost-of failure nature of the services and equipment) value to the customers. The Company has also customized their portal platform for customers to conform with strict regulations customer must adhere to. This, when combined with the recurring demand and contracts, provide comfort that the Company will be able to continue to generate meaningful service revenue with stable margins going forward.
Non-Discretionary, High Cost of Failure and Relatively Low Cost Services and Products: The Company performs services for and sells testing equipment used in highly regulated and "precise" industries where lack of proper calibration, repair, testing, etc., of equipment could result in non-compliance with regulatory standards or insufficient product quality for the customer. As such, the Company's services and products, which comprise a relatively small portion of the overall operations of the customer, carry a high cost of failure and therefore the Company provides a meaningful value proposition for customers which should translate into further margin stability.
Risks and Mitigants
Competition: The Company operates in a fragmented market, where it is one of the top three third party calibration and test equipment service providers. Transcat has been successful in increasing market share, geographic reach and service offerings via organic and acquired growth. The Company's 8 add-on acquisitions in the past two fiscal years demonstrate their commitment and ability to pursue a roll up strategy.
Outside of third party providers, the Company faces competition from equipment OEMs and potential customers' in-house capabilities. Transcat is able to effectively compete with these players, and could be in a position to take business from them, given the following:
- Transcat vs. OEMs: While some OEMs provide ongoing calibration and other services, these services are only provided for that OEM's equipment. Given the Company's ability to service a broad range of equipment, this presents more flexibility for customers in choosing to use multiple equipment providers, etc.
- Transcat vs. In-house capabilities: The services that Transcat provides could be done in-house by certain end market players; however, this does not represent a core competency for these companies. Given the high level of precision, regulatory controls, and technological evolutions of equipment, the cost (and opportunity cost of failure) could become increasingly compelling to use a third party provider. Furthermore, whereas Transcat has a long history of providing and testing equipment from over 500 manufacturers, Transcat, an in-house servicer could require additional training or personnel to comply with a switch in equipment used by their company.
FYE 2016 Distribution Segment Revenue Decline: The Company's distribution segment experienced a 12.3% revenue decline in FYE 2016 as a result of a general retraction of industrial output and even greater retraction in the oil and gas sector. The distribution segment grew revenue 3.3% from FYE 2016 to LTM 2Q 2017 via expanding further into life sciences, aerospace and other highly regulated industries as well as adding used and rental product offerings in the distribution segment.
As the Company continues to expand its customer and end market base and diversify its offering within the distribution segment, the effect of individual market headwinds (such as oil and gas) will be less pronounced. Furthermore, as the Company increases its service offerings and footprint, this should allow for a greater value proposition for customers working with the distribution segment.
Increased Leverage: The Company's leverage (Debt/EBITDA) has increased steadily in each period from 0.0x FYE 2008 to 1.88x LTM 9/24/2016; however, this addition of debt has been in part to fuel the acquisitive services roll up strategy. As one can see through the top-line growth and margin stability in the services segment, this roll-up strategy has been fairly effective to-date. Furthermore, while leverage has increased in each period, 1.88x is still relatively low leverage for a company that is increasingly generating growing revenue and generating cash from recurring service contracts.
Valuation: Market Data, Comps and More
The below table shows relevant market and trading data for Transcat from FYE 2008 through 1/11/2017. As shown the Company is currently trading below their average EV/EBITDA for the period, while FCF/Share, Book Equity/Share, and EBITDA have grown (shares outstanding are relatively flat). Over the same period, the Company has materially improved their credit profile given the increase in contracted/recurring service revenue and margins, greater scale and diversity of end market.

Source: Info from Company Filings and CapIQ, Chart Self-Made
The below chart outlines key figures of comparable public companies. As shown below, the Company's EV/EBITDA of 7.75x is the lowest of the peer group, even though their recurring revenue on non-discretionary services makes for a more attractive credit profile than some of the larger ticket, more cyclical or one-time sales focused comps. Given the closest competitors are the Company's trading on the higher end of the below set, there is ample room for the EV/EBITDA multiple to expand well into the low-double digits, providing 40%+ upside: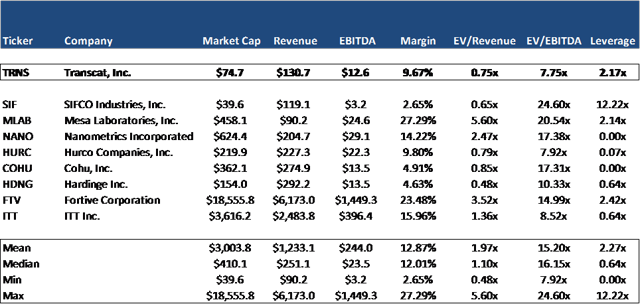 Source: Info from represented companies' filings and CapIQ, chart self-made.
The below tables show Enterprise Value Sensitivity and Share Price Sensitivity based on a DCF run using conservative assumptions. The Company has projected revenue of $175-200MM and double-digit margins over the next 4-5 years, while the DCF projections are run below management's low end guidance, with material capex of $3.7-4.5MM annually, $2-2.5MM cash taxes, and a $1MM use of cash for working capital each year. As shown, the Company has material upside assuming even these conservative assumptions: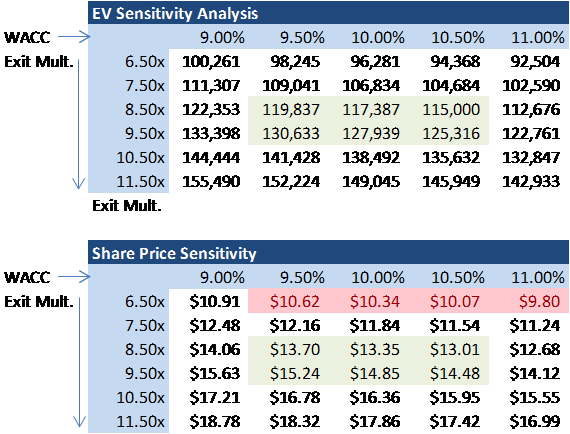 Source: Self-made
Conclusion: The Company's strategic shift towards increasing service revenue both organically and through roll-up/add-on acquisitions should continue to provide top line and margin expansion as well as more stable performance. This shift also allows for increased customer, end market and geographic diversity. Furthermore, the Company's valuation is yet to account for the recurring cash generation and anticipated stability of the business against both industry specific or macro headwinds.
As the Company's financials continue to display this transition and execution continues to drive positive change at the business, the Company should display enterprise value growth as well as increased cash generation to continue building the business or return to shareholders (at some point). Additionally, the Company has a generally problem-free balance sheet with low leverage. Given the aforementioned strengths as well as the above valuation discuss, Transcat currently trades at a fairly material discount, while the clean balance sheet and recurring revenue should provide some downside mitigation.
Catalysts:
Certain catalysts could help realize value, including:
- Time: Continued growth in services revenue over time.
- Executing Acquisitions: The Company's ability to continue to execute value-add acquisitions at favorable multiples.
- Growth in end markets: Though the Company is diverse in a number of stable end markets, a rebound in energy could positively affect the Company.
- Being Acquired: TRNS could be a very attractive candidate for a Private Equity firm looking to buy a cash generating recurring service platform upon which to continue making add-on acquisitions.
Appendix: Please see below for additional pertinent information including more strengths and weaknesses, an in-depth company description and more.
Additional Strengths:
Regulation of end markets: Due to the highly regulated nature of the Company's end markets, Transcat must maintain a high level of service to continue to grow and this is reflected, in part, by the qualifications of many of the Company's facilities and services. The Company's dedication to regulatory adherence and value add to customers is also reflected in the CalTrak/C3 customer portal, which is validated 21 CFR Part 820.75 and 21 CFR part 11 to meet FDA requirements (regarding process verification and validation).
The Company's calibration centers are accredited to ISO/IEC 17025:2005 by National Voluntary Laboratory Accreditation Program and other bodies (signatories to the International Laboratory Accreditation Cooperation "ILAC"), which provides the highest level of accreditation for the Company. The combination of these accreditation/validation levels provides customers the assurance that all services rendered by Transcat will be both high quality and conform to worldwide standard, while using a non-ILAC accredited calibration service provider could result in a barrier to trade as a result of non-acceptance in certain regions.
Additional Risks and Mitigants:
Capital Expenditures: The Company's capex for the services segment have been material in recent periods, average 4.4% of service revenue over the past four fiscal years. Despite relatively material capital expenditures the Company has produced stable free cash flow (EBITDA less capex less taxes less interest less CPLTD (used as a scheduled amort proxy)) between 3.7-4.6% of revenue in this period.
Furthermore, a portion of this capex is assumed to be related to the material growth in the segment, and as long as growth continues in this high margin, recurring services segment, the Company will continue to generate more cash in the future. This growth capex would be expected to get scaled back in a period of headwinds, which would result in lower cash needs.
Brief Company Overview: Transact is a provider of calibration, measurement, and other testing services and products into a diverse range of highly specialized and regulated industries. The Company operates through two segments:
· Services (50.2% LTM 2Q 2017 Revenue): The service segment offers calibrations, repair, inspection, analytical qualifications, preventative maintenance and other related services for customers test, measurement and control instruments. The Company provides these services via multiple methods which include: a geographic footprint of 22 service centers spanning the US, Canada and Puerto Rico (see map below), employees embedded on customer sites, a mobile testing operation and the use of third parties to perform more specialized testing (which accounts for ~15% of service revenue).
The Company's services are generally required on a recurring basis at specified time intervals ranging from weeks to over a year depending upon the type of service and equipment. The Company tracks all of its service specifications for customer to access via its CalTrak/C3 system (C3 is new generation of CalTrak), which allows customers and online platform to view all tests, calibrations, specifications, etc. This system provides a value add to these highly regulated customers who must maintain precise standards and record keeping and provides an additional layer of switching barriers.
The Company is a manufacturer-agnostic in services which allows Transcat to be a one-stop-shop for a customer utilizing multiple manufacturer's devices; this provides an advantage over OEM's who provide services. The Service segment works with ~17,000 customers. The Company performs 425,000+ calibrations annually.
· Distribution (49.8% LTM 2Q 2017 Revenue): The Distribution segment sells and rents new and used 3rd party and proprietary branded test and measurement equipment. The Company has long term vendor relationships which allow access to over 100,000 products from over 540 manufacturers. The Company sells via a direct sales force, B2B marketing, and an online platform. The distribution segment is able to create a competitive advantage through integrated services into the product both on the front end (pre-shipment calibration) and through the life of the products.
Approximately, 30% of revenue is generated through the sale of Fluke Corporation electronics, which the Company estimates is in line with Fluke's total market share of equipment sales. The Distribution segment services ~21,000 customers. Approximately, 30% of customers transact with the Company through both the services and distribution segments.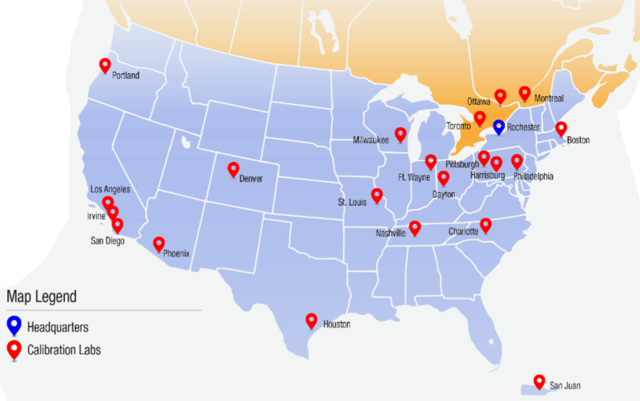 Source: Transcat Investor Presentation
Customers: Transcat serves customers in highly regulated industries, and as such operates highly qualified service centers which provide customers comfort as to the level of service they receive on high cost of failure jobs. These regulations and qualifications provide a barrier to entry against new industry participants.
The Company's customer base consists of both small to midsized local and regional businesses as well as blue chip global customers including: Du Pont (DD), United Technologies (NYSE:UTX), Exxon (NYSE:XOM), Merck (NYSE:MRK), Johnson & Johnson and more. In addition to being highly regulated, multiple industries which the Company serves are generally fairly stable through macro-economic headwinds (ex. healthcare, A&D). The following breaks out service revenue by end market: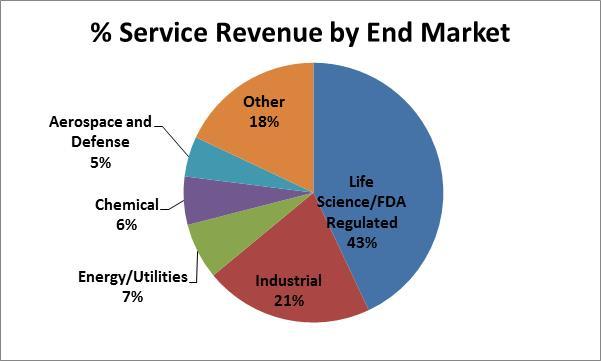 Source: Info from Company, Chart Self-Made
Acquisitions and Platform Strategy: The Company has been acquisitive in recent years and is actively pursuing acquisitions which expand geographic reach, leverage existing infrastructure and add new services or products. The Company aims to buy these smaller businesses at a 4-6x EBITDA multiple given their scale and other considerations, which makes acquired cash flow accretive to Transcat at its current (undervalued) multiple and diversifies and grows the business.
The Company's growth strategy includes a focus on organic and acquired services growth. The services acquisition strategy has resulted in 8 small acquisitions thus far (some acquisitions included a sales component as well). The first 7 acquisitions had an average purchase price of ~$3MM, while the recent Excalibur acquisition was ~$7.4MM. The below table outlines acquisitions completed since FY 2015: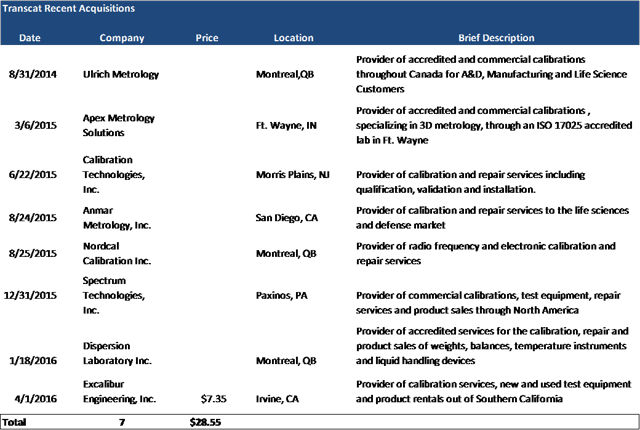 Source: Info from Company, Chart Self-Made
Brief Industry Overview: Calibration is a primary component of Transcat's service and a critical service to any equipment user, please visit this link for a great overview on what Calibration is and why it is crucial. The Company estimates the total North American calibration services market at $1Bn, while ~40% of this market is served by the fragmented 3rd party providers market, while the remaining 60% is served by OEMs and In-house laboratories: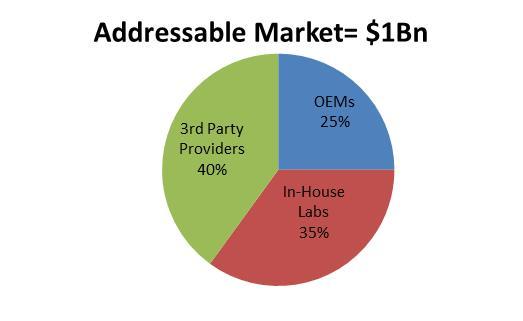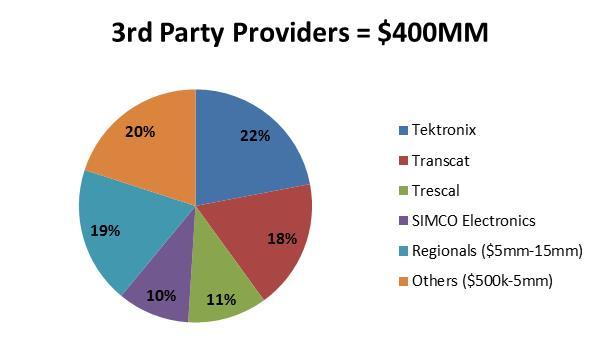 Source: Info from Company, Chart self-made
CEO, Board and Ownership:
Lee Rudow has been CEO of Transcat since 2013 and joined the Company in 2011 after holding various executive positions at calibration and electronic equipment companies for nearly 30 years. Mr. Rudow made ~$895k total compensation of which ~$505k was cash compensation for FYE 2016. Mr. Rudow has been successful thus far in his tenure as CEO in transitioning Transcat to a more services-oriented Company. The Company's Board is comprised of 9 total members with an average tenure of 10 years. The average board compensation is ~$70k.
The Company's largest shareholder is Circle N Advisors, which is owned by the second largest shareholder, Emancipation Capital , and together they own a combined 24.4% of outstanding common stock. Emancipation Capital and Circle N Advisors are headed by Charles Frumberg. Emancipation Capital has acted as an activist investor in the past, with involvement in at least two active campaigns with Globecomm and ID Systems.
Per CapitalIQ, inside ownership is ~7.1%, which is approaching a material amount. Other top shareholders include traditional investment firms and asset managers such as Heartland Advisors (8.6%), WCM Investment Management (6.3%) and Minerva Advisors (5.9%).
Disclosure: I am/we are long TRNS.
I wrote this article myself, and it expresses my own opinions. I am not receiving compensation for it (other than from Seeking Alpha). I have no business relationship with any company whose stock is mentioned in this article.
Editor's Note: This article covers one or more stocks trading at less than $1 per share and/or with less than a $100 million market cap. Please be aware of the risks associated with these stocks.