Goldman Sachs (NYSE:GS) reported a big earnings beat on Wednesday morning, with results coming in pretty strong overall. Let's look at whether those results justify the huge rally Goldman's shares have experienced.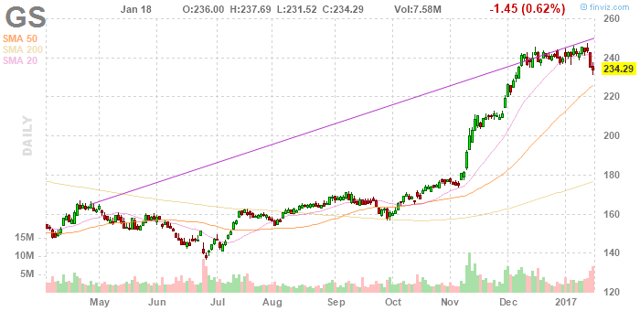 Goldman Sachs has rallied substantially more than most other stocks since the election in November, on both expectations of less regulation as well as expectations of rising interest rates. The company's shares are trading for $235 right now, which is 5% below the 52 week high but more than 70% above the company's 52 week low (of $137). Let's look at the earnings results and whether those justify such a huge share price increase.
Goldman has grossed revenues of $8.2 billion in the fourth quarter, which represents a very strong 12.4% revenue growth rate versus the prior year's quarter. The huge revenue increase was based on a 25% jump in Institutional Client Services (to $3.6 billion), as well as a substantial increase in Investing & Lending (up 15% yoy to $1.5 billion). Investment Management as well as Investment Banking saw only small changes in the fourth quarter revenue number (up 3% and down 4%, respectively). Since ICS is Goldman's biggest division, the very high growth rate we have seen here is great, allowing for total revenues to grow by double digits in the last quarter.
In addition to increasing revenues, Goldman Sachs has also been able to lower expenses by a very huge amount, with total expenses falling by almost 20% during 2016. This was achieved via lower compensation expenses (headcount declined by seven percent year on year, whilst compensation per employee dropped as well) and lower other expenses, which mainly means that Goldman had to pay less in mortgage related litigation -- it would be preferable if Goldman would not have to pay any litigation at all, but a huge decline in that expenses category is a huge first step into the right direction.
The combination of higher revenues and lower expenses allowed for a significant earnings increase, Goldman's Q4 net income thus jumped $2.35 billion or $5.08 per share. Full year net income stood at $7.4 billion, which means that net income would increase by 27% in 2017 if earnings would remain stable at the fourth quarter run rate (which would mean $9.4 billion in annual earnings).
When we take a look at Goldman's balance sheet, we see very strong capital ratios: The company's Common Equity Tier 1 Ratio is 14.5%, which is high relative to the CET1 Ratios of other big banks. The ratio has increased by 90 base points over the last twelve months, which shows that Goldman's balance sheet is getting even stronger. Goldman has also been able to grow the book value per share to $182.50 during Q4, tangible book value is a little lower at $172.60. Both numbers have developed nicely over the last quarters: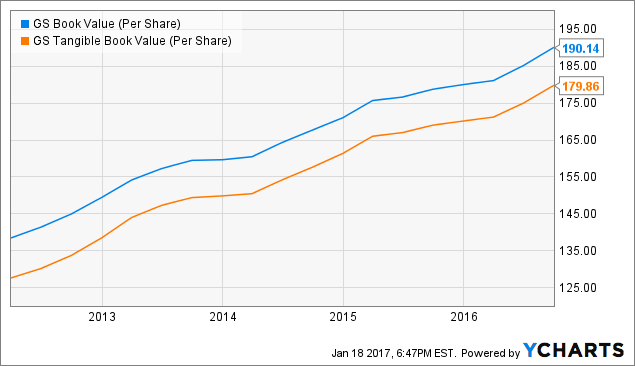 Shareholder returns at Goldman Sachs consist of share repurchases primarily, those totaled $6.1 billion during 2016, whereas the dividends the company paid out to its owners totaled just $1.1 billion. The dividend yielding 1.1% surely isn't a very compelling reason to own shares of the company, but Goldman's share repurchases provide a compelling reason to do so: With the 37 million shares the company has bought back last year, the company's share count has shrunken by almost nine percent in just one year. All else equal, share count reductions of nine percent annually would provide earnings per share growth of 9.8% each year going forward -- a compelling earnings growth rate, which does not even factor in net income increases over the next years. Since Goldman's shares are trading at a higher price right now than they did in 2016, the share repurchases will be less effective going forward, but investors should still see significant share count reductions going forward as long as Goldman stays true to its strategy of returning most of its cash to shareholders via buybacks instead of dividends.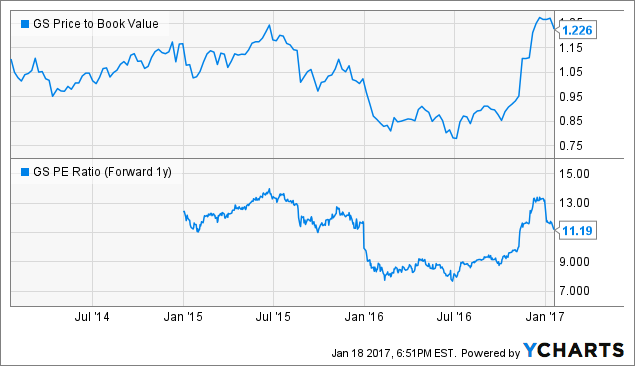 Goldman's share price has increased a lot over the last year, but the company's valuation is not enormously high compared to how the company was valued over the last years. Shares are trading at 1.2 times book value, a level we have seen a couple of times in the last three years, and Goldman's forward earnings multiple of 11.2 is not especially high either. Shares have been a lot cheaper half a year ago, but apart from that time frame shares are looking fairly valued right now.
With ongoing strong shareholder returns, sinking expenses due to a declining headcount and lower average compensation as well as with tailwinds like less regulation going forward investors buying at today's price could see sizable returns over a couple of years.
Takeaway
Due to lower expenses Goldman has been able to grow its earnings dramatically, beating estimates substantially. The company's balance sheet looks strong and keeps improving, shareholder returns are high and with tailwinds such as less regulation going forward Goldman's shares, which are not really expensive right now, could be compelling for those who are not looking for income -- Goldman's dividend is not really attractive.
Author's note: If you enjoyed this article and would like to read more from me, you can hit the "Follow" button at the top of the page, right next to my name and icon, to get informed about new articles.
Disclosure: I/we have no positions in any stocks mentioned, and no plans to initiate any positions within the next 72 hours.
I wrote this article myself, and it expresses my own opinions. I am not receiving compensation for it (other than from Seeking Alpha). I have no business relationship with any company whose stock is mentioned in this article.