Argument
A rebalancing of Medtronic's (NYSE:MDT) capital structure would be necessary to drive more value to shareholders. However, this process is currently being held up by an inability to access an optimum amount of cash flow due to matters of tax efficiency and circumstances surrounding the finalization of its transfer pricing dispute regarding its Puerto Rican subsidiary.
Overview
Medtronic is facing slight hurdles in its ability to deleverage following its January 2015 purchase of Covidien for $49.9 billion. Medtronic noted earlier this month at the Annual JPMorgan Healthcare Conference it would have difficulty accessing cash flow in a tax efficient manner (see footnote 2d on page five of "Non-GAAP Financial Reconciliations" document accessible on its website).
Moreover, the company has had unexpected difficulty in finalizing its transfer pricing dispute with the IRS as it relates to the tax treatment of its Puerto Rican subsidiary. The ongoing dispute is derived from the IRS's claim that Medtronic was purposefully underreporting its income from that subsidiary during the 2005 and 2006 time period, and thereby decreased its tax commitment by $1.3 billion. A court ruled in Medtronic's favor in June 2016.
With these remaining cash flow hindrances, deleveraging remains a temporary challenge. The company remains leveraged at a debt/EBITDA of 3.9x, or debt-to-capital ratio of 23.8%. To determine an optimal leverage point, I take various unlevered free cash flow-to-interest expense ratios and assign various range-bound values of this metric to estimate synthetic credit ratings (based on the traditional rating scale used by the big three ratings agencies). These credit ratings were then converted to interest rate costs based on the current spread between each rating and the 10-year US Treasury. From there a curve can be plotted to determine optimal debt design for the company.
Based on this, Medtronic appears to best be levered at a debt/EBITDA of around 2.5x or debt-to-capital ratio of around 15%.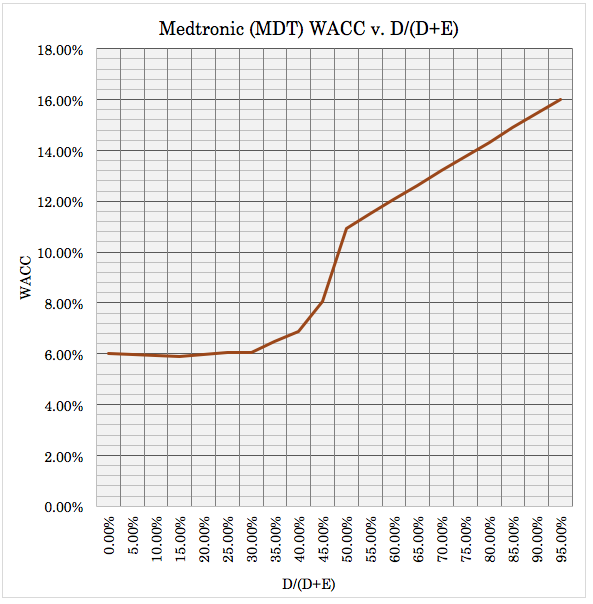 (Source: author)
At an estimated FY2017 EBITDA of $8.4 billion, this would come to a debt pay-down of $12-$13 billion. I estimate that Medtronic can generate about $4.5 billion in unlevered free cash flow per year (see estimates below under the "Valuation" section). Its dividend payments require about $2.3-$2.4 billion in payouts to shareholders per year, leaving $2.1 billion remaining for debt repayment. The company also has an existing cash balance of $11.3 billion but any drawdown in liquidity would adversely impact share prices more directly.
I have the company's debt rating estimated at A- (according to the scale used by Fitch and S&P) or A3 (using the Moody's scale). By reducing its debt-to-capital ratio by 800-900 basis points I estimate that the company would be optimally levered, boost its debt rating up to AAA/Aaa, and be accretive to share prices by about 4 to 5 percent.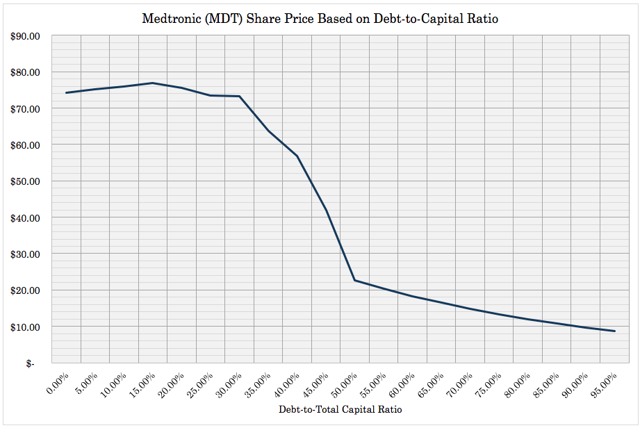 (Source: author)
The company could rebalance through an equity issuance, but Medtronic's executive compensation is more heavily weighted toward stock performance than it is for the average company, so such a maneuver is unlikely. Over the first half of the FY2017, the company's non-GAAP payout ratio came to 124%, after averaging 61% over the past five fiscal years. This has helped buoy the stock despite lower amount of earnings and free cash flow that's been seen over the past few years.
Fifty percent of executive pay comes in the form of restricted stock units and stock options. A portion of the annual incentive plan (16% of overall salary) is geared toward diluted earnings per share growth and a cash-flow indicator (though cash flow could be argued to benefit all stakeholders in the company equally). The remaining 34% is divided among a base salary (9%) and a long-term incentive plan (25%), which is made up of revenue growth and return on invested capital metrics.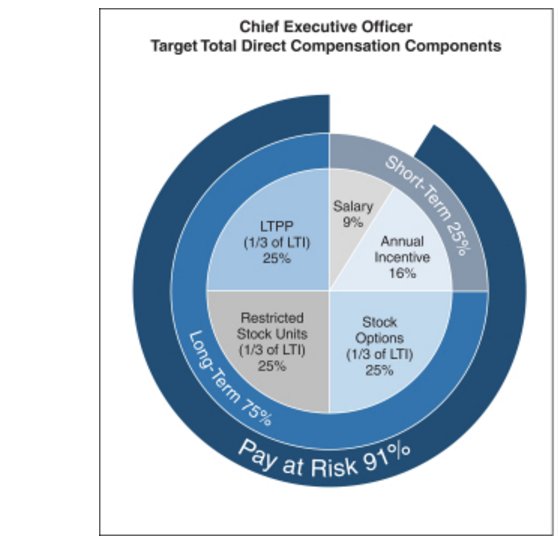 (Source: 2016 Proxy Statement; released August 10, 2016)
Valuation
If we use fairly market standard assumptions - $29 billion in FY2017 revenue, 3% year-over-year growth moving ahead, EBIT margins of 19%, an effective tax rate of 18%, equivalent capex and depreciation expenses, and no working capital growth, this would produce an unlevered free cash flow margin of 15%-16%.
If we assume that these margins and this revenue growth rate last over a ten-year projection period, and the long-run growth rate of the economy stands at 1.8%, this would imply a terminal EBITDA multiple of 13.3x. (The company trades at implied EBITDA multiples of 14.7x and 14.2x at FY2017-end and FY2018-end, respectively.)
With a cost of debt at around 3.6% for comparably rated A-/A3 debt and market standard cost of equity of 7%, this would value shares at a median price of $74. If we adjust the long-run growth rate assumption of 1.8% by +/- 30 basis points and cost of capital assumption by +/- 50 basis points, this would present a fair price range of $61-$92 per share.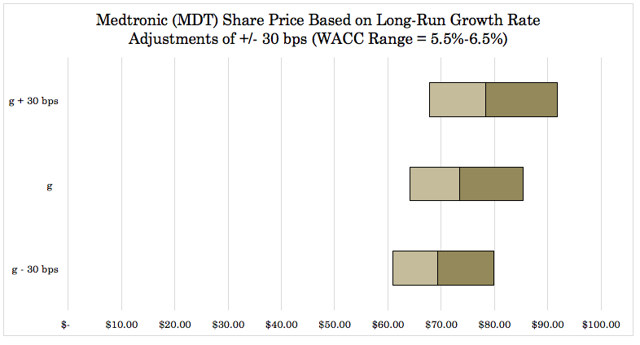 (Source: author)
If the results are sensitized on the basis of cost of equity (i.e., expected annual returns of shareholders), the stock is currently trading at 6.9% forward returns expectations based on the assumptions used above. A 5%-10% cost of equity range provides a set of prices spanning a considerable distance. Those with 10% returns expectations wouldn't find the stock cheap unless it was trading in the low $40's or else would need to believe that Medtronic would materially outperform its baseline forward expectations.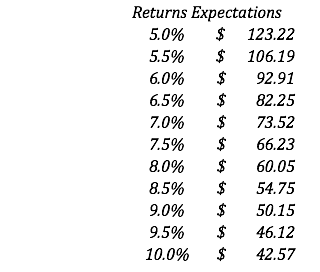 (Source: author)
Conclusion
Medtronic still faces some two main cash flow restrictions concerning matters that are largely out of the company's hands. Paying down roughly 38% of its outstanding debt would project to increase Medtronic's shares by 4 to 5 percent due to the accretive effects of lowering the company's cost of capital. The company generates enough cash flow after dividends and interest payments (at its current rate) to expect to pay off this amount in 5-6 years.
Disclosure: I/we have no positions in any stocks mentioned, and no plans to initiate any positions within the next 72 hours.
I wrote this article myself, and it expresses my own opinions. I am not receiving compensation for it (other than from Seeking Alpha). I have no business relationship with any company whose stock is mentioned in this article.