By Brian McGough
We don't like companies that simply survive - especially without respecting the precarious position they're in today - and Target (NYSE:TGT) is definitely in one from where we sit. The company will likely ultimately do the right thing, we just think it will be costly before it ensures survival.
We've been warning investors on risks related to Target shares for some time now.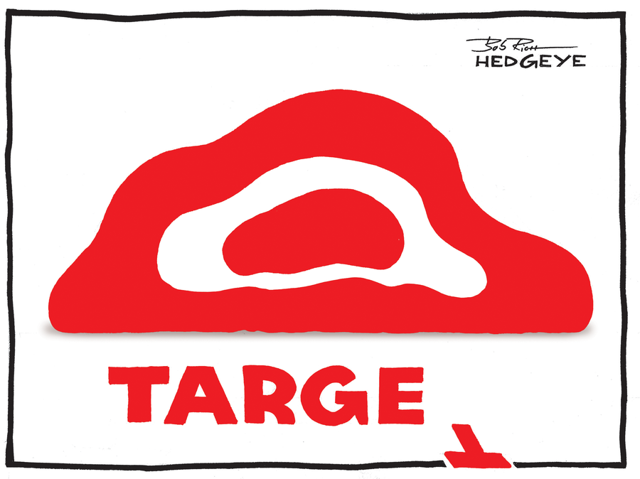 Investment Trends Headed In The Wrong Direction
Target has talked up its investment plan, which calls for $2 billion in cost savings to be stripped out of the P&L to be reinvested in the business. In dollars, what we can see is that the SG&A/sq. ft. growth rate hit -1.8% this past quarter. The lowest rate in CEO Brian Cornell's tenure - that's an alarming rate on its own, but in the broader context of what's happening across the industry, we don't see how Target wins sticking with this M.O.
Target already has the least enviable competitive set in retail, stuck between Wal-Mart (WMT), Amazon (AMZN), dollar stores, grocery stores, and department stores.
And its competitive set has already sacrificed near term-earnings in favor of playing the long-game. That's clear as day when you consider the strategic actions at Wal-Mart US where SG&A/sq.ft. is up 9% and the company just spent $3.3 billion on Jet.com to supplement its underdeveloped and underfunded e-commerce business.
Amazon isn't making it any easier on the market share side taking 28% of the trailing twelve month incremental consumer dollars as of this past quarter. So as these other companies continue to do the right things in order to generate traffic, volume, and ultimately market share we think Target continues to lose.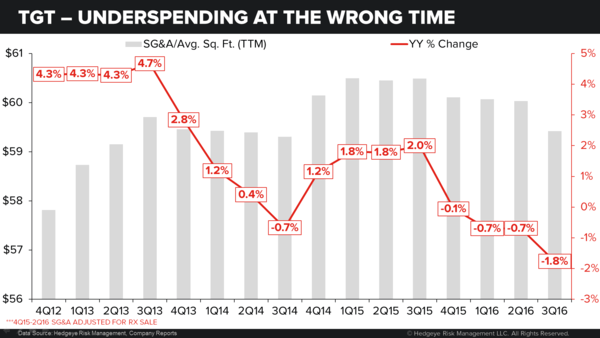 Let's End On Traffic
We've seen a sizable gap open up in the traffic rates between Target and Wal-Mart. We think that's no surprise given the amount of capital that's been redeployed into the business from each of the parties involved. That's so bearish for Target who is grasping at straws to figure out what has caused the meaningful underperformance.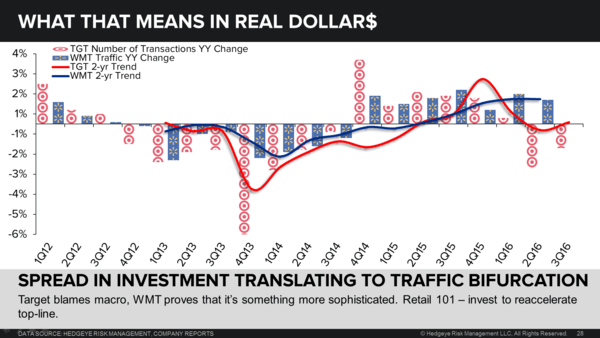 Bottom Line
We see additional downside for shares of Target from here. We'll know more when the company gives more guidance at their investor day at the end of February.