This is the fifth article I have written on Algonquin Power (NYSE:AQN) since I started writing on SA in 2010. Over the past 6 years, AQN has grown up into a sizeable utility with $10 billion in assets including the most recent acquisition of Missouri-based Empire District utility. AQN's assets include regulated water, gas, and electric service in the US, electric transmission and natural gas pipelines in the US, coupled with regulated and merchant power generating facilities in the US and Canada. Canadian-based AQN generates power from wind, solar, hydro and thermal. While classified as a mid-cap growth opportunity, the unique aspects of AQN include diversity of assets and its dividend structure.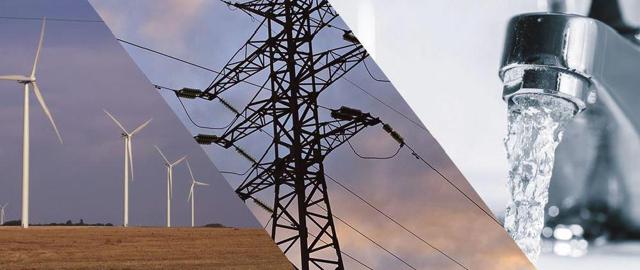 While most utilities target 6% to 8% earnings and slightly lower dividend growth, according to its most recent investor's presentation, Algonquin is targeting 16% to 18% earnings growth and 10% dividend growth. Driving this growth is a capital expenditure budget of $7.5 billion (C$9.7 billion) over the next 5 years coupled with a goal of a 45% increase in customer counts by 2021 and doubling power generating capacity to more than 5,000 MW. Management has targeted compounded average growth rates of 23% to 25% in EBITDA and 11% to 13% in free funds from operations per share. Lofty but achievable goals.
With the completion of Empire, Liberty Utilities, the US regulated subsidiary of AQN, services over 782,000 water, gas, and electrical customers in 13 states, as indicated in the light blue and green areas pictured below. In 2011, total customer count was 120,000.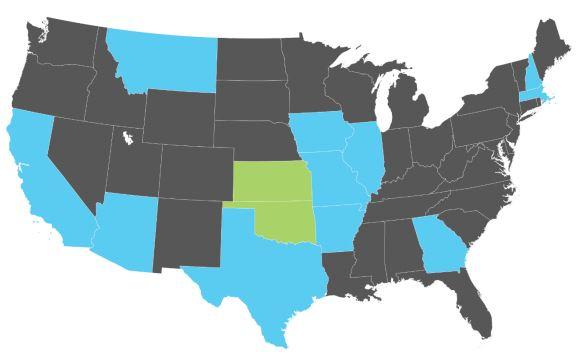 Management believes their current service area could provide upwards of 30,000 customer increase through organic growth. To reach their goal of over 1.1 million regulated customers by 2021, investors need to expect additional acquisitions. Since 2011, AQN has announced or completed 37 acquisitions ranging from Canadian wind farms to the recently completed $2.3 billion Empire purchase, which added 1,250 MW of power generation and 225,000 customers.
Management believes the $344 million (C$450 million) of anticipated Distribution Group operating profit in 2017 will be split 42% electric, 38% gas, and 20% water. If management achieves a 45% growth rate in customer count, reasonable expectations could be for operating profit to increase to over $500 million by 2021. The Transmission Group segment includes electric transmission lines and natural gas pipelines, mainly in the Northeast and in the newly acquired Empire service territory.
Operating profit from the Transmission group is expected to be in the $53 million (C$70 million) range by 2021, based on $530 million (C$700 million) of capex over the next 5 years. The Generation Group segment comprises of 45 locations generating 2,860 MW. Of the total capacity, 40% is generated by wind, 38% from natural gas, 15% from coal, 5% from hydro and 1% from solar with 2,160 MW of generating capacity in the US and 700 MW in Canada.
Management believes operating profit from power generation should exceed $611 million (C$800 million) by 2021, based on capital expenditures of $3.3 billion (C$4.3 billion) over the next 5 years. In total, the three operational segments could generate annual operating profit exceeding $1.1 billion over the next 5 years.
While headquartered in Canada, Algonquin is mainly a US asset-based utility. As of the end of 2016, 83% of EBITDA was generated in the US, 83% of assets resided in the US, and 90% of its debt was US dollar denominated. As of mid-2014, AQN began paying its dividend in US dollars. This change eliminates the dividend's currency exchange risk for US investors. However, for non-tax advantaged accounts, there is still the 15% Canadian withholding tax, but is offset for most shareholders by a corresponding credit on the investor's IRS 1040 form under the category of "foreign taxes paid."
While shares are 1:1 ADRs, where 1 share of NYSE-traded AQN equals 1 share of AQN traded on the Toronto exchange and exposes investors to share price currency risk, the dividend income has little currency risk. This difference is unique in utility investing of foreign companies.
Management just increased the annual dividend by 10% to $0.466 a share, for a forward yield of 5.4%. If management maintains this dividend growth rate, the yield on current cost will increase by 0.5% annually and within 4 years should exceed a 7.5% yield on cost.
AQN has an interesting history. Founded in 1988, Algonquin Power was initially structured as a Canadian Unit Trust, much like our MLPs but with looser restrictions, and purchased/built Canadian wind farms. With the lax rules and supported by the Unit Trust popularity, many different companies structured themselves as these tax-advantaged trusts. In their heyday, I invested in Unit Trusts that operated the largest North American peat moss harvesting business along with timber firms.
However, the tax man can giveth and can also taketh away, and eventually, the Canadian government did away with this corporate structure, forcing a corporate structure change to a standard corporation and devastating unit trust share prices. AQN's share price collapsed in 2010 from C$10.00 to C$3.50. I made my first purchase of AQN in Sept 2010 at the low of $3.50, and have been nibbling on it ever since. Over the previous 6 years, dividend growth has averaged 15% annually.
Until recently, AQN looked to Emera (OTCPK:EMRAF) as a financial "big brother," selling them newly issued shares with most acquisitions. I believed EMRAF would eventually purchase AQN for its Canadian renewable power generating portfolio to help meet the Canadian government's growing renewable energy mandates. EMRAF had amassed a 62 million share position in AQN, giving it a head start in any potential acquisition. However, EMRAF decided to sell its interest in AQN to help fund its own expansion in the US through its purchase of TECO.
AQN is my largest utility holding and represents about 15% of my total utility allocation. I would recommend buying Algonquin Power up to a $9.50 share price and 4.9% yield. There is not much research available on AQN, and in addition to the investor's presentation linked above, here is the next previous presentation.
Author's Note: Please review disclosure in Author's profile.
Disclosure: I am/we are long AQN, EMRAF.
I wrote this article myself, and it expresses my own opinions. I am not receiving compensation for it (other than from Seeking Alpha). I have no business relationship with any company whose stock is mentioned in this article.
Editor's Note: This article discusses one or more securities that do not trade on a major U.S. exchange. Please be aware of the risks associated with these stocks.