There is hardly a harder way to try and make money than by running a commodity producer. The American shale oil (NYSEARCA:USO) revolution was an incredible success yet the companies that created it have been mediocre to horrific investments.
Good businesses generate high returns on capital invested, these companies for the most part do not.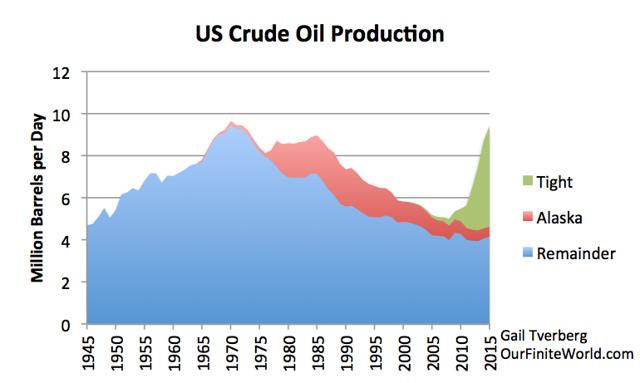 For anyone holding these shale oil producers going into 2017 you are really basically just betting on oil. The really premier assets like those in the Delaware and Midland Basin might be able to generate sufficient rates of return today, but the Bakken, Eagle Ford and others need oil prices to keep rising.
What follows are four threats to oil prices as outlined by the Sprott Energy Fund with our take on each. This is information that is important to investors with long exposure to the shale oil sector.
Threat Number One - If OPEC Is All Talk And No Action
It took those crazy guys two years, but late this year OPEC finally decided that they did not actually like really low oil prices.
Surging American shale oil production might have been the catalyst that started oil falling back in July 2014, but it has been OPEC that pushed it down farther and kept it there.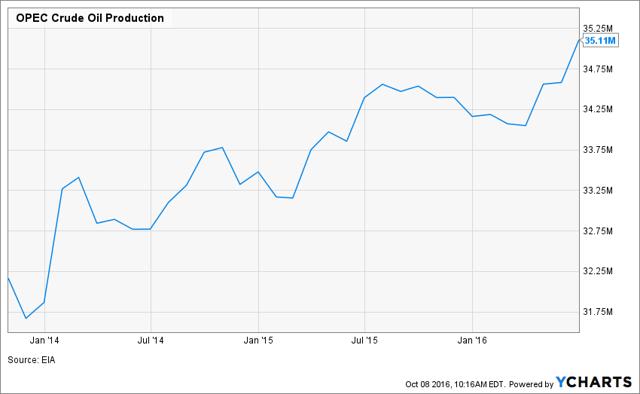 Not only did Saudi-led OPEC not cut production to stop the price of oil from falling further, they actually increased into an already oversupplied market. You can see the increase in the chart above.
Saudi Arabia raised production, Iraq continued growing and the sanctions on Iran ended. All of this pushed total OPEC production up 3 million barrels per day from the start of 2014.
That right there is the reason that this oil crash has lasted so long.
But it hasn't been pain free for the OPEC nations either. Saudi foreign reserves have dropped from $737 billion in August 2014 to $555 billion today as lower oil revenues caused significant deficits.
Deciding to put an end to the pain, on September 28 OPEC announced that it has had enough and that it has for the first time in eight years agreed on a production cut. The group's intention is to decrease production by approximately 750,000 barrels per day.
A decrease of that size is enough to make a big difference to the oil markets.
The price of oil responded to this announcement with WTI oil moving from $45 per barrel to $50 within a few trading days. We have for the most part held the $50 per barrel level since.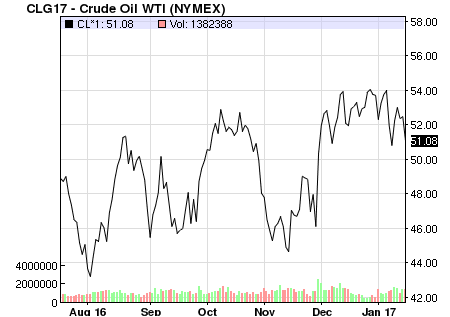 Source Nasdaq.com
If OPEC is all talk and no action on these cuts it is going to be hard for oil prices to remain where they are. No follow through will see oil price weakness and if OPEC were to actually continue to grow production we could revisit much lower prices.
That would ruin many shale oil producers who are just scraping by as it is.
Threat Number Two - If Shale Oil Growth Rebounds
If the intent of Saudi Arabia and OPEC in cranking production up into an oversupplied market was to slow American shale oil growth it worked.
Shale oil production growth not only stopped, production rolled over in a pretty major way. It differed between the various shale plays. The Eagle Ford which quickly became uneconomic rolled over hard given its base of production was on average not very old. The Bakken which had a lower level of base decline rates (because it had older production) held up better but did still decline.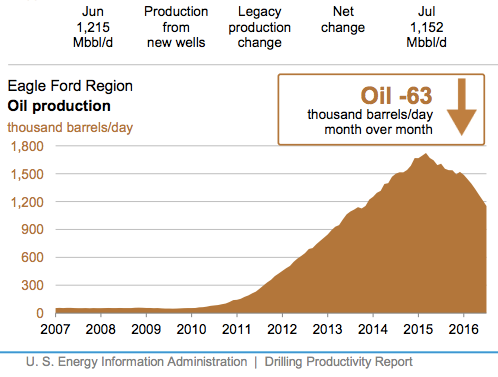 Source: EIA
The Permian has continued to grow at a modest pace as its economics are superior and companies have continued to drill. If you are investing in shale oil producers this is where you should be looking. Valuations are pretty expensive, but at least some of these companies can make money.
A valid concern for companies with exposure to shale oil producers is that these companies themselves actually drill the world back into lower oil prices. Operationally these companies have done fantastic things. They are getting more efficient and drilling bigger wells for less money all the time.
While they still represent only something like 5 percent of production they (as the new swing producer) could throw a damper on oil prices with a return to growth. I would also wonder what OPEC is apt to do if they see U.S. production growing again in a meaningful way.
U.S. production growth really kicking into gear could cause OPEC to abandon their production cut plan.
Threat Number Three - Unplanned Outages Come Back On Line
I presented a chart earlier that showed how OPEC had grown production by 3 million barrels per day from the beginning of 2014 through the middle of last year.
That is quite an astonishing increase, made even more so by the fact that OPEC's basket case members (Venezuela, Nigeria and Libya) all have had significant production outages.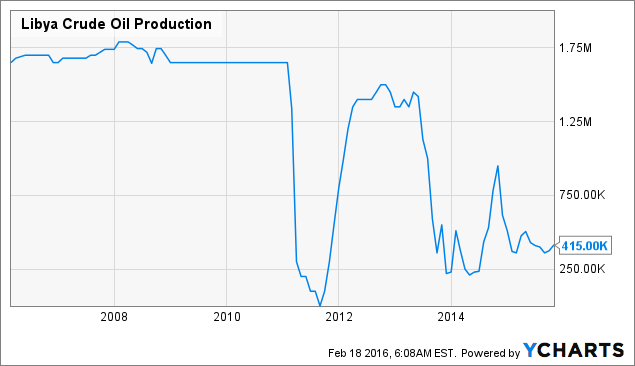 I don't know how it would happen, but if these countries ever regained their footing oil production-wise they alone could throw enough oil into the market to sink the price of the commodity.
We saw what happened when the sanctions against Iran ended. Something could happen quickly in Libya as well.
Libya has produced as much as a million barrels more per day at one point within the last half decade than where it sits today. There is potential there to crush the oil price.
Threat Number Four - Electric Cars
This really is the long-term elephant in the room isn't it? If you are a long-term oil bull you had better take this threat seriously.
In the short term though, there isn't going to realistically be much of an impact here so you can rest easy.
Sprott's Eric Nuttall puts some context on this in the previously linked report:
The final concern that some investors seem to have relates to electrical cars and the potential for the combustion engine to become obsolete in the near future. When an investor expresses this worry to me there are a few basic numbers that I share with them.

-First, annual global car and light passenger vehicle production is roughly 80,000,000.

-Second, assuming that the average useful life of said cars is 10 years that means there is a global install base of ~800,000,000 vehicles.

-Third, Tesla in 2016 produced 78,000 cars and has ambitions to grow this number to 400,000-500,000 (ignoring that they have never hit a production goal and still face highly significant challenges like adequate battery production). Giving them the full benefit of the doubt (along with Ford, GM, Daimler-Chrysler, Mercedes Benz, BMW, etc) it seems highly improbable that annual production could exceed 1,000,000 vehicles in the next 5 years. This means that maybe in 5 years electric cars would represent a whopping 1.25% of global car sales but most importantly it would take 800 years to displace the install base. This also ignores that those living in the major areas of car sale growth (India, China, etc.) cannot even afford a "low cost" $35,000 electric car when their average annual salary is sub-$10,000/year.
10 years from now with another decade of technological advancements I think that this will be another story. Just look how quickly shale oil productivity improvements have been made over the last 10 years. The electric car could do the same.
Implications For Investors
Personally, I am pretty bullish on oil prices over the next few years. There has been so much supply destruction done over the last two that I think it is going to catch up to us pretty soon. Further, oil demand has actually grown very steadily (as it always does) despite what the media may sometimes say.
However, that does not make me want to rush out and buy a shale oil producer. I think these as a whole are terrible businesses that don't generate decent returns on capital or any free cash flow ever.
If you do own them you absolutely must make sure you are owning the best of the best. You need to own the lowest cost producers in the game with the best balance sheets.
Commodity production is a tough business. That is probably why I virtually never see a shale oil producer in the portfolio of any of the Superinvestors we follow.
I'm sure many of you will have a differing view, I'd love to discuss further in the comment section of this article.
Please click the follow option at the top of the article if you would like to receive our future articles.
About The Superinvestor Bulletin
The ideas that make up our portfolio are currently ahead of the S&P by 12.58% on average since inception (as of January 6, 2017). We just released our latest idea which represents a staggering 15 percent of the portfolio of a world-class activist investor who has averaged 20% annualized returns.
With the activist investor providing the catalyst to realize value, we believe that this company would be a great one to own should the market find itself in a correction. You can take a free trial here, please be aware our annual subscription rate goes from $169 to $195 on February 1, 2017.
Disclosure: I/we have no positions in any stocks mentioned, and no plans to initiate any positions within the next 72 hours.
I wrote this article myself, and it expresses my own opinions. I am not receiving compensation for it (other than from Seeking Alpha). I have no business relationship with any company whose stock is mentioned in this article.