NiSource (NYSE:NI) is a pure-play, 100% regulated utility holding company. They serve over 4 million natural gas and electric customers in 7 states. The company has identified over $30 billion in investment opportunity with possible upside as new opportunities are found. This $30 billion plus opportunity will drive EPS and DPS growth of 4-6% per year. There is no expiration on this growth, unlike most utilities which guide to growth rates spanning just 5 years.
Who is NiSource:
NiSource has two segments: natural gas utilites and electric utilities. The natural gas utilities segment serves 3.5 million customers in seven states while the electric utilities segment serves 500 thousand customers in Indiana. Roughly 60% of assets (and earnings) come from natural gas utilities, leaving 40% of assets (and earnings) from electric utilities.
The Simple Utility Model:
The neat thing about utilities and capital expenditures is that it leads to higher earnings. The simple formula for utility EPS is:
Assets x Equity % x Allowed ROE = Net Income
Divide the resulting net income by shares outstanding to get earnings per share.
It's apparent that growing assets is key to growing EPS because equity % and allowed ROE tend to be fairly stagnant. So finding high growth utilities is as simple as finding companies with large backlogs of capital expenditures.
NiSource Capital Expendures: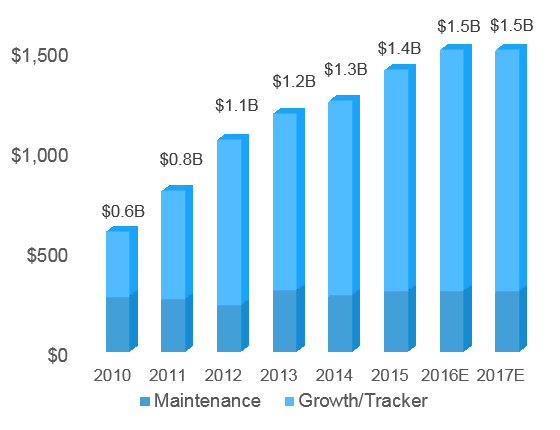 Here is the track record for NiSource's capital expenditures. In 2010, NI spent just $600 million. Fast forward to 2017, and the plan is to spend over $1.5 billion. And this isn't just a flash in the pan kind of year. The chart shows that capital expenditures have been increasing steadily for years.
Following the tragic gas pipeline explosion in San Bruno, California, in 2010, regulators and gas utility companies have re-committed to safety. NiSource, being largely a gas utility, has benefitted from this re-focus on safety. Much of spending is to replace old, unsafe pipe segments with newer, safer technology. Also, improving the ablity to detect, locate, and repair gas leaks through improved system design and technology is a major part of the solution.
Thus, NiSource has identified $30 billion of opportunity to enhance safety, improve technology, and modernize their system. This spending will take the next 20-30 years to complete to avoid raising customer bills too quickly. It is equally likely that new projects and programs will be identified over the course of the next 2-3 decades to continue this growth "indefinitely".
What is NiSource Worth?
NiSource expects to earn $1.12-1.18 in EPS in 2017. At the closing price on 1/18/2017 of $22.52, that's a P/E of 19.1-20.1x. Slow-growth utility, Consolidated Edison (NYSE:ED), trades at 18.2x P/E. Consolidated Edison has a difficult time growing at inflation and has contentious relationships with regulators. Further, natural gas utilities tend to trade at a premium to electric utilities because growth is better, bills less contentious, and less technology risk. The 20-30 year runway of growing EPS at 4-6%/year and being primarily a natural gas utility explain NI's premium to ED.
It's difficult to argue that NI is "cheap" at current levels. But it has a great story, an extremely long-term growth plan backed by real, identifiable projects, and respectable 4-6% annual growth. For long-term holders, it should prove to be a reasonable investment.
Supporting Documents
Disclosure: I/we have no positions in any stocks mentioned, and no plans to initiate any positions within the next 72 hours.
I wrote this article myself, and it expresses my own opinions. I am not receiving compensation for it (other than from Seeking Alpha). I have no business relationship with any company whose stock is mentioned in this article.