I have been a regular contributor on SA when it comes to the topic of volatility. Naturally, I receive a number of questions being posed to me in regards to various topics. However, as of late, I have been getting questions about the heavy short interest in the VIX futures and whether this means anything. Of course, the question can be posed more bluntly. Does the heavy short interest in the VIX futures mean that we are about to see a bout of increased volatility in the near future?
Now I have my opinions and thoughts. However, I also let the data educate me. In this case, I will walk through the historical data on the VIX futures with you and perhaps we can answer some questions, and perhaps we can get some more interesting questions coming out of this exercise.
Now let's look at where the VIX shorts currently stand: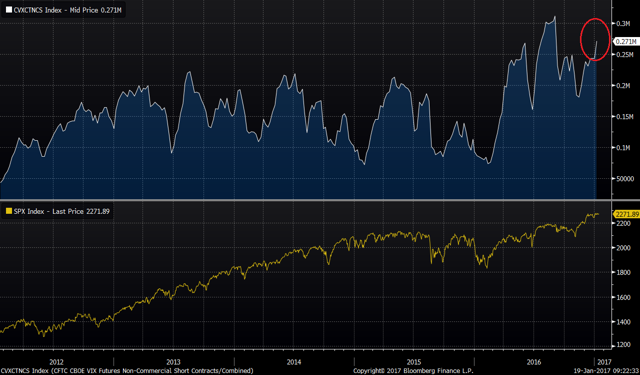 As the chart above shows, the VIX futures have a pretty high short ratio currently. However, what is more interesting is that the relationship between increase in VIX shorts and future underperformance of the market is almost non-existent. Furthermore, when you look at the VIX shorts versus the realized volatility, which is shown in the spot VIX index, there is also a very poor correlation.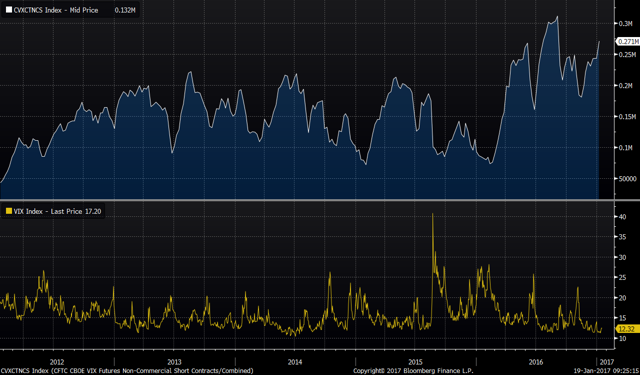 Simplistically put, one cannot use the level of short interest as a determinant of future realized volatility based on a five year history.
Now let's look at this a little differently. Let's look to see if there is any relationship between the net positioning in the VIX futures (longs minus shorts) to see if there are any interesting patterns.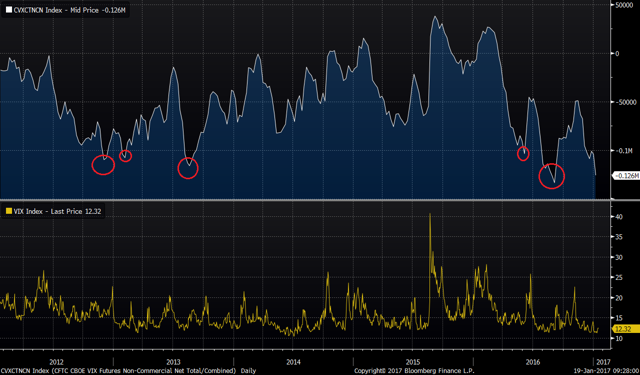 This is where an interesting pattern emerges. When the net positioning on the VIX has fallen below 100k contracts, realized volatility on a 1-2 month basis has been higher.
With the current net positioning back below the -100k contract level, based on the previous historical data, it may make sense to be anticipating higher volatility levels a few weeks out.
There are caveats here, as there always usually are. My data is applicable over the past five years, not because the VIX data doesn't go back further, but because of the proliferation of the VIX linked ETNs such as VXX (BATS:VXX), UVXY (BATS:UVXY), VIXY (BATS:VIXY) and XIV (NASDAQ:XIV) to name a few. The huge inflows into these ETNs has created a dislocation in the VIX futures market as you can see in the 10-year chart below: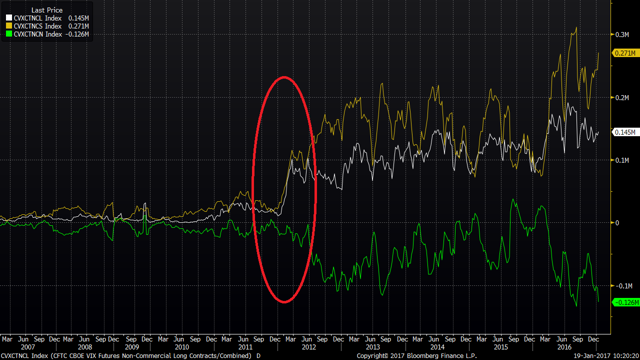 In the past five years, we haven't really experienced a sustained bear market so I am unable to predict large corrections and/or sustained bear markets with persistent volatility based on the data from the VIX futures alone. Furthermore, the number of instances where we have seen the net VIX exposure fall below 100k is six - hardly statistically significant.
Now this doesn't mean that I am sitting on my hands here. It should be noted that the other models I watch that are based on longer data with more persistent outcomes are not screaming for a bear market either. I remain convinced, based on the arguments I have laid out previously in my article: "Why I Am Sitting On 50% Cash", that we may be due for a rendezvous with volatility. For now, I am positioned defensively with 50%+ cash and I own March 215 SPY (NYSEARCA:SPY) puts that are worth around 2x my portfolio on a notional basis . These have been financed by writing calls on my existing positions so the cost to my portfolio for this trade is under 0.5%.