MGIC Investment (NYSE:MTG) produced good 4Q'16 numbers that confirmed the company's recovery and normalization is still on track and investors without a long position should get one without further delay.
The company paid down debt during the year and took a charge against this. The chart below presents the pre-tax profit number on an underlying basis. The message is that as losses incurred on delinquencies have fallen, so the profit line has recovered and, at long last, MTG is posting a healthy run rate of earnings.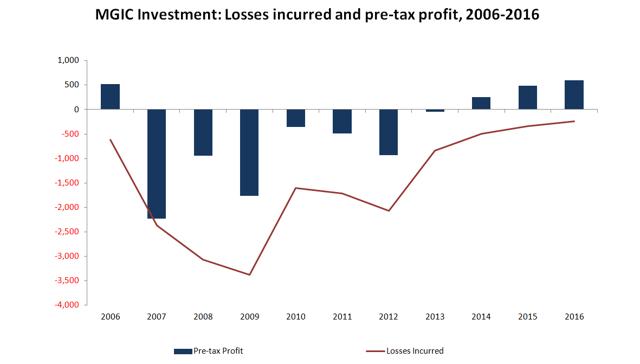 Here is 2016 actual data in comparison to the forecasts I made in my last article on MTG
This matters for a stock like MTG. Given it's an undervalued recovery play, it is essential that we verify constantly that it is getting to where it needs to be in terms of underlying earnings.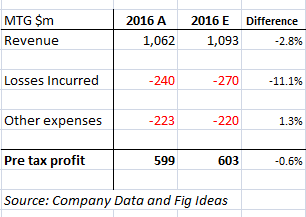 So that's good enough. Overall revenue was a little lighter than I thought, but gross premiums written was in line, so I suspect the difference will have been a lack of realized investment profits due to fixed income price action in 4Q. Losses incurred balanced this out and other expenses were pretty much bang in line. If we get three rate hikes through 2017 like the Fed expects we will be looking at modest growth in investment revenue offsetting book losses on bond values, which are mostly played out for now anyway.
These results are very positive for the outlook. MTG is enjoying very benign credit insured quality emanating from its change in risk appetite in a more conservative direction after 2008, and most of its delinquencies are still incurred on pre-2009 vintages, which, in turn, are burning off. With the company writing even lower provisions than I thought in 4Q, I am lowered my forecast for losses incurred. The table below includes a little scenario analysis for a very skinny losses incurred line in 2018 under "scenario 2". To my mind that is a realistic outlook that would reflect the firm's risk fundamentals. If you wanted to go mad, you would run a 20% tax rate instead of the 32% I am using, but the stock is so cheap anyway there's no need to.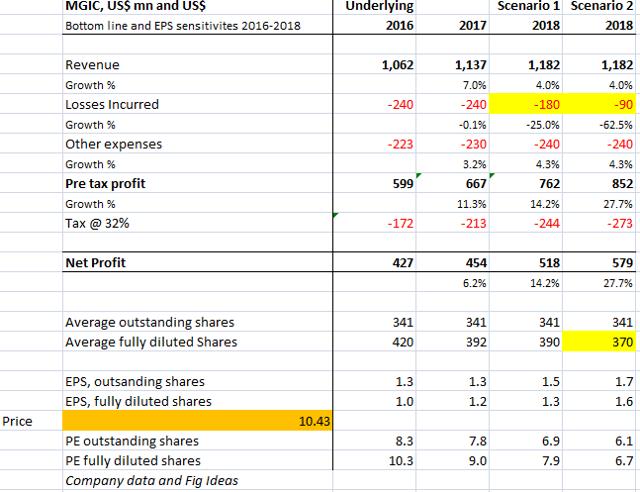 If not now, when?
You could have bought this for $5.44 back in June! It still offers great value and is delivering on the outlook that its cult following of analysts have been discussing for a long time.
It's true that we might not get the above numbers at the bottom line through 2017-18. The reason is MGIC might chose to extinguish further subordinated debt in favor of senior notes, which could well incur charges. This would lower the interest cost of the business and, critically, gets it closer to paying ordinary dividends once more. Welcome that development if it comes. Either way, 50% upside from here is entirely realistic on a twelve month view.
Disclosure: I/we have no positions in any stocks mentioned, and no plans to initiate any positions within the next 72 hours.
I wrote this article myself, and it expresses my own opinions. I am not receiving compensation for it (other than from Seeking Alpha). I have no business relationship with any company whose stock is mentioned in this article.