Yesterday the FTC issued a press release that charges Qualcomm (NASDAQ:QCOM) with Monopolizing Key Semiconductor Device Used in Cell Phones.
As the complaint states:
Qualcomm also holds patents that it has declared essential to industry standards that enable cellular connectivity. These standards were adopted by standard-setting organizations for the telecommunications industry, which include Qualcomm and many of its competitors. In exchange for having their patented technologies included in the standards, participants typically commit to license their patents on what are known as fair, reasonable, and non-discriminatory, or "FRAND," terms.

By threatening to disrupt cell phone manufacturers' supply of baseband processors, Qualcomm obtains elevated royalties and other license terms for its standard-essential patents that manufacturers would otherwise reject. These royalties amount to a tax on the manufacturers' use of baseband processors manufactured by Qualcomm's competitors, a tax that excludes these competitors and harms competition. Increased costs imposed by this tax are passed on to consumers, the complaint alleges.
The FTC charges QCOM that:
1) QCOM Maintained a "no license, no chips" policy that forced phone manufacturers to pay elevated royalties to Qualcomm on products that use a competitor's baseband processors. The FTC alleges "this is an anticompetitive tax on the use of rivals' processors." This is a condition that other suppliers of semiconductor devices do not impose.
2) The FTC further alleges that QCOM has refused to license standard-essential patents on FRAND terms, to competing suppliers of baseband processors.
3) Finally, the FTC says the company "Extracted exclusivity from Apple in exchange for reduced patent royalties." In a nutshell, QCOM used its dominant position to maintain an illegal monopoly over companies like Apple.
Folks, these are very serious allegations. And the reason is that the complaint was filed by the FTC itself, not a competitor of the company.
And this is not the first time QCOM has been charged with monopolistic practices by regulators. In February 2015, the company was fined $975 million by Chinese antitrust regulators, who outrightly changed the licensing terms for smartphone manufacturers in China.
About a month ago, the WSJ reported South Korean regulators slammed QCOM with a $853 million fine, the highest antitrust penalty ever handed in Korea.
After a three-year investigation, South Korean regulators concluded QCOM breached antitrust law by limiting competing chip makers' access to its patents. The company also forced mobile-phone manufacturers into unfair license agreements, by refusing to supply crucial phone chips to those that disagreed with its terms, the regulator said.
In other words, regulators all over the world are ganging up on the company, all accusing QCOM of basically the same thing: that QCOM extracted elevated licensing fees from the smartphone industry and, it has refused to licence standard-essential patents on FRAND terms.
Why is Qualcomm's business model in jeopardy?
According to the company's 10-k report, the company has two main segments.
QCT Segment. QCT is a leading developer and supplier of integrated circuits and system software based on CDMA, OFDMA and other technologies for use in wireless voice and data communications, networking, application processing, multimedia and global positioning system products.
QTL Segment . QTL grants licenses or otherwise provides rights to use portions of our intellectual property portfolio, which, among other rights, include certain patent rights essential to and/or useful in the manufacture and sale of certain wireless products, including, without limitation, products implementing CDMA2000, WCDMA, CDMA TDD and/or LTE standards and their derivatives.

First of all, QTL revenue licensing is in jeopardy, because by default the FTC alleges that QCOM is overcharging for licensing. So depending on the outcome of the complaint, QCOM might be forced to reduce licensing fees.
By how much, and what FRAND means in revenue terms I have no way of knowing. However, a 20% haircut in this segment is probably in the works.
Also please note that QTL revenue is almost pure profit (85% is EBT). As per the company's 10-K, QCOM's net income for last year was $5.7 billion. Since QTL revenue was $7.66 billion for the full year, even a slight reduction in licensing fees might take a very big chunk out of QCOM's earnings per share.
So if QTL revenue falls by 20%, then total earnings might be reduced to about $4.2 billion, from $5.7 billion today.
QTC segment revenue is also in jeopardy, because part of the complaint alleges the company overcharges the industry for baseband processors.
Again, I have no way of knowing what that might mean in terms of revenue, but I would say that 10% lower revenue for this segment is not improbable.
But that's not the end of the company's problems. Please recall the company paid Chinese regulators $975 million in fines, and will probably pay Korean regulators another $835 million. If QCOM paid almost a billion dollars to Chinese regulators, I assume it will pay at least that much to U.S. regulators to settle charges.
But European regulators are also investigating the company on the same grounds. From Reuters:
European Union antitrust regulators are investigating whether one of the world's biggest chipmakers, Qualcomm, uses illegal tactics to shut out rivals, six years after slapping a record 1 billion euro ($1.09 billion) fine on Intel for a similar offense.

Qualcomm has been feeling the heat from regulators in Europe, the United States, China, Japan and South Korea in recent years in relation to its licensing model and the power of its patents in mobile networks and communications devices.

The U.S. company agreed in February to pay a fine of $975 million to end a 14-month investigation by the Chinese government into anti-competitive practices.

The European Commission said on Thursday it was launching twin probes into the San Diego-based chip designer which center on its control of baseband components used in most of the world's smartphones, including Apple iPhones.
But it's not only the potential fines that might affect the stock, it's also that the company might be forced to change its pricing structure, that will most likely affect its earnings in the future.
However, QCOM is a very solid company. The company has about $19 billion in cash and equivalents on its books, so even several billion in fines will not cripple the company.
Also, the company is not exactly debt-free. Current liabilities total about $7 billion, and the company also has $10 billion of long-term debt. So while QCOM can take a hit of several billion, it's not as if it has all the cash in the world.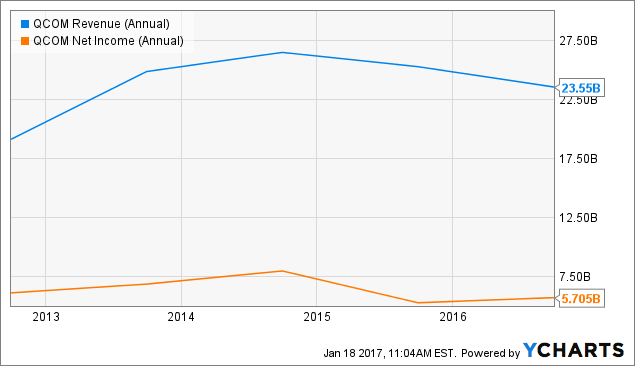 QCOM Revenue (Annual) data by YCharts
The company's market cap hovers around $100 billion. And if you look at the chart above, revenue and earnings (at the company level) have been on the decline for 3 years in a row. Folks, QCOM trades at about 4X revenue. This market is not kind to companies that do not exhibit revenue growth.
If the FTC forces the company into a settlement - that will lower its revenue - things will get really messy and the market cap might fall like a rock.
The FTC complaint might have very broad implications
I'm sure many companies out there are very happy about the FTC complaint. Please recall the recent fight between Apple (NASDAQ:AAPL) and Nokia (NYSE:NOK). (please consider: Nokia Is Playing With Fire With Its Patent Infringement Case Against Apple).
AAPL is basically fighting NOK on the same grounds as the FTC complaint. I'm sure there are many companies similar to Apple that would like to settle the issue of FRNAD terms for standard-essential patents once and for all. I'm sure AAPL is not the only one that thinks it's paying more than it should.
And then there are many other companies like Microsoft (NASDAQ:MSFT) that might also share QCOM's predicament. It's no secret MSFT is milking the entire Android smartphone community for many years now (please consider: Why Microsoft Will Dominate The Smartphone Space: Its Android OS Cash Cow).
I am not sure if the patents in the case of MSFT are considered standard-essential patents or not, but MSFT is making a killing of the entire Android space on the planet.
And just as in the case of QCOM, those costs are passed down to the consumer. So as a side note, many companies like MSFT might also be affected in the future.
Bottom line
QCOM can probably be considered a cheap stock when viewed from the P/E metric, however if the company is convicted and is forced to change its licensing terms, a huge portion of its profit will disappear.
Also, the company might be forced to pay several billion to regulators before this issue is over. Add to that legal expenses, and things could get messy.
I currently have a very small sport position in QCOM. Depending on how the FTC complaint unfolds, I might add more.
Disclosure: I am/we are short QCOM.
I wrote this article myself, and it expresses my own opinions. I am not receiving compensation for it (other than from Seeking Alpha). I have no business relationship with any company whose stock is mentioned in this article.