Some long-term investors already had lost their faith, but it finally happened: The Australian pharma/biotech company Clinuvel Pharmaceuticals (OTCPK:CLVLY) Pharmaceuticals, first struggling for many years with finding its market positioning, then struggling with the logic of the administrative authorities on how to prove a drug's efficiency, landed its moon shot in Europe. While the stock has soared impressively through 2016, I believe it is still strongly undervalued.
Clinuvel Pharmaceuticals has developed a drug that, after being delivered as an implant to the fat tissue at the hip with the size of a rice grain, stimulates skin cells to produce melanin. Melanin is the substance that determines the skin tone and acts as a natural protection against sunlight.
Clinuvel has achieved approval by the EMA in October 2014 for market access in Europe for EPP (Erythropoietic protoporphyria), a rare disease that causes severe pain for the patients if they are exposed to sunlight. The pain is so intense that especially during summer, they literally live a life in the dark.
After approval in October 2014, Clinuvel had to install additional procedures to monitor safety and efficiency for the drug, as they had to use unorthodox methods of proving the benefits of Scenesse in a placebo-controlled study - as patients refused to expose themselves to the potential pain. Secondly, Scenesse gives the patients a very obvious tan, so patients know if they are on the drug or on placebo and hence might change their behavior.
In 2016, Clinuvel finally launched Scenesse for EPP in some European countries (Germany, Netherlands, Austria, Italy & Switzerland, as stated in AGM presentation from Nov 2016, p. 9) after they got confirmation from local health insurers that they will cover the rather high expenses. One treatment with Scenesse costs between 15'000 EUR - 19'000 EUR in Europe, and EPP patients need between 4-6 treatments a year, resulting in a per patient revenue of 60'000-114'000 EUR per year (derived from figures of the German authorities, p. 7). The company aims to go for a uniform pricing for EPP in Europe (AR 2016, p. 7)
While the Q1 of FY16/17 (ending Sep 30, 2016) was a quarter in which Clinuvel was still building up distribution in some countries, it was not only the first quarter in company history that had a positive free cash-flow, but it had a free cash-flow of 3.540 mn AUD (2.5 mn EUR), which is an impressive 61.8% of the 5.728 mn AUD (4.05 mn EUR) of revenue (Source: Company Quarterly report Q1 FY16/17). From this quarter onwards, Clinuvel has made the transition from a cash-burning biotech startup to a commercial operation with sufficient cash-flow for self-funded growth (which also appears to be the primary target of CEO Philippe Wolgen, as stated in his letter to shareholders in the Annual Report 2016, p.4)
With this now being the first commercial milestone proving the company can actually deliver the drug and capitalize on it, let me explain how I proceeded to find the fair value of this company:
Valuation approach: Discounted Cash-flow with sensitivity analysis
The rather simple business model (including treatments for EPP and Vitiligo) is subject to a lot of assumptions, and DCF valuations are very sensitive. For that reason, I build a central scenario based on some assumptions with a defensive characteristic that leads to a ~1080 million EUR fair equity value (vs 247 million EUR current market cap, dated: Jan 17, 2017), resulting in a >300% share price increase potential.
The core assumptions are as follows:
EPP market:
No of implants per year per patient: 4
Average sales price per implant (before tax): 14'000 EUR
Global no of EPP patients: 2'500

thereof treated in FY 2016/17: 40%
thereof treated in FY 2021/22: 80%
(including USA; no FDA approval yet)
Vitiligo market:
first commercial treatment: 2021
No of implants per treatment: 6
Average sales price per implant (before tax): 1'500 EUR
Global no of patients treated per year: 4.5 million (total population estimated to be 45 million [Clinuvel, p. 1])


thereof treated in FY 2016/17: 0.2%
thereof treated in FY2021/22: 1.0%
Cost structure Clinuvel (derived from historic financial reporting and conservatively extrapolated for further growth)
Production costs Scenesse: 372 EUR per implant at the beginning, gradually reduced to 100 EUR
R&D spend: 15-11 % of revenue (declining with growing revenue)
SG&A costs: 23 % of revenue
Costs of equity: 12.5%
Debt interest rate: 6%
Tax rate: 30% of EBT (Earnings before tax)
This leads to the following key figures over time with a DCF value of 1080 million EUR or ~23 EUR per share: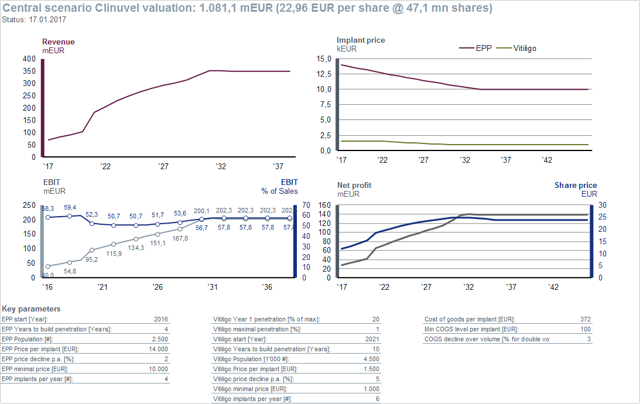 (Source: Modeling and visualization by the author)
To estimate the impact of errors in the estimates, I then changed each parameter by a certain degree up and down to see how sensitive the valuation reacts to changes (all other parameters stay the same). The impact on the company valuation can be seen from the charts below: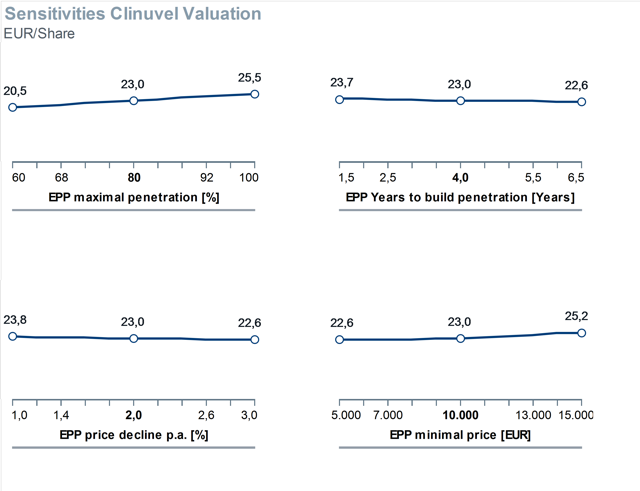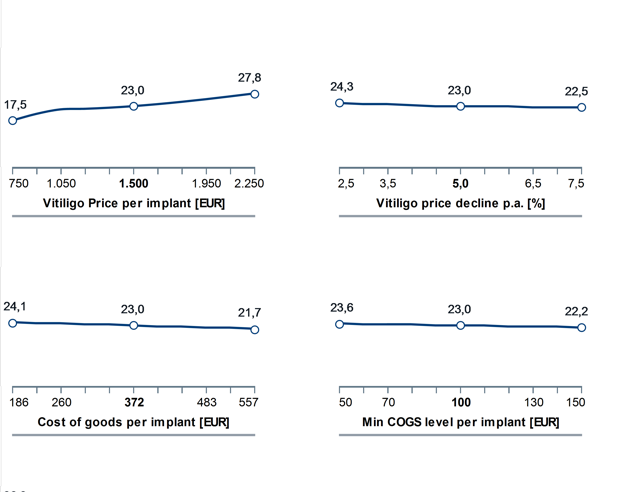 (Source: Modeling and visualization by the author)
Two key lessons you can take from these sensitivities: Vitiligo penetration is a key driver for company valuation, as well as the timing of the Vitiligo introduction.
In all scenarios, even the rather negative ones, there is a significant upside to today's valuation. Even if the company fails to commercialize Vitiligo at all, there is still a 30% upside.
Financial situation
The company in the past had a cash-burn of approximately -1.5-2.0 mn AUD (or 1.1-1.4 mn EUR) per quarter, but turned to a positive free cash-flow of 3,5 mn AUD (or 3.5 mn EUR) in the quarter ending Sep 30, 2016. At Sep 30, it was having 17.3 mn AUD (12.2 mn EUR) in cash or cash-equivalents, so I expect -repeating myself - it to be self-funding its operation from now on.
Risk profile
Valuation aside, there are still certain risks inherent in the business that only recently turned to be a commercial company.
Uncertainty about FDA approval: While Clinuvel makes progress with the FDA on market access for Scenesse in the US to treat EPP, the approval process has been lengthy and cumbersome in Europe, and the company might eventually not be able to bring the product to market in the US. While this would be definitely a downside for EPP, it would also send a signal for the by far larger market of Vitiligo in the US. Some of this risk has been mitigated by a public workshop with practitioners and affected patients by the FDA, so they have a good understanding of the improvement of living conditions. Risk probability: Low/Medium. Value at risk: Medium
Safety profile of Scenesse: Introduction of the drug in Europe is currently accompanied by very strict documentation obligations for doctors and patients to gain additional safety data. Clinuvel has paid a lot of attention to safety and put a lot of resources on it, and CEO Philippe Wolgen has been very positive about the safety profile of the drug. Nevertheless, any safety concerns might delay extension of the product to other applications, or might in an extreme case lead to a stop of distribution. Risk probability: Low. Value at risk: Medium
Company transformation and upscaling: Clinuvel for the past years has been operating on slim budgets and ran a very small workforce out of Australia with a very scientific focus. Now turning into a commercial entity preparing for global presence, there is a risk that this upscaling and focus shift is not going as smoothly as is needed to reach the sales trajectory sketched in the scenarios above. This risk appears low, as Philippe Wolgen is a seasoned CEO with a variety of experiences; at the same time, the distribution setup is limited to a few centers per country, so they are neither facing a logistical challenge or the need to build a field sales force. Risk probability: Low. Value at risk: Low
Further capital raises/dilution: The risk of further dilution is rather limited short-term since the operations turned cash-positive in the last quarter. However, new indications post-Vitiligo might require partnering which could be realized through issuing of new shares. Risk probability: Low. Value at risk: Low
Summary and outlook
The quantitative modeling of the revenues and P/L for EPP & Vitiligo show a significant value upside even if certain parameters don't kick in as expected.
Apart from EPP and Vitiligo, Clinuvel has built a knowledge domain around photomedicine and skin pigmentation that is likely to be expanded over the coming years to further applications, also with less strict administration schemes. For these reasons, I believe Clinuvel Pharmaceuticals has all the catalysts in place that will drive it from a share price that has been depressed by many challenges in the past to a fair valuation.
Editor's Note: This article discusses one or more securities that do not trade on a major U.S. exchange. Please be aware of the risks associated with these stocks.