When I research a company like AMD (NYSE:AMD), the first thing that sticks out a mile is its debt load. I mean, we are talking here about a company with a debt to equity ratio of 4.23 which only in 2014 was a whopping 10.88. This much debt for a company is like carrying a huge weight on your back. It is extremely difficult to compete against the likes of Intel (NASDAQ:INTC) which have been able to preserve pristine balance sheets over the long term. Yes you can have short-term wins but usually sooner or later, that debt load catches up with you, especially when an unexpected misstep arrives at your door.
However it is not just the debt load where the company is struggling. Its earnings have been in the red since 2012 although 2017 is expected to finally report positive earnings for the year. AMD stock rallied hard last year which has resulted in sentiment spiking to record levels. Nevertheless the easy profit in my opinion has already been made here.
AMD may have some growth triggers this year in the form of its new Ryzen CPUs and Vega GPUs but experienced investors who follow this name will be fully aware that AMD has always to an extent over-promised on what it has delivered in the past. Ryzen is expected to compete against Intel's core processors and early testing on its Vega 10 GPU illustrate that its memory (HBM2) outperforms significantly GDDR5 (which is used in Nvidia's (NASDAQ:NVDA) offerings and AMD's Polaris) by some distance. However Vega's predecessor Polaris did not live up to its billing which saw AMD's competition Nvidia gaining more market share in this area recently. This is why no matter what initial tests demonstrate, investors should not get caught up in the hype too much here.
In terms of value, AMD looks the exact opposite of a pure value play. One really can't call the stock a value trap either as the stock in my opinion is not cheap. For example (as we can't go on earnings as they have been negative for the past 5-plus years) its sales multiple of 1.9 is more than double the company's 10-year average of 0.75. Furthermore its price to book ratio is also sky high and its price to cash flow ratio or a healthy dividend unfortunately are non existent. Value plays are when a respective company's valuation metrics are below its historic averages.
Furthermore value investors usually look for a positive earnings history (as well as outlook) and strong cash flows that are able to pay out a strong dividend without spiking the payout ratio too much. We just do not have any of this with AMD. Furthermore the cyclical nature of this industry makes its very difficult to spot tops in the cycle and usually mean investors are more short-term focused as they need to stay fully abreast of what is happening in the industry.
When we look at a long-term chart of the stock, we can see that the share price currently is trading way above its 200 weekly moving average of 3.83. This price point is in effect the average price of the stock over the past 46 years-plus. The weekly stochastics are overbought and chart also illustrates that the company has been unable to produce strong trending moves north with the exception of the period between 1991 and 2000.
However even in that nine-year spell, the stock underwent significant downswings. This really is the problem with investing in a volatile stock in a highly cyclical market which does not have clear competitive advantages. One finds it very difficult to spot tops and bottoms. For example, at the back end of 2015, bankruptcy was a word that was being touted about constantly with respect to AMD. How many investors had the stuff to buy this stock at that time when the masses felt the company was breaking down?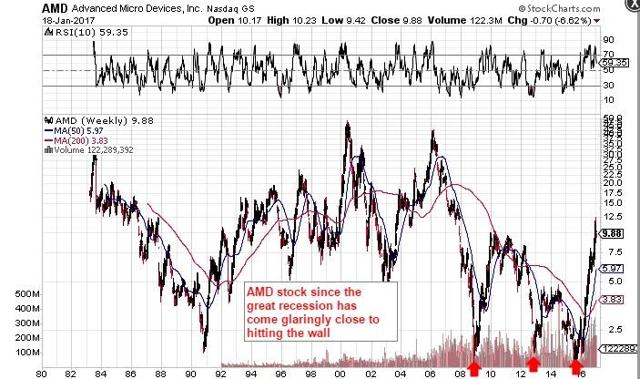 To cut a long story AMD still seems to behind the eight ball when it comes to really competing (over the long term). Yes it can have some short-term wins but over the long term, one would always feel that this underlying can't compete in terms of scale and R&D. Optimism after its stellar 2016 is quite bullish at present but one can't ignore the financials, the company's track record or its balance sheet. A nice pullback here in the stock would do wonders for getting momentum players out of the game.
Disclosure: I/we have no positions in any stocks mentioned, and no plans to initiate any positions within the next 72 hours.
I wrote this article myself, and it expresses my own opinions. I am not receiving compensation for it (other than from Seeking Alpha). I have no business relationship with any company whose stock is mentioned in this article.