I don't stay out late. I'm home about eight.

Ain't misbehavin'
-- Louis Armstrong
Matt Levine, of Bloomberg, provides an excellent explanation of what usually happens to your order to buy or sell shares, after you hit the little "buy" button on your electronic broker's web site. The electronic brokers include Ameritrade (NASDAQ:AMTD), Charles Schwab (NYSE:SCHW), and E*Trade (NASDAQ:ETFC). Over 30% of these retail orders are filled by Citadel.
Levine's article is based on the settlement of a lawsuit brought by the SEC against Citadel, agreed by the litigants on January 13th. Citadel is a major privately held brokerage firm that represents the cutting edge of market trading globally. Levine's basic point is that this SEC action was a nuisance lawsuit. Levine's report is important. It demonstrates that high frequency traders like Citadel are not the evil-doers imagined in Michael Lewis' best seller, "Flash Boys." It also presents a vindictive side of the SEC, piling on the antagonists who opposed the SEC approval of the controversial exchange, IEX. Citadel strongly opposed IEX' exchange approval.
Citadel is highly profitable, due to a business model that has made its owners billionaires - most notably the founder, Kenneth Griffin. The lawsuit pandered to a public misconception; a factoid of the popular imagination, that high frequency trading is, in essence, front-running.
The SEC's claim about Citadel.
Here is the SEC accusation. In a miniscule percentage of Citadel's business (0.4% of Citadel's retail order flow) a Citadel algorithm called FastFill, skullduggery existed. When FastFill identified a disparity between exchange proprietary exchange feeds (data feeds purchased from exchanges that reach Citadel computers before the SIP, the slower "official" SEC version of current prices) indicated bid prices lower than the SIP bid price, FastFill acted. Let's say, for example, that SIP showed an offer of $4.00 per share, but the proprietary feed showed an offer of $3.50. What FastFill did was fill buy orders at a price better than SIP but worse than the proprietary feed, say $3.75. The SEC presumption is that Citadel then placed its own buy order, getting filled at $3.50, making a profit for Citadel of $0.25.
Significantly, there is nothing illegal about that. The customer would receive a better fill than the SEC-vetted offer, but not the faster offer of $3.50. But wait. Citadel's choice is to fill the order itself, or to send it through to the exchange. If Citadel sends the order to the exchange, the $3.50 is not guaranteed. While the order is in transit, prices can change.
It is likely however, that the customer would do better than the Citadel $3.75 quote, since Citadel was expecting a profit based on its experience with the trade. The SEC estimate of Citadel's FastFill profit for the period from June, 2008 to January, 2010, when FastFill was active, is $5.8 million. Citadel itself estimates that its direct trades with retail save the average Citadel customer about $5 per 1,000 shares, compared with the SIP price that the customer observes when she trades. Citadel's retail internalizing business traded about 1.2 million orders, averaging substantially above 2,000 shares each, per day. In other words, Citadel made customers more each day than the SEC accuses Citadel of extracting with FastFill in a year and a half.
So, the whole operation is legal and by Citadel's lights, benefits customers. Why the lawsuit? Because, maintains the SEC, Citadel misrepresented itself, saying FastFill was an "[o]rder to buy (sell) at the best offer ((bid)) price currently available in the marketplace." As explained, the fills were neither at the SIP price nor at the faster proprietary price, and Citadel could not be sure that statement was correct.
But just a minute. Notably, in the brave new world of high frequency algorithmic trading, an ordinary order may never be placed with knowledge of the bid and offer at the time it arrives at the exchange computer. There is no such thing as "now," unless you are the exchange's computer.
Citadel is often on the other side of small retail trades, and Citadel is often paying your electronic broker to send your order Citadel's direction. Citadel undoubtedly finds retail trading profitable, since they execute, in the average day, 35% of these transactions. Thus, if you are a retail trader, your orders often never reach an exchange. But the suit reveals that may be for the best.
The truth about high frequency trading.
Levine's articles about the stock market are important reading, because they're balanced. Levine explains the motivation of the major firms involved in stock transactions, allowing the reader to reach an informed opinion about what firms and government agencies involved in the plumbing of financial markets are up to. A warning to the reader, however. Through no fault of his own, Levine's articles on stock market microstructure are difficult to follow. The reason is that SEC regulation has turned retail stock trading into a rabbit warren. If you're sleepy, read le Carre on spies, not Levine on micro-markets.
Levine's yeoman effort to provide an understanding of who does what - avoiding the value judgments that are the stock-in-trade of other populizers of Wall Street yarns, deserves the attention of traders and their advisers.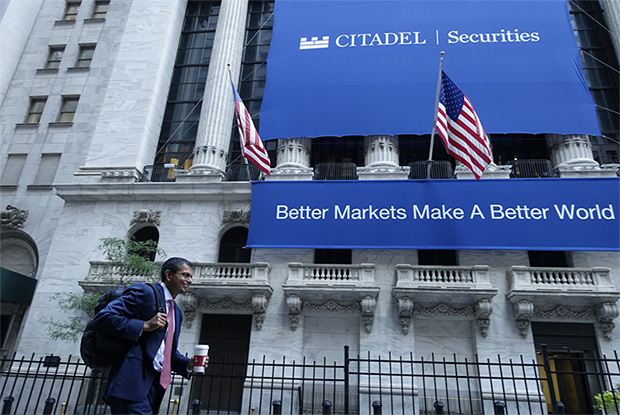 Citadel.
Citadel is an interesting company, also an example of what sometimes goes right when a young person, who thinks outside the box, becomes interested in leading the life of a financial market trader. Kenneth Griffith and his firm, Citadel, live in the grey land between the retail traders that follow SA, on one hand; and the large publicly held dealer banks, such as JPMorgan Chase (NYSE:JPM) and Goldman Sachs (NYSE:GS), on the other.
Opposition to broker dealer domination. Sometimes Citadel finds itself in opposition to dealer banks, supporting the position of the buy-side financial markets traders, large pension funds such as CalPERS, hedge funds, and investment companies. This was true when several buy-side firms sued the following: Goldman Sachs , JPMorgan, Bank of America Corp. (NYSE:BAC), Barclays Bank PLC (NYSE:BCS), BNP Paribas (OTCQX:BNPQY), Credit Suisse (NYSE:CS), Deutsche Bank (NYSE:DB), HSBC (NYSE:HSBC), Morgan Stanley (NYSE:MS), Royal Bank of Scotland (NYSE:RBS), and UBS (NYSE:UBS), as well as industry group International Swaps and Derivatives Association (ISDA) and market data provider Markit Group Holdings. The lawsuit alleged restraint of trade, manipulating the exchange management firms, CME Group (NASDAQ:CME) and Intercontinental Exchange, Inc. (NYSE:ICE). The CME wanted to work with Citadel to create an electronic trading platform for credit default swaps, to provide access to the CDS market to traders other that the usual suspects, named above. Ultimately, the dealers cut off the CME from the price data it would need to build a CDS market, cutting a deal with ICE instead, a deal that gave the dealers the privileged position in the CDS market that they so richly deserve. The dealers settled the lawsuit for $1.86 billion, chicken feed in the world of dealer lawsuits alleging illegal use of their privileged position these days.
Support of broker dealer domination. Then, there are occasions, of frequency that grows along with Citadel's share of dealing, where Citadel aligns itself with the sell-side. That happened when IEX sought exchange designation.
IEX Is the new exchange that set out to provide common stock traders with an alternative to the three major stock exchange managers: BATS [recently acquired by the CBOE Group (NASDAQ:CBOE)], the New York Stock Exchange (NYSE), owned by Intercontinental Exchange , and Nasdaq (NASDAQ:NDAQ). These three larger American exchange groups operate a total of eleven separate stock exchanges, and divide among themselves the lion's share of daily exchange-traded common shares. Their behavior is a direct result of the National Market System that created the need for Citadel's services.
IEX, if successful, will simply blow the other exchanges away, using its technological advantage to provide better fills. But this won't happen without a commercial war that began when IEX opened for business. Arrayed against IEX are Citadel, several other high frequency traders, the dealer banks, and the major stock exchanges.
The interesting question: Where will the SEC stand? To answer that, we must wait for a new SEC Chair and Commission.
Disclosure: I/we have no positions in any stocks mentioned, and no plans to initiate any positions within the next 72 hours.
I wrote this article myself, and it expresses my own opinions. I am not receiving compensation for it (other than from Seeking Alpha). I have no business relationship with any company whose stock is mentioned in this article.
Editor's Note: This article discusses one or more securities that do not trade on a major U.S. exchange. Please be aware of the risks associated with these stocks.