In the last few months, Himax's (NASDAQ:HIMX) shares significantly declined from its 52-week high and in my view, present a great buying opportunity for the near-term at the moment.
Anyone who is familiar with the company knows that its stock might be very volatile sometimes. My previous recommendation to buy Himax didn't played out and stock failed by around 5 points. However, unlike the previous call, I believe that now is the right time to buy the stock and have a few arguments in favor of it.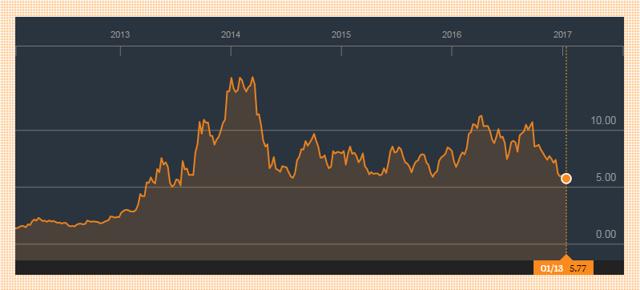 Source: Bloomberg
The first thing that comes into mind is that the company trades around its historical support level at $5. It's easy to predict that the closer it falls to its support level - the higher the buying power will be. This is a pretty good argument to buy the company based on the technical analysis that leans towards the bulls.
Another argument for purchasing Himax shares are its sales. Since mid-2015, we see that the company's sales level of growth is higher quarter after quarter. While sales inside China continue to be the main catalyst of its growth, sales from the rest of the world are also signaling that there's a great demand for Himax's products outside of PRC.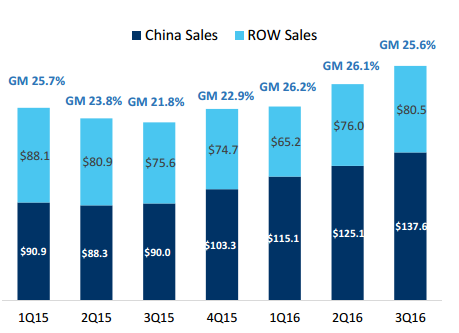 Source: Investors Presentation
Also, at the moment, Himax has the most diversified portfolio of clients since its IPO in 2006. This will help the company to hedge the risks that are associated when having one or two major clients that outweigh your entire portfolio and gives a green light for investors who are interested in the companies with the great diversity.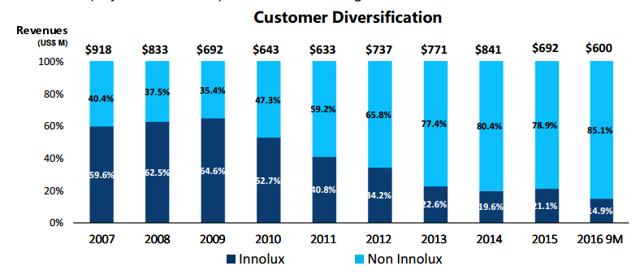 Source: Investors Presentation
Besides all of that, Himax has a number of advantages in the industries that it participates in that will lead to the better value creation in the long-term. For example, in LCOS (Liquid Crystal on Silicon) display market, the company is a leader with its patent technologies and ships over 2 million units each year. Thanks to its big factories capabilities and strong R&D financing along with a number of highly successful joint ventures, Himax managed to struck a deal with major display buyers in the world like Google (NASDAQ:GOOG)(NASDAQ:GOOGL) ( Source: Investors Presentation) and has one of the biggest corporate customer base in the industry.
In DDIC (Display Driver Indicator Control) market, Himax continues to gain market share for its core businesses and is one of the leading players out there. Its tablet and large panel applications showed impressive growth Q/Q, while smartphone share decreased in Q3 due to the slow demand from China, which should improve in the upcoming quarters.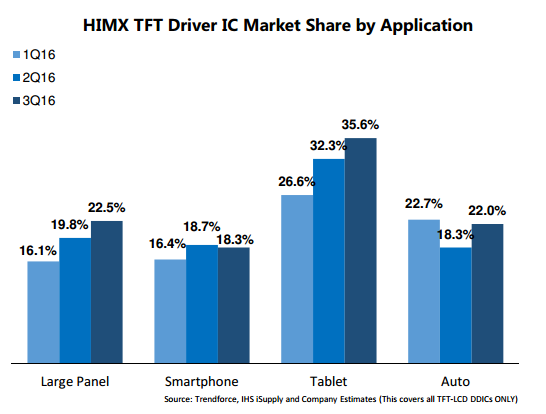 Source: Investors Presentation
At the same time, Himax has contracts with tech companies like Facebook (NASDAQ:FB) and Microsoft (NASDAQ:MSFT) to develop and ship its different components including timing controllers for their virtual and augmented reality headsets. With the increased demand for such technologies in the upcoming years, Himax will be busy fulfilling new orders and is poised to grow and create value for its shareholders.
At the moment, Himax's stock has 10 "Hold" and 4 "Buy" ratings from different advisory firms and has the consensus PT of $9.48, which represents more than 60% upside from the current market price.

Source: MarketBeat
Also, its operating and net margin of 7.84% and 6.77%, respectively, are better in comparison with the industry's average and the fact that it has more cash reserves than debt makes the company even more attractive. I believe that right now, the stock price is in the undervalued territory and considering the potential of Himax's developments in the industries that it participates in along with the increased demand for its products will make the stock rise up again very soon.
I'm long Himax.
Disclosure: I am/we are long HIMX.
I wrote this article myself, and it expresses my own opinions. I am not receiving compensation for it (other than from Seeking Alpha). I have no business relationship with any company whose stock is mentioned in this article.