Qualcomm (NASDAQ: QCOM) recently had an antitrust case filed against it by the U.S. Federal Trade Commission. The complaint alleges that Qualcomm's monopolistic business practices are in violation of U.S. competition law. As is expected of Qualcomm, it is not going to accept everything lying down and will fight this politically-motivated move vigorously and defend its business practices.
The market gave a sharp, negative reaction to the development as the stock skid 4 percent immediately. But, should investors really be concerned about this? I don't think so.
The complaint (understandably) must have been hard for the market to digest initially since it comes on the heels of The Korea Fair Trade Commission (KFTC) December verdict in which it fined the chipmaker $865 million or approximately 1.03 trillion South Korean Won. The KFTC has also alleged that the company's business practices are in violation of Korean competitive law. The final written decision and order on this matter is likely to take 4-6 months. Qualcomm will file for an immediate stay of the corrective order and appeal the KFTC's decision to the Seoul High Court.
Investigations similar to the U.S. FTC are also being conducted by the Taiwan Fair Trade Commission (TFTC), Japan Fair Trade Commission (JFTC), and European Commission. Interestingly, there is no public report regarding the company's January 17, 2017, hearing with the JFTC.
In February 2015, the company had reached a resolution with China's National Development and Reform Commission (NDRC) pertaining to NDRC's resolution under the China Anti-Monopoly Law. Back then, QCOM agreed to pay a fine of $975 million.
Having stated what was necessary to this article, I will now discuss why the U.S. antitrust case will not hold water.
The U.S. FTC Cuts A Sorry Figure
The alacrity of the U.S. FTC to file a case on the eve of the dying hours of the Obama administration is telling. A press release available on Qualcomm's Investor Relations website reads,
"Despite an appeal from the members of Congress to refrain from "midnight litigation" with novel and untested legal theories that could damage competition in the U.S., the FTC accelerated the investigation of Qualcomm and directed the filing of the complaint just days before the change of Administration though only three of five FTC commissioners are in place."
FTC Chairwoman Edith Ramirez has already announced her resignation on January 13, and her term ends on February 10, 2017.
So, is the FTC hell-bent on making a mockery of itself with just two commissioners in place, who could also be replaced under the Trump administration? You can sue anybody for that matter, but where is the evidence to back your complaints? Also, what do they aim to achieve in the final days before the whole system undergoes a massive overhaul under the Donald Trump-led administration?
It is hard not to infer that it is an attempt by the parting government to make things difficult for the new president.
No (Financial) Pain Will Come To Qualcomm
In my opinion, Qualcomm paid China's NDRC $975M penalty because of two simple reasons:
China is the biggest smartphone market in the world.
More than 50 percent of the company's total revenues come from China.

Source: Annual Report 2016
This is good business sense. But, it seems to have encouraged a form of "extortion" given that KFTC fined $865M even when the royalties received by Qualcomm for sales of handsets into Korea accounted for less than three percent of total Qualcomm licensing revenue during Qualcomm's fiscal 2016.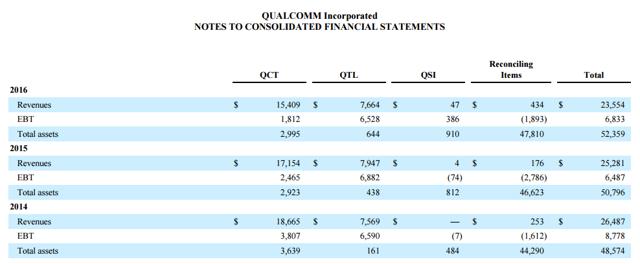 For fiscal 2016, Qualcomm's QTL revenue stood at $7,664 million. At 3 percent, Korea's contribution to licensing revenue is a mere $230 million. KFTC's fine of $865M is more than 3.75x Korea's contribution to the total revenue. Compared to China's penalty, keeping the revenue contribution in mind, this is preposterous. Qualcomm is exactly right in fighting this extortion.
On similar lines, QCOM should not face any discomforting fine from the U.S., if it even comes to that.
Qualcomm understands that success in courts and negotiations is crucial for its business. That it can ferociously protect its intellectual property rights was once again confirmed after it reached an agreement with China's Meizu in a lawsuit settlement. Meizu finally agreed to pay licensing fees to settle legal claims in China and three other nations.
I strongly believe that the management will not succumb under pressure and the U.S. FTC case will eventually be quashed in the absence of convincing evidence under the new administration.
What If I Am Incorrect?
If I am incorrect in my understanding and thesis, and Qualcomm is pushed to pay fines, then how much of an adverse financial impact can we expect? Clearly, no one knows exactly.
But, if one was to make an assumption, we could take China's resolution fee as a starting point. China asked for nearly $1 billion from QCOM in 2015. Assuming that Europe, U.S., Japan and Taiwan rule against the company, we could easily see another $2 - $3 billion in fines. A report from TheStreet puts it at $2.5 - $3.0 billion. The company had $6 billion in cash and equivalents at the end of September 2016.
Investor Takeaway
Investors don't have to worry about the U.S. FTC antitrust case. The management is astute and will fight vigorously against the politically-motivated complaint which has no basis whatsoever. The case, to be shouldered by two commissioners, gravely risks being trashed under the Republican Party administration.
Although I am confident about Qualcomm, but in a case that I am incorrect, Qualcomm could potentially face fines of up to $3 billion if Europe, U.S., Japan and Taiwan rule against the company. The timing could obviously be very different for each of them.
Although the company has a strong balance sheet to absorb this blow, we will see a temporary drop in QCOM's share price. How severe that drop will be is hard to gauge, but Qualcomm remains a valuable investment stock.
Note: I cover several stocks in different sectors as well as S&P 500, crude oil, gold and silver, U.S. dollar, etc. So, if you liked this update, and would like to read more of such informative articles, please consider hitting the "Follow" button above. Thank you for reading!
Disclosure: I am/we are long QCOM.
I wrote this article myself, and it expresses my own opinions. I am not receiving compensation for it (other than from Seeking Alpha). I have no business relationship with any company whose stock is mentioned in this article.