Performance and Valuation Prime™ Chart
Adobe (NASDAQ:ADBE) is one of the largest and most diverse software companies in the world, selling a variety of software and licensed technology through SAAS, cloud-based, subscription, and pay-per-use models. ADBE's portfolio of products is separated into two buckets: Digital Marketing and Digital Media. The Digital Media segment delivers products designed to help small businesses and enterprises create, publish, and promote their content. Digital Marketing focuses on the creation, management, and execution of multi-channel digital advertising campaigns.
Historically, ADBE has seen highly cyclical UAFRS-based ROA. There have been three identifiable cycles since 2000, with Adjusted ROA continuing to reach lower lows, from 22% to 18% to 15% in 2002, 2006, and 2014 respectively; and lower highs, from 38% in 2006 to 31% in 2011, and currently 22% in 2015. The firm has struggled with both competitive pressures and headwinds related to their shift from a perpetual sales model to a subscription based model. This has been coupled with consistently positive UAFRS-based Asset growth (Asset' growth), ranging from 5-31% pre-2008 (2001 notwithstanding), and from 3-9% from 2010-2014. Notably however, the firm failed to grow its Adjusted Asset base in 2015 for the first time since 2001, as Asset' growth has slowed recently as the firm has struggled to grow under its new business model.
For context, the PVP chart below reflects the real, economic performance and valuation measures of Adobe after making many major adjustments to the as-reported financials. This chart, along with all of the charts included in this article, as well as the detail behind the graphics, can be found here.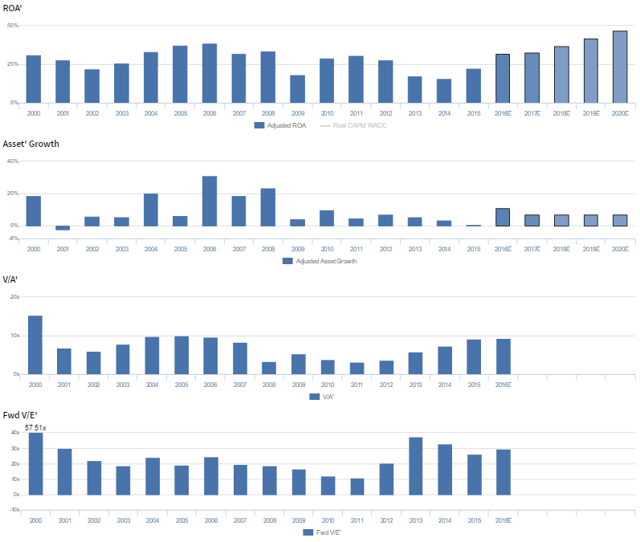 The four panels above explain the company's historical corporate performance and valuation levels, plus consensus estimates for forecast years as well as what the market is currently pricing in, in terms of expectations for profitability and growth.
Performance Drivers - Sales, Margins and Turns
It can be helpful to break down Adjusted ROA into its (DuPont) formula parts, UAFRS Earnings Margin and UAFRS Asset Turnover. The chart below details both Adjusted Earnings Margin and Adjusted Asset Turns historically, to help us better understand the drivers of the firm's profitability and performance.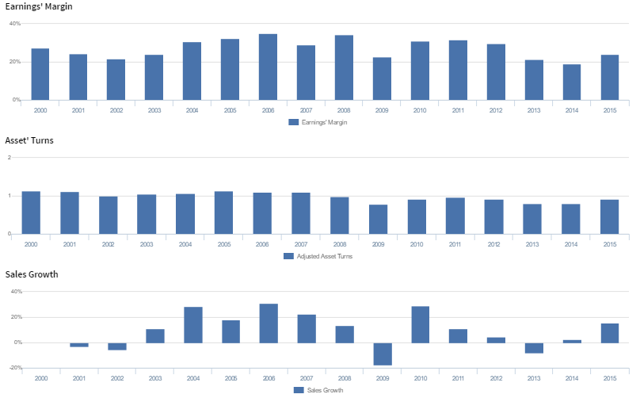 Trends in Adjusted ROA have been driven mostly by trends in Adjusted Earnings Margins, which reached lows of 22%, 23%, and 19% in 2002, 2009, and 2014 respectively, while reaching highs of 35% in 2006, 32% in 2011, and 24% in 2015. Meanwhile, Adjusted Asset Turns have remained in the 0.8x-1.1x range for the past 15 years, with the timing of peaks and troughs lining up with Adjusted Earnings margins.
Impact of Adjustments
This analysis uses Uniform Adjusted Financial Reporting Standards (UAFRS) metrics, or adjusted metrics, which remove accounting distortions found in GAAP and IFRS to reveal the true economic profitability of a firm. This allows us to better understand the real historic economic profitability of a firm as well as allows for better comparability between peers. To better understand UAFRS, please refer to our explanation here.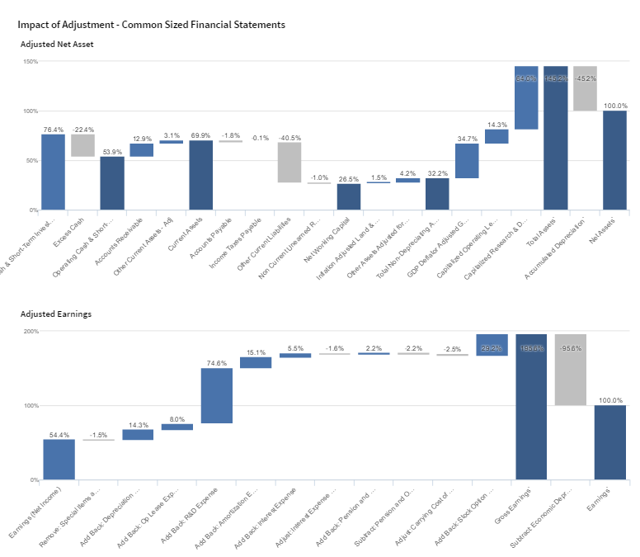 The chart above highlights the impact UAFRS adjustments have on ADBE's asset base and earnings. The first adjustment to the firm's Adjusted Net Asset base comes from UAFRS capitalization of R&D. ADBE has regular, and material investments in R&D each year that as-reported financial statements treat as expenses. This violates one of the core principles of accounting, which is that expenses should be recognized in the period when the related revenue is incurred. R&D investment is an investment in the long-term cash flow generation of the company. Because as-reported metrics treat R&D investment as an expense, as opposed to an investment, net income is artificially decreased.
An additional, material adjustment to ADBE's Adjusted Net Assets revolves around the firm's cash balance. Corporations inherently need some level of cash to operate their business, without which they would have liquidity issues and customers and suppliers would be hesitant to build long-term relationships with them. However, companies with substantial cash balances (above what one might view as "operating" cash) can see as-reported ROA diluted because of the substantial portion of the balance sheet that ends up being taken up by cash that is earning limited or no return, especially in the current environment. As such, if excess cash is not removed from the asset base of a company before looking at performance metrics, a company can appear to have substantially lower operating profitability than it actually has.
Embedded Expectations Analysis
As investors, understanding what the market is embedding in the stock price in terms of expectations is paramount to making good decisions. Without understanding what the market is pricing in, it is impossible to claim that the market is wrong. We derive market expectations for the firm from valuations and historical performance trends, to give a clearer picture into what the market is projecting for the firm.
ADBE is currently trading at a 29.7x UAFRS-based P/E, which is near historical highs. At these levels, the market is pricing in expectations for increasing Adjusted ROA, from 22% in 2015 to 47% in 2020, accompanied by 7% Adjusted Asset growth, both levels well above recent performance.
Peer Analysis - Valuations Relative to Profitability
A major benefit of adjusting as-reported financial statements is to clear away accounting distortions, to allow for more accurate peer-to-peer comparisons. To this end we have included a scatter chart below, that plots ADBE against its peers based on their Adjusted Price-to-Assets ratio (P/B) and Adjusted ROA.
Looking across industries, markets, and time, there has been a very strong relationship between a company's Adjusted ROA relative to the corporate average (6%) Adjusted ROA, and the multiple the market will pay above the value of the company's Adjusted Asset base, in terms of a UAFRS-based P/B (V/A') multiple. A company that generates a 6% Adjusted ROA will tend to trade at a 1.0x Adjusted P/B, and company that generates a 18% Adjusted ROA will trade at a 3.0x Adjusted P/B, etc.

Relative to its peers, ADBE appears overvalued with its 9.4x UAFRS-based P/B and 31.7% Adjusted ROA. The market expects ADBE to grow faster than all of its peers with the exception of VMW, which helps justify a higher multiple. That being said, ADBE has grown by 7% in only one out of the last five years, which brings into question the validity of the market implied growth rate.
Analyst and Management Expectations and Alignment
Analyst expectations are in line with the market's view. Analysts project Adjusted ROA to improve to 32% by 2017, accompanied by 11% Adjusted Asset growth, inclusive of the TubeMogul acquisition.
Moreover, Valens' qualitative analysis of the firm's Q4 2016 earnings call highlights that management is confident about revenue growth, their expected acquisition of TubeMogul, and consumer market expansion. Furthermore, they are confident in their initiatives to expand their digital marketing segment and integrate their full ETLA suite of solutions into one package. However, management is also confident that the business's seasonality will continue to produce declining Q3 results. Moreover, they may be concerned about their Digital Media ARR growth.
Valuation Matrix - ROA' and Asset' Growth as Drivers of Valuation
When valuing a company, it is important to consider more than a singular target price, and instead the potential value of a firm at various levels of performance. The below matrix highlights potential prices for ADBE at various levels of profitability (in terms of Adjusted ROA) and growth (Adjusted Asset growth). Prices that are in excess of 10% equity upside are highlighted in black, and prices representing an excess of 10% equity downside are highlighted in red.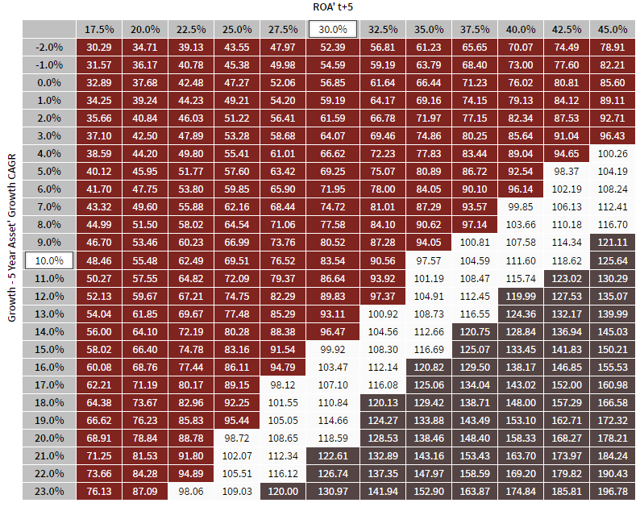 To justify current prices, ADBE would need to see Adjusted ROA double to levels not seen in the last 15 years, accompanied by 7% Adjusted Asset growth annually. Not only do these expectations appear incredibly bullish given the firm's increased competitive pressures and transition to a subscription based sales model, but ADBE is also a mature company that has not sustained a 5-year 7% CAGR in nearly a decade. Without these levels of improved profitability and asset growth, over the longer-term, substantial equity downside could be warranted. However, given management's high degree of confidence surrounding fundamental tailwinds, near-term downside is unlikely.
To find out more about Adobe and how their performance and market expectations compare to peers, click here to access the open beta of the Valens Research database.
Our Chief Investment Strategist, Joel Litman, chairs the Valens Equities and Credit Research Committees, which are responsible for this article. Professor Litman is regarded around the world for his expertise in forensic accounting and "forensic fundamental" analysis, particularly in corporate performance and valuation.
Disclosure: I/we have no positions in any stocks mentioned, and no plans to initiate any positions within the next 72 hours.
I wrote this article myself, and it expresses my own opinions. I am not receiving compensation for it (other than from Seeking Alpha). I have no business relationship with any company whose stock is mentioned in this article.