In 1974, the U.S. Geological Survey stated, at 1974 technology and 1974 price, the U.S. had only 10-years of natural gas left. As predictions go, that was a bad one. Then again, it was the development of fracking that really unleashed the natural gas reservoirs. Although there was rudimentary fracking in 1974, fracking, as we know it today, did not exist in 1974. It was George Mitchell and the staff of Mitchell Energy that really developed the power of fracking in the late 1990's. The art of fracking has unleashed the vast reservoirs of natural gas in the U.S.
Unfortunately, for many in the natural gas business, so much natural gas has been unleashed that the price for natural gas has spent many years in a deflated state. To make matters worse, many in the natural gas business, in a rush to lock up prime acreage, put their companies deeply in debt. Unable to service the debt because of the low natural gas commodity price, many of the companies became poor investments as the debt and low natural gas prices became a one-two punch they could not overcome. 2016 saw the lowest average natural gas prices in 20-years, averaging $2.49 MMBtu. However, I think that might be about to change.
Natural Gas Demand - Natural gas demand has been on the rise, as low prices have increased demand for LNG export, export to Mexico, power generation and chemical plants. Let's see how natural gas demand has been on the rise. All numbers from the EIA.
| | |
| --- | --- |
| Year | Consumption (Mcf) |
| 2010 | 24,086,797 |
| 2011 | 24,477,425 |
| 2012 | 25,538,487 |
| 2013 | 26,155,071 |
| 2014 | 26,593,375 |
| 2015 | 27,306,285 |
Final numbers for 2016 are not complete yet, but the monthly numbers through October, showed 2016 had higher consumption in seven of the 10-months.
The largest increase in consumption over this period has been by utilities for power burn. In 2010, 7,387,184 Mcf was used for electric power, in 2015, that number was 9,671,095 Mcf, an increase of 30%.
Another fast growing use for natural gas has been export to Mexico. In 2010, 333,521 Mcf was exported, in 2015, that number was 1,054,271 Mcf. Exports to Mexico is a number that will continue to grow. More on that later.
Production - I have established that natural gas consumption has been steadily rising, but price is based on demand and supply. So let's look at supply. Keep in mind, U.S. supply includes Canadian imports.
| | | | |
| --- | --- | --- | --- |
| Year | U.S. Production | Canadian Imports | Total (Mcf) |
| 2010 | 22,381,873 | 3,279,952 | 25,661,825 |
| 2011 | 24,036,352 | 3,117,081 | 27,153,433 |
| 2012 | 25,283,378 | 2,962,287 | 28,245,665 |
| 2013 | 25,562,232 | 2,785,427 | 28,347,659 |
| 2014 | 27,497,754 | 2,634,275 | 30,132,029 |
| 2015 | 28,752,935 | 2,625,359 | 31,378,294 |
It should be noted that I used EIA's "marketed production" for the U.S. production number, "gross withdrawal" is higher, but that number includes gas that is flared off and gas that is sent back into the well to increase pressure. I believe marketed production is the more accurate number to use.
As you can see from the numbers above, supply has greatly exceeded consumption and we all know, too much supply equals low prices.
Can Demand and Supply Come into Balance
Supply
To come into balance, supply needs to decline, demand increase, or a combination of both. The surprising news is, it looks like we may have a combination of both.
Supply declined in 2016. Final numbers for 2016 are not in, but production was down 8 of the first 10-months of 2016. The EIA estimates that dry natural gas production averaged 72.4 Bcf/d in 2016, a decline of 1.8 Bcf/d (2.4%) from 2015 The chart below, courtesy of the EIA, shows the large rise of production through 2015 and the decline in 2016.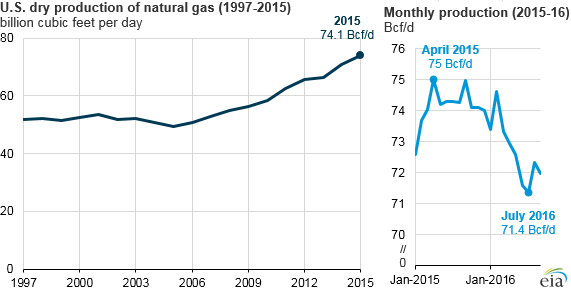 Although production was down in 2016, the bigger question is, what will the long term production numbers look like. The EIA forecasts that dry natural gas production to increase in 2017 and 2018, rising by 1.4 Bcf/d (2.0%) and by 2.8 Bcf/d (3.8%), respectively. That is a total increase of only 2.4 Bcf/d from 2015 production.
A variable in the natural gas production numbers is what the price of oil is. If oil prices move higher, move shale oil production would be brought online and the more natural gas, as a by-product of the oil drilling, would be produced. Lower oil prices would create less natural gas.
Although supply declined in 2016, it does not appear that will be the case over the next few years.
Demand
More LNG Trains Coming On-Line
Cheniere Energy (NYSEMKT:LNG) - The Sabine Pass terminal currently has two LNG trains operational and expects to put two more into operation in 2017. Each train is capable of handling 4.5 Mtpa (million tons per annum). According to RBN Energy, the Sabine Pass terminal has lately been receiving 1.62 Bcf/d to supply the two trains. With two more trains in operation in 2017, you could eventually see that number double.
Cove Point LNG - Dominion Resources (NYSE:D) expects to have their Cove Point LNG terminal operational in late 2017. The LNG terminal will export approximately 0.77 Bcf a day.
Freeport LNG - Building three trains in Freeport Texas, which when completed will export 13.9 Mtpa, Train-1 goes into service in 2018, followed by trains two and three in 2019.
Cameron LNG - Building three trains in Louisiana with first train expected on-line in 2018, followed by the other two in 2019. Capacity is 13.9 Mtpa. Sempra Energy (NYSE:SRE) is a partner in the Cameron LNG project.
Corpus Christi LNG - Another Cheniere Energy Project, this one in Corpus Christi, Texas. Currently two trains are under construction with a third being proposed. The first two trains are expected to have first cargos in 2018, with a capacity of 9.0 Mtpa
Elba Island - Kinder Morgan (NYSE:KMI) is constructing a liquefaction facility in Georgia. The project will build 10 smaller units which when completed will export 2.5 Mtpa or 350,000 Mcf per day. The first unit goes into service in 2018 with the remainder coming online in 2019.
Several other LNG facilities have received approval, but have not yet begun construction. Lake Charles LNG, a project involving Shell (NYSE:RDS.A) and Energy Transfer Partners (NYSE:ETP) have received all approvals, but has been delayed. Golden Pass, an import facility that Exxon Mobil (NYSE:XOM) wants to add export capabilities to, has received construction and environmental approvals from FERC. Likely first export is 2020/2021
By 2020 it is expected the U.S. could be exporting 8-10 Bcf/d of LNG.
Exports To Mexico - Over the last several years, natural gas exports to Mexico have exploded and they show no sign of slowing down. The chart below shows the rapid expansion of Mexican exports.
| | |
| --- | --- |
| Year | Volume (Mcf) |
| 2010 | 333,251 |
| 2011 | 498,657 |
| 2012 | 619,802 |
| 2013 | 658,368 |
| 2014 | 728,513 |
| 2015 | 1,054,271 |
As you can see, export growth to Mexico has been rapid and when final 2016 numbers are in, they will show a large increase over 2016. Through the first 10-months of 2016, exports to Mexico have been significantly higher than 2015.
The American National Gas alliance believes natural gas export to Mexico will be 4 Bcf/d in 2020. However, RBN Energy believes natural gas exports to Mexico will exceed 6 Bcf/d by the end of the decade. What we know for sure is, natural gas export to Mexico is growing.
Natural Gas for Power Burn
As mentioned previously, natural gas use in power plants has increased significantly as coal power plants have been shut down. This rise in natural gas for power generation is set to continue as nearly 19,000 MW of natural gas power generation is expected to be built in the U.S. between 2016 and 2018.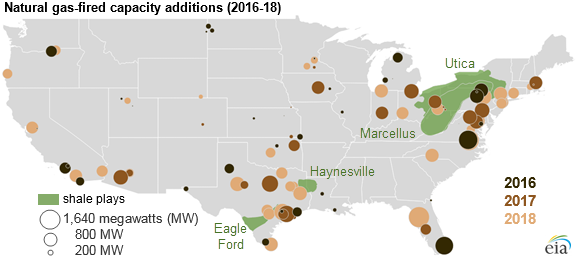 In 2014, natural gas for power generation was 8,145,982 Mcf, in 2015 it was 9,671,095 Mcf. In 2016, natural gas for power generation will be higher again. Gas demand for power generation could grow by 3.2 Bcf/d by 2020.
Industrial Demand -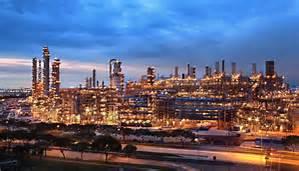 The low cost of natural gas has enticed a number of companies to announce new chemical plants in the U.S. These plants will use ethane as a feedstock, or fuel, for their production. Dan Borne, from the Louisiana Chemical Association stated
"Plants use natural gas like a bakery shop uses flour, All this stuff starts with natural gas, our daily bread."
Literally hundreds of new plants, varying in size, have been or are being constructed that will use the cheap natural gas. The U.S. Energy Information Administration (NYSEMKT:EIA) forecast in the Annual Energy Outlook 2015 that industrial sector natural gas consumption will grow at an annual rate of 0.5 percent through 2020 and is set to outpace the residential, commercial and electric power sectors.
The explosion in shale gas led to chemical makers and other firms planning enough gas-intensive industrial projects to boost industrial natural gas demand from 19.6 to 23.5 Bcf/d by 2020, according to the University of Texas Center for Energy Economics.
So What Does It All Mean?
If you read this far, I would not blame you for being confused. There were a lot of number mentioned and unfortunately, they were not all similar, we had Mcf, Tcf, Mtpa, Bcf/d and MMBtu. When you write about oil, it is always barrels or Mb/d, when you write about natural gas, it is all sorts of figures. So let me see if I can simplify it.
The EIA estimates that dry natural gas production averaged 72.4 Bcf/d in 2016. Imports were 1.7 Bcf/d, so total supply was 74.1 Bcf/d. The EIA also estimates 2016 consumption was 75.1 Bcf/d. As you can see, consumption actually exceeded supply by 1 Bcf/d.
Natural gas always has a large storage capacity that is either being filled or withdrawn from. The most recent EIA storage report stated.
"Working gas in storage was 3,160 Bcf as of Friday, January 6, 2017, according to EIA estimates. This represents a net decline of 151 Bcf from the previous week. Stocks were 363 Bcf less than last year at this time and 4 Bcf below the five-year average of 3,164 Bcf. At 3,160 Bcf, total working gas is within the five-year historical range."
That quote, which shows storage is below last year and the five-year average, indicates, that if nothing else, demand supply fundamentals are more in balance. That is positive for natural gas prices.
Going Forward
We can assume that three more LNG trains will be put into operation in 2017, five more trains in 2018 and additional trains in 2019. That will be 6-8 Bcf/d more demand by 2020. We also know that exports to Mexico will continue to grow, perhaps 2-4 Bcf/d more. Power burn for electricity will continue to grow, especially if the Clean Power Plan is upheld in court. Growth in natural gas for power burn could be 3 Bcf/d more Chemical demand will certainly grow, as several of the largest plants are not even completed yet. Forecasts see an additional 4 Bcf/d more. If all those projections hold, that is 15 - 19 Bcf/d more in demand. So I am confident that natural gas demand will significantly increase over the next several years.
Supply is the big question. Will slightly higher prices bring on another avalanche of supply? I don't think so.
In the early days of the fracking boom, men like Aubrey McClendon and Tom Ward, the co-founders of Chesapeake Energy (NYSE:CHK), were more interested in locking up the best acreage, than making a profit. They used cash flow to buy more and more acreage. Time proved, that as a business model, that did not work, especially when the price of natural gas fell to record lows. The majority of the companies that were founded by these aggressive business leaders are now in different hands. Hands that are more interested in profit, than acreage.
Many of these companies, are now selling acreage in an attempt to reduce their debt. They are drilling on their best properties where the lifting costs are low and the profit is ensured. For example, CHK is looking to reduce debt by $2-$3 billion and is selling acreage to do it. CHK also states, they want to "balance capital expenditures with cash flow from operations". In other words, control the spending and only drill where profitable"
Southwestern Energy (NYSE:SWN) another large natural gas producer had this to say during their earnings conference call in November
"Our objective is to invest within cash flow and as that cash flow changes or rises, it gives us options to move forward. Our rigs, we're very flexible in terms of what we can turn on and turn off, so we can be very agile in that view as we get closer to February."
They are saying they will add rigs if the price is right and will turn off rigs if the price is not.
I believe by 2018, we will have demand over 80 Bcf/d, which means we will need an additional 5 Bcf/d of production, which is quite a bit. Can the producers do it, yes probably, but it will not be easy. I think the days of storage constantly increasing are over and we will have a market more in balance. A balanced market is good for everyone, it provides decent prices for producers, but also keeps the price low enough that users of natural gas, like utilities and chemical companies, continue to use the commodity.
Weather can greatly affect natural gas prices, a very cold winter, or very hot summer can result in prices spiking. On the flip side, moderate summers and winters can ease prices. Despite those weather concerns, I believe natural gas will have more solid pricing going forward. There is no doubt that natural gas demand is on the rise and will continue to grow. If production can be maintained at reasonable levels, I believe the future for natural gas prices looks good.
How to Invest
When talking about natural gas in previous articles I have stated I thought the pipeline group was the best way to go. The more product flowed the more they made. Kinder Morgan is the king of natural gas pipelines, moving approximately 38% of all volume in the U.S. However, KMI is buried in debt and always seems to have some issue somewhere. I owned KMI when they cut the dividend, so my faith in them has been shaken forever more. Despite that, there is no doubt they have some great infrastructure and will befit form larger volumes on their lines.
Williams Brothers (NYSE:WMB) is another pipeline company with great natural gas assets, but they also have a lot debt. On the plus side, they have access to the Utica and Marcellus area which is an area likely to see growth. On the downside, WMB just announced a series of moves to strengthen it's balance sheet, including selling more shares, buying up more of it's LP company and selling assets. Since it seems to be in restructuring mode, I would pass for now.
Enbridge (NYSE:ENB) is another pipeline company with some great assets. Previously known more as an oil pipeline company, their merger with Spectra Energy (NASDAQ:SP) will add some great natural gas assets to their inventory of pipe. Once the deal closes, Enbridge will be adding a significant amount of debt to their books, so be aware of that. They also have announced they intend to increase their already generous dividend by double digits out to 2024.
I am not specifically recommending any of those names, however, I do believe each company has some great natural gas infrastructure and would be worth a deeper look.
When doing research for the article, I listened to some investor presentations for Chesapeake Energy and actually liked what I heard. I am a dividend growth investor, so buying a company like CHK does not fit in my game plan. However, they are aggressively lowering their debt, with a goal of 2x debt to EBITDA. They have reduced leverage in half and will be cash flow neutral by 2018. They have some of the best acreage around, with a strategy of keeping the best and selling the rest. Many of their leases are HBP (Held By Production) which allows them to hold the lease for a longer period, as long as they are producing on the property. That eliminates having to re-negotiate leases. They also have some very low production costs, with many oil properties breaking even at $40 or less and natural gas at $2.14 or less.
To be clear, I am not recommending anyone buy CHK today. What I am saying, is this is a company in turn-around mode and if they continue on this path and execute, the stock will be selling for more than the $6.00 it now does.
One last warning, CHK is a risky bet, I do not own it, nor would I own it. So if what I shared with you sounds intriguing, do your own due diligence.
The biggest natural gas producer in the U.S. is Exxon Mobil, but they are so big it is hard for additional natural gas production to move the needle. XOM has stated in the past, during conference calls, they have the ability to add natural gas production very quickly, if the price is right. They are also expanding their Baytown, Texas complex by installing an ethane cracker unit, which should begin production this year. So XOM will benefit as a user at the chemical plant and as a producer from increased natural gas use and higher prices, but not enough to jump earnings measurably.
Conclusion
Natural gas has spent years in the lower end of pricing, making it difficult for producers to make money, but making end users of the product happy. In the best of both worlds, it would be advantageous if natural gas regained a price that made production profitable, while also keeping prices low enough to benefit, utilities, chemical companies and home owners. I believe we have a chance to find that middle ground, with enough demand to keep prices from sinking too low and enough production to keep prices from rocketing higher. That level of pricing would be good for everyone in the United States.
Disclosure: I am/we are long XOM.
I wrote this article myself, and it expresses my own opinions. I am not receiving compensation for it (other than from Seeking Alpha). I have no business relationship with any company whose stock is mentioned in this article.