A third consecutive week of large inventory builds. While clearly smaller than the previous two weeks, the numbers are not constructive for crude oil fundamentals. Crude oil (NYSE: USO) dropped by about $0.50/bbl after the report was released.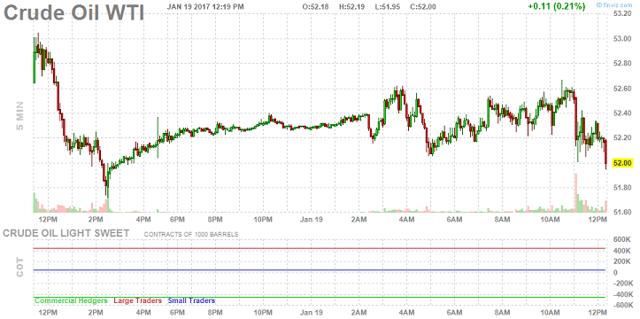 Source: Finviz.com
Stocks:
* Crude oil inventories increased by 2.3 million barrels.
* Gasoline inventories increased by 6.0 million barrels.
* Distillate inventories decreased by 1.0 million barrels.
By themselves, this week's numbers would be material but not particularly alarming, but after two consecutive weeks of exceptionally large product inventory build, this week's numbers are solidly on the bearish camp. Net imports were essentially at normal levels, adding almost no noise to the data.
As a reminder, during the last three weeks gasoline inventories have increased by 19.2million barrels and distillates have increased by 17.5mm barrels.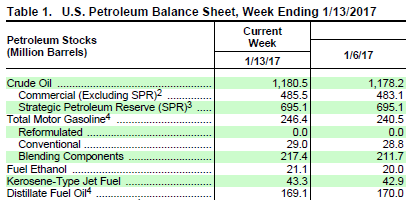 Source: EIA
Production and Refinery Utilization:
* Domestic production stayed flat both in Alaska and in the Lower 48. The previous report showed a weekly increase of 176,000bpd, consequence of the monthly production estimate adjustment after the EIA Short Term outlook was published.
* Net imports decreased by 651,000 bpd to a level which is only marginally below what we would consider to be the normal level of imports given current consumption and domestic production.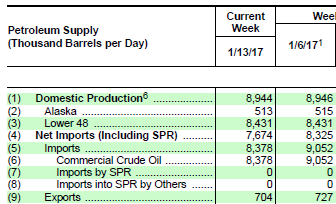 Source: EIA
* Refinery utilization decreased by 290 basis points, which is still below normal levels for this time of the year. So far during the heating season, there has only been one week (last week) where refinery utilization has been consistent with historical levels. Despite this, inventories of gasoline and refined products continue accumulating.

Source: EIA
Cushing, Oklahoma:
* Cushing, OK inventories decreased by 1.2 million barrels; a material decline but one that still leaves inventories near maximum historical highs. Cushing, OK is still near maximum operating capacity.
* Gulf Coast inventories increased by 800,000 barrels. Although far from reaching its capacity limit, Gulf Coast inventories are also very high.

Source: EIA
Conclusion:
Another week, another large inventory build. During the last three weeks, the aggregate of crude oil + gasoline + distillates has increased stocks by 36.1mm barrels; a truly alarming number. While the domestic fundamentals look weak, oil prices are still supported by Saudi Arabia and OPEC's news flow as well as foreign exchange movements.
Disclosure: I/we have no positions in any stocks mentioned, and no plans to initiate any positions within the next 72 hours.
I wrote this article myself, and it expresses my own opinions. I am not receiving compensation for it (other than from Seeking Alpha). I have no business relationship with any company whose stock is mentioned in this article.