Having considered the Snap IPO on Tuesday, this article takes a look at five more technology IPOs rumoured to occur in 2017: AppDynamics (Pending:APPD), Apttus (Private:APTUS), Dropbox (Private:DROPB), MuleSoft (NYSE:MULE), and Palantir (Private:PALAN).
With some of the causes of the two-year slowdown in public offerings on the retreat, these companies are expected to take the IPO plunge. Furthermore, more modest IPO pricings, with some exceptions, are anticipated, which will likely boost buyer interest.
Will Connolly, Goldman Sachs Group Inc.'s head of U.S. technology equity capital markets. Source: Reuters

While a significant amount of 2017's technology IPO interest focuses on decacorns like the aforementioned Snap (the owner of Snapchat (CHAT)), or "it" companies like Uber (Private:UBER) or Airbnb (Private:AIRB), it is estimated, by Greg Becker of Silicon Valley Bank amongst others, that somewhere between 30 and 45 technology companies, not all of them already "giants", may make public offerings in the coming year. This would double 2016's number, as per Thomson Reuters data.
Software IPOs forecast for 2017. Source: Reuters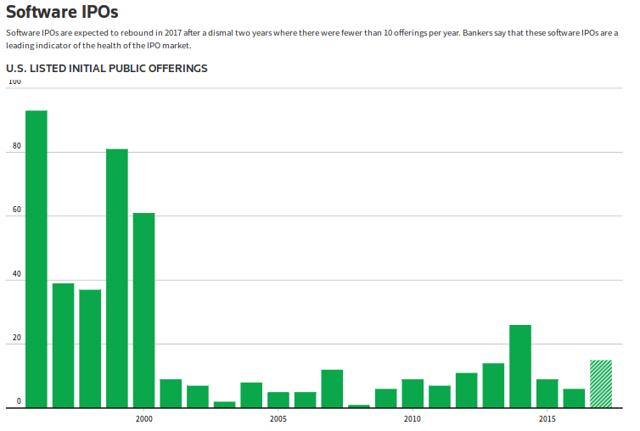 Before turning to the companies considered, it is worth bearing in mind that IPOs, often to a significant degree, oversell their future prospects; and that investment risks in what is a volatile area very often significantly outweigh the potential gains. As many cycles of investment boom and bust show, being new and being innovative are, in no way, a long-term substitute for business acumen. Even if the IPO seems all it is cracked out to be, unless you're considering flipping the stock in the first few days, be prepared to be in it for the long-haul. Several eventually successful IPOs, including Facebook (NASDAQ:FB), which posted huge long-term valuation gains, were bumpy rides at first, and nerves saw many lose out. Never mind Twitter (NYSE:TWTR), a successful and much used platform, which nevertheless continues to trade at substantially less than its initial price, several years later. Simply put, technology stocks are often overvalued, and not the goose that laid the golden egg.
The Contrasting Fortunes of Twitter (blue) and Facebook (orange). Source: Bloomberg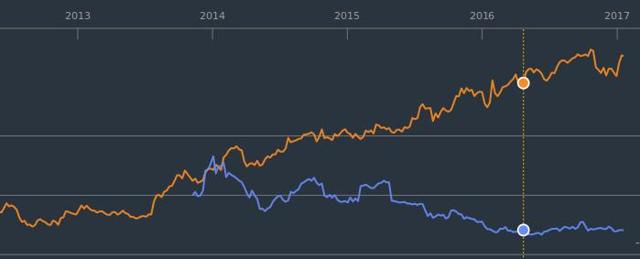 The Companies
AppDynamics:
AppDynamics Data. Source: crunchbase

AppDynamics has already filed for its IPO (Dec. 28) and has established itself as an application performance monitoring company (APM), working both inside the cloud and in data centers. The company is valued at over $2 billion according to many investors, but is expected, however, to have a launch price of between $10 and $12 per share, meaning private investors are likely to see a smaller return on their estimated $300 million equity funding than they might have expected. The company with revenues of around $158 million will trade under the symbol APPD on the Nasdaq.
While still a loss-making enterprise ($95.1 million in losses), AppDynamics has seen a 54% gain in revenue year on year. In a nutshell, what the company provides is service monitoring, offering feedback on the behavior of discrete applications within a company's overall performance "matrix", so that companies can fix problems and understand what consumers and employees are, in fact, doing with their applications, enabling enhancements, and providing essential data to be used in upgrading their products. As a company, it is still growing and is developing a good reputation. However, it does remain one of the smaller entities in the APM market. And, depending on how you view the investment landscape, the size of its competitors, who include Microsoft (NASDAQ:MSFT) and HP (NYSE:HPQ), means the company can be seen as a hiding to nothing, a plucky young upstart, or as a likely M&A target in the longer term.
In terms of its future, AppDynamics is bullish, and Gartner estimates the broader total addressable market for the company is worth some $40 billion. The market AppDynamics targets specifically is worth an estimated $12 billion, as it focuses on global companies with a revenue of more than $50 million. Against an investment in AppDynamics is the fact that it has a sizable number of competitors, not solely big beasts, but also newer companies such as New Relic (NYSE:NEWR), or CA Technologies, with whom AppDynamics has significant bad blood. In favor are the market size, the company's ambition, and the fact that it seems its IPO may undervalue it in the long term. If you do choose to take a position in AppDynamics when it floats, it seems likely that you ought to consider it a long-term bet, and be prepared to take some short-term hits.
Apttus:
Apttus Data. Source: crunchbase

Apttus is expected to go public in 2017. The company sells "quote-to-cash" software, providing sales teams with the capacity to work with all aspects of a deal from start to finish, within one environment. The company is backed by a veritable who's who of technology investors, and the technology company Salesforce (NYSE:CRM). Private investors include Mark Zuckerberg, LinkedIn founder Reid Hoffman and Twitter CEO Jack Dorsey. Apttus, founded in 2007, has revenues of $150 million (a 50% increase), posted profits for seven and a half years in succession, before deciding to seek additional funding for growth. Kirk Krappe, CEO, is, in fact, remarkably bullish about his company's prospects, stating simply: 'we have a tremendous company.'
Apttus is valued at $1.3 billion, has had funding of $274 million and, until recently, has been solely working in partnership with Salesforce on its platform, but has now expanded to include Microsoft's Azure as a platform on which its applications operate. 2017 revenues are also bullishly forecast to grow by up to 80%. The likelihood of its IPO is strong, given Krappe's comment that the company ought to access the markets because it's 'the right thing to do.' Whilst still a loss-making enterprise, as many floating companies are, the future does look bright for Apttus, with there being a significant existing market for its services, a steady buzz around its product offerings, and key partnerships already in place. As an IPO, it looks like one worth watching, and perhaps taking an initial punt on.
Dropbox:
Dropbox Data. Source: crunchbase

Dropbox, a company which has been around for seemingly an eternity, is an unconfirmed 2017 IPO candidate, though there are reports of talks with financial advisors being opened. Valued at $10 billion, with over $600 million in private funding, Dropbox would be a high-profile 2017 launch. The company has further become cash-flow positive recently, and insists that it is in no hurry to sell, unless the market continues to look favorable in the coming year. That said, there is significant cause for the company to float, given it could do with a boost for its name, given ever-increasing competition from Google (NASDAQ:GOOGL) (NASDAQ:GOOG) and Amazon (NASDAQ:AMZN), amongst others.
If you don't already know, what Dropbox does is provide storage, or "file hosting" as it describes it. Its service is liked by many for its easy integration, and also for its cross-platform availability. It is neither OS, nor platform-dependent, meaning that I may, for instance, have a readily accessible folder on my Linux machine, my Android mobile, and a Windows workstation, whilst sharing it with colleagues with whom I am working on a project, regardless of their chosen hardware.
Dropbox data up to Q2 2016 on funding share prices. Source: WSJ

The company has been rumored to be floating for years, so the internet is full of articles telling you to invest in its IPO, or to steer absolutely clear of the company and its 300 million user base. Problems for the company include the fact that its rivals can operate loss-leaders if they so wish, to try and drive it out of the market, whilst Dropbox remains a fairly single-service offering. Positives include its experience, longevity, its user base, and its strong degree of active partnerships. The fact is, however, that the company is unlikely to receive any more private equity funding, and if it wishes to gear up for a further fight for market share, it has little choice but to float, and it may be, in fact, viewed as in a last-ditch existential battle. A shrewd investor might consider flipping the stock quite quickly after its IPO, whilst taking a longer-term view of its future, and potentially retaking a position after the stock has stabilized, if the company's fortunes do not suffer too dramatically.
MuleSoft:
MuleSoft Data. Source: crunchbase

MuleSoft, valued at around $1.5 billion, and in receipt of $259 million of private funding, provides integration, both on-site and in the cloud, for applications. Essentially it links apps, data sources, and APIs, providing easier and comprehensive access for users. Importantly, in terms of its software design and the likely uptake thereof, MuleSoft provides an APIhub, allowing developers to consistently share information and updates, making software engineering an easier task. This hub currently covers more than 13,000 APIs.
Founded in 2006, and having undergone several funding rounds in order to grow, with support from companies including Salesforce.com, MuleSoft is ranked at number 20 on the Forbes Cloud 100 List. The market in which MuleSoft operates, the global enterprise application integration market is also a lucrative one, with a 2019 forecast valuation of between $13 and $14 billion. Previous predictions of MuleSoft's long-term growth have all come in rosy, so there is hope that so too will its rumoured 2017 IPO. Further to this, its customer base, including giants such as Unilever (NYSE:UL), Wal-Mart (NYSE:WMT), MasterCard (NYSE:MA), eBay (NASDAQ:EBAY), and Verizon (NYSE:VZ), is very impressive. Whilst MuleSoft does not disclose significant financial information, and values the "agility" its private status gives it, with bankers reportedly called in to help the company to float, its strong growth rate, big-name customer base, strong approval ratings, award-winning performances, and its estimated $175 million revenue, up from previous earnings of approximately $100 million, makes it an interesting IPO to consider taking a position in, should its launch price not prove too high.
Palantir:
Palantir Data. Source: crunchbase

Palantir, a data-mining company, co-founded by venture-capitalist Peter Thiel, and more than 13 years old, is more than ripe for a 2017 IPO. The company is famous for its secretiveness. However, it is known that many of its largest customers include governments, finance companies, and legal research companies. What the company offers is big-data solutions, allowing the connection of huge data sets, whilst providing detailed analysis thereon, including pattern recognition. Whilst Palantir has valued its privacy, investors are rumored to be quite keen for additional liquidity, and to see their investments generate a substantial return. Valued at over $20 billion, Palantir might well be one of 2017's largest IPOs, and its founder's connections with the U.S. president-elect, a president not expected to be averse to helping out his friends, may see the company clean up in terms of upcoming government contracts. It is not only its owner's friends who make it an attractive proposition, nor its highly regarded products (a breakdown of its two most famous offerings is below), but its M&A and R&D, with the company happily acquiring rivals to boost its own in-house services, such as Kimono Labs.
Palantir - Two Product Overviews. Source: nanalyze.com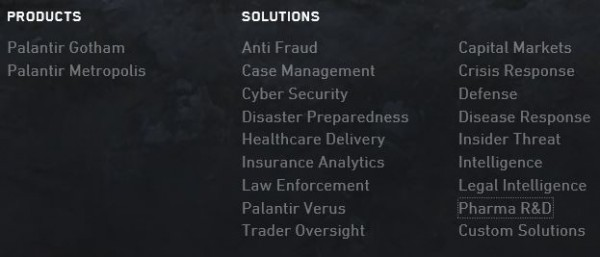 In terms of its readiness for an IPO, CEO Alex Karp suggests that his company is very much ready, noting its likely profitability in 2017. Indeed, whilst the buzz is all around Snapchat, launching at a similar level, and arguably with much stronger financials, in terms of decacorn IPOs, Palantir may be the horse to back. The company, which has received over $2 billion in funding, is estimated to have revenues in excess of $1.5 billion a year, making it a far less risky IPO in terms of longevity than many of 2017's other expected offerings, and may just well be an excellent long-term investment prospect. Not only as a potentially lucrative IPO, but also as a strong pure-play in big data, Palantir may most certainly be an IPO to watch.
A CB Insights image suggesting potential 2017 Tech IPOs. Source: CB Insights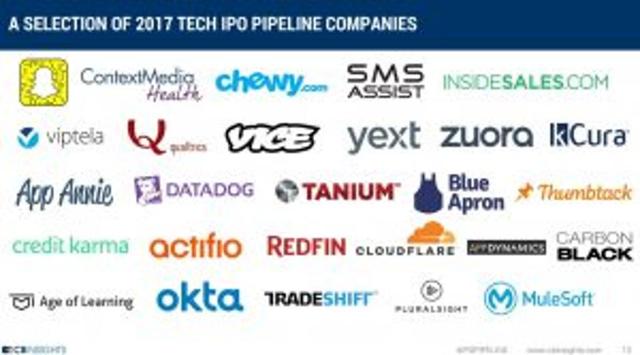 Disclosure: I/we have no positions in any stocks mentioned, and no plans to initiate any positions within the next 72 hours.
I wrote this article myself, and it expresses my own opinions. I am not receiving compensation for it (other than from Seeking Alpha). I have no business relationship with any company whose stock is mentioned in this article.
Additional disclosure: CFDs, spread-betting and FX can result in losses exceeding your initial deposit. They are not suitable for everyone, so please ensure you understand the risks. Seek independent financial advice if necessary. Nothing in this article should be considered a personal recommendation. It does not account for your personal circumstances or appetite for risk.