After the buyout rumors died out in 2016, there has been a lot of catalysts to propel Imperva (NYSE:IMPV) to new heights.
Given the ever-increasing scale of DDOS attacks, heavy holiday security spends, renewed management focus for Imperva to increase total return to shareholders and the brilliance of Incapsula WAF (web application firewall), Imperva appears to be once more an attractive stock. The combination of these tailwinds could propel Imperva to greater heights as management ramps up efforts, particularity on the sales front.
DDOS attack
The height of the DDOS (distributed denial of service) attacks occurred last year when a significant portion of the internet was unroutable.
After the attack, fresh awareness was created among organizations heavily reliant on the availability of their website to perform everyday operations and more importantly, drive profitability. This ranges from social media platforms, news sites and e-commerce sites. The cost of a shutdown in internet service is unbearable, leading to loss in millions of transactions whenever downtime occurs.
Also, DDOS attacks are increasingly becoming a common threat giving more CISOs reason to worry.
This, I believe, has driven massive spend in the holiday season.
Heavy holiday security spends
During the holiday season, driven by e-commerce sites, traffic to major online retailers spikes up significantly. A major number of online retailers launch holiday campaigns ranging from Black Friday, Christmas promos and Cyber Monday, to name a few. While most e-commerce sites have a form of website security measure in place, new entrants make web security purchases for the first time while some incumbents further tighten their security.
A good example is Jumia, the largest e-commerce platform in Africa. The company purchased Imperva Incapsula for its multiple online retail stores.
When the deal was announced, it came as a huge win for Imperva, bolstering its presence in the EMEA region. This highlights management's renewed focus to drive productivity in sales and marketing.
Renewed Sales and Marketing focus
Aside from the Jumia win, Imperva also recorded more wins which was highlighted. After the last earnings call, management's tone was clear - ramp up the efficiency of its work force.
This is further propelled by the interest of Elliott Management, a renowned activist investor. The strong position initiated by Elliott is a sign of the growing impatience and undying focus on the path of shareholders to ensure management increases total return to shareholders.
To achieve this, management has at the heart of its product portfolio -Incapsula.
Winning with Incapsula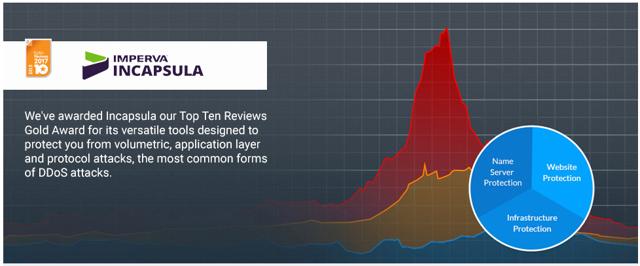 Incapsula is a cloud-based web application firewall. It is a best of breed solution which has been highly rated by third-party security research firms. It ensures protection from malicious attackers for web assets including websites, web apps and other application level web services.
According to Gartner, Incapsula is the only leader in the Gartner magic quadrant for WAFs. The WAF market was valued at $516 million in 2015. This is a small niche cyber security segment with a new catalyst in cloud proliferation.
While Imperva is not the only player in this segment, the uniqueness of Incapsula driven by its standout security features, low TCO (total cost of ownership) and high ratings provides an avenue for Imperva to maintain an upward ramp in market share.
Aside from Incapsula, Imperva also has solutions in database security, a DDOS solution and an on-premise solution (Secusphere) for physical and virtual web security deployment.
Risks
The risk inherent in Imperva is fuelled by two factors - competition from rivals and substitutes.
Competition from rivals is driven by other WAF vendors such as Akamai (NASDAQ:AKAM) and Barracuda (NYSE:CUDA) whose sales and marketing spend will make it hard for Imperva to gain market share without sacrificing operating margin.
Competition from substitutes comes from network security vendors and cloud security providers that offer application level security solutions, firewalls with WAF capabilities and secure web gateways which serve as alternatives to web firewalls. These competitors include Symantec (NASDAQ:SYMC) whose recent acquisition of Bluecoat (a leader in secure web gateways) makes it a challenger to Imperva in web security.
Other competitors include network security vendors such as Fortinet (NASDAQ:FTNT), Palo Alto (NYSE:PANW) and FireEye (NASDAQ:FEYE) that provide content and advanced security solutions.
Valuation
While management has opted to run the business as a standalone, I believe the WAF market is too small and congested to raise Imperva's valuation. The WAF market size which is less than $1 billion could shrink further due to competition from SWGs (secure web gateways), web proxies and NGFWs (next generation firewalls).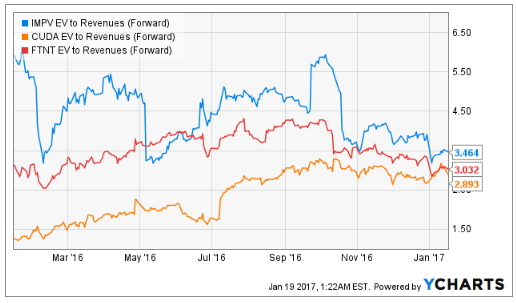 Also, a peer based comparison on key valuation metrics shows no bargain opportunity.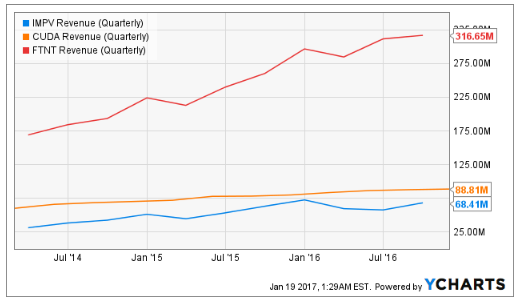 Given its limited capabilities outside web security, Imperva might find it hard to survive as a standalone business. The business has a high potential to gain a good buyer. Just like Symantec acquired Bluecoat at a huge premium to grow its capabilities in cloud and advanced security, Imperva will continue to be an attractive business to vendors in network and advanced security hoping to diversify and gain more cloud customers.
This is the only reason why Imperva will be considered an attractive stock.
Disclosure: I/we have no positions in any stocks mentioned, and no plans to initiate any positions within the next 72 hours.
I wrote this article myself, and it expresses my own opinions. I am not receiving compensation for it (other than from Seeking Alpha). I have no business relationship with any company whose stock is mentioned in this article.