As we wrote in our annual letter to investors, we like to invest in businesses with sustainable competitive advantages, that have shareholder-friendly management, that offer robust return on equity and a safe balance sheet, and that are fairly and conservatively priced.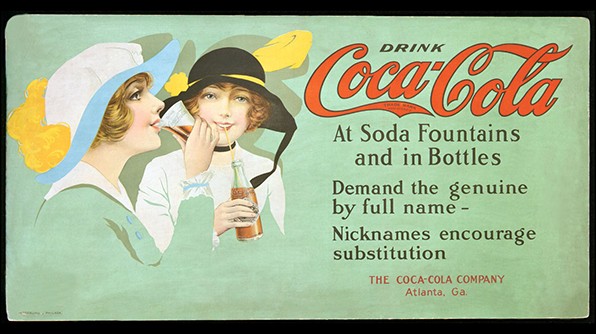 Coca-Cola (NYSE:KO) has been in our watch list for a while. The strength of the Coca-Cola competitive advantage is well known. Coca-Cola has numerous products with more than $1B in revenues. The brand is of unquestionable value. Warren Buffett once said, "If you gave me $100 billion and said 'take away the soft drink leadership of Coca-Cola in the world,' I'd give it back to you and say 'it can't be done.'"
Over the last few decades, the company has also rewarded its shareholders handsomely. Coca-Cola uninterrupted dividend streak rightly places the company on the Dividend Aristocrats list. Today's dividend yield is a generous 3.63%.
Coca-Cola is also highly profitable with an ROE above 30%, and a rapidly increasing net margin (more on this below). Coca-Cola also has a reasonably safe balance sheet. Finally, it is now fairly priced. The positive aspects of KO are well known and we won't spend time repeating them. In the video below, Warren Buffett talks about the Coca-Cola business. However, despite the well-known facts, the market is negative about Coca-Cola due to negative industry trends and declining revenues.
Is the business deteriorating?
At first sight, Coca-Cola revenues and business seem to be deteriorating. Forbes recently published an article titled Soda Consumption Falls to 30-Year Low In The U.S.. The graph below shows that demand for carbonated drinks is falling across the board.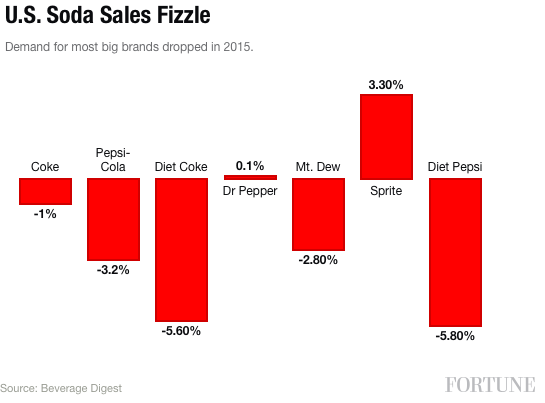 However, Coca-Cola is much more than just carbonated drinks. Coca-Cola is a diversified business with sales spread across continents and products. Although the carbonated side of the business is suffering, Coca-Cola has a strong presence in non-carbonated drinks such as water, fruit juices or sport drinks. The following picture lists all businesses with more than $1B in revenues. Considering Coca-Cola has revenues just above $40B, each of these brands represent a significant portion of the overall business.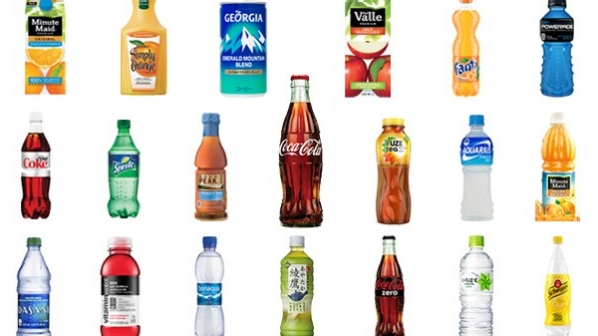 Are revenues declining?
Yes, they are. Yet, although KO revenues declined over the last few years, this is mostly due to the impact of non-recurring events such as currency effects. The chart below shows that Coca-Cola revenues peaked in 2012 and have declined since then. In 2012, KO generated approximately $48B in revenues, as opposed to the current $42.5B. A decline of 12% in five years is not exciting. Operating profits (EBIT) have also been falling. In 2013 KO generated $11.2B, but only $10.3B in 2015 and approximately $9.9B in 2016 (expected).

(Source: GuruFocus)
For the coming years, analysts expect revenues to continue their decline. For example, they expect revenues to decline from $41.7B in 2016 to $31B in 2019.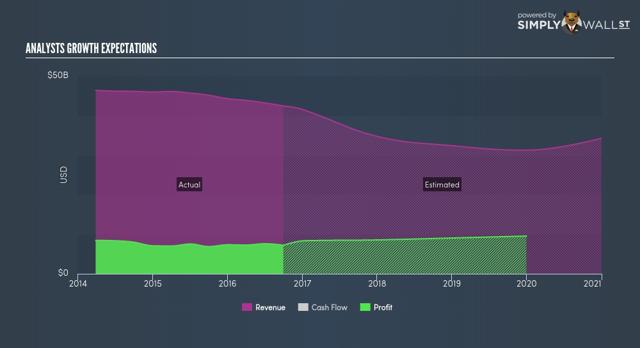 Why revenues are declining, and should we worry about it?
The decline in revenues is mostly attributable to two factors: currency effects (past declines) and divestment of the bottling business (future declines). It is well known that, over the last few years, the USD has strengthened against most major currencies. This has had a negative effect on Coca-Cola results. For example, in 2015, KO net operating revenues declined by 4%, but in constant currency they actually increased by 3% (7% currency headwinds). These currency effects are even stronger on income before taxes. Coca-Cola reported that currency had a 9% negative effect on this measure. There is a big difference between valuing a company that is growing at 3% rather than one declining at a similar pace. The positive trend for the USD cannot continue indefinitely and KO should have limited currency headwinds going forward.
The table below, composed from company documents, shows the volume growth. We can see that in 2015 all regions increased volume at a weighted average of 2.1%. Developing regions, that are much more populated than the developed countries, are growing at a good pace of 3-4%.
| | | | | |
| --- | --- | --- | --- | --- |
| Unit cases | 2015 Relative Volume | 2013 | 2014 | 2015 |
| Asia | 22% | 3% | 5% | 4% |
| North America | 20% | 0 | 0 | 1% |
| Latin America | 29% | 1% | 1% | 1% |
| Europe | 13% | -1% | -2% | 2% |
| Eurasia/Africa | 16% | 7% | 4% | 3% |
| Weighted average | 100% | 1.9% | 1.8% | 2.1% |
(Sources: Company presentation, author's calculations.)
On the other hand, revenues of the Bottling Group declined from $24.3B in 2013 to $23B in 2015. Similarly, the unit case volume growth for the bottling segment has been negative 2% in 2014 and flat in 2015 (not all drinks are bottled internally). This is reflected in income before taxes for the bottling group falling from $880M in 2013, to $120M in 2014 and a loss of $427M in 2015. Coca-Cola intends to re-franchise its bottling operations and we think that this is a great move (more on this later). The re-franchise of the bottling group will reduce revenues, since the bottling operations will not be within the business of Coca-Cola anymore, but this strategic change will leave KO with a more efficient and more profitable company. In fact, despite a significant reduction in revenues (as mentioned above), EPS are expected to increase from $1.71 in 2016 to around $2 within two years.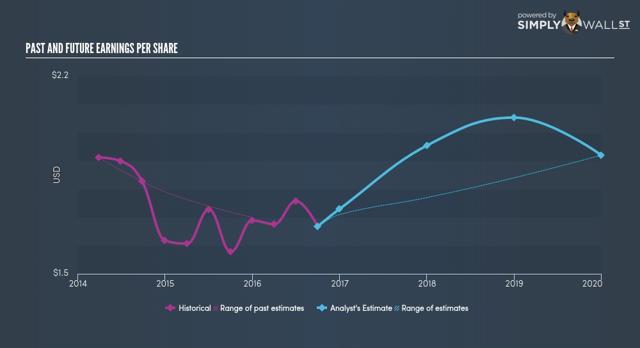 In turn, this will boost margins significantly. Net margins are expected to jump from 16% in 2015 to 33% in 2018 (Source: 4-traders).
In sum, revenues are declining but for reasons that are either non-material to the company and for optimal strategic changes. Investors should not worry about this revenues decline.
Coca-Cola strategic priorities
As we mentioned at the beginning of this research note, we want to invest in businesses with a solid competitive advantage and profitability. As an investor, higher revenues are a mean to an end. Higher revenues generally lead to more profits, but not always. It is profits and dividends that reward shareholders, and that is what we mostly pay attention to.
We think that the strategy and goals set by the management are optimal and will lead to a more streamlined, less risky and more profitable company. The Coca-Cola management has declared that it intends to "streamline and simplify the company by standardizing key processes, removing a layer of functional management and connecting regional business units directly to headquarters". The slide below summarizes the future strategic actions that the management is implementing.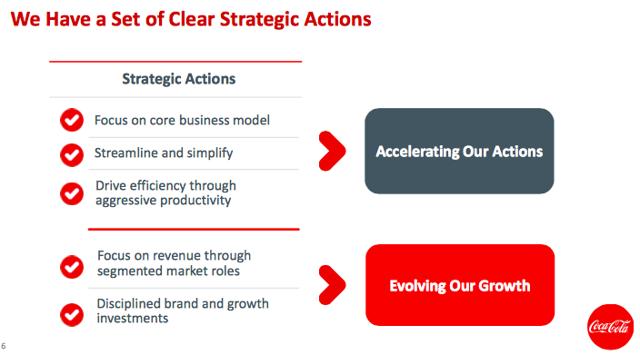 Efficiency
Coca-Cola decided to invest in more and better marketing while also increasing financial flexibility. To these ends, the company increased efficiency and productivity while reducing costs.
Part of the solution was "zero-based work" — a way of looking at the business that starts from the assumption that organizational budgets start at zero and must be justified annually, not simply carried over at levels established in the previous year. Coca-Cola also cut spending on non-media marketing like in-store promotions. And it found new savings in the supply chain around the world. Overall, KO realized more than $600M in productivity improvement in 2015. For the future, the management stated that it is working to drive productivity and continuous savings.
To seize future opportunities offered by the non-alcoholic beverage industry, Coca-Cola took steps to reshape the business. It identified areas of the operational structure where it could be faster, smarter and more efficient. it removed a layer of functional management and connected the regional business units directly to headquarters. The company streamlined several important internal processes and removed roadblocks and barriers that inhibited effectiveness and responsiveness.
Refocus
This strategic priority is probably the one that we like the most. Coca-Cola has been managing a sophisticated system of independent bottling partners. Over the years, Coca-Cola has acquired and managed a number of Coca-Cola bottling partners with the aim of improving performance, optimizing manufacturing and distribution systems, and ultimately re-franchising the bottling territories back to independent status.
In North America, it took aggressive steps in 2015 to accelerate the re-franchising of Company-owned bottling territories with the goal of completely re-franchising the North America bottling system by year-end 2017. The management also announced a transaction to form a unified new bottling partner in Western Europe and took action to improve the bottling system in Southern and East Africa, Indonesia and China. The picture below shows that, by 2017, Coca-Cola expects Company-owned bottling partners to produce just 3 percent of its global volume, down from 18 percent today. This will also translate into a much smaller workforce.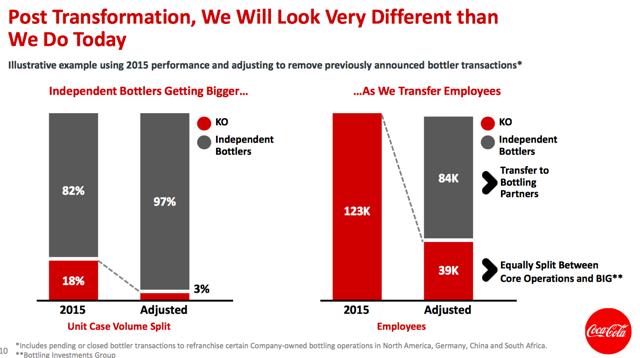 This transaction will translate into higher flexibility, lower risks and higher margins. In fact, the core business and core competitive advantage of Coca-Cola are not in its bottling business. This is a rather commoditized segment and outsourcing it won't take anything away from the power of Coca-Cola. We like that the company is investing energy and capital into the part of the business where it excels and where it can produce a significant return on capital. We believe that this is a good move that will provide long term value to shareholders.
Is Coca-Cola fairly valued?
As always we value a company based on two different measures (we usually include also a Graham valuation but it is not appropriate for a high-quality company like Coca-Cola): abnormal earnings growth and residual earnings. We apply a WACC of 6.67% (Source: Gurufocus.com) and a long-term growth of 3%, alongside a required return of 7.5%. Based on these assumptions, we obtain the following valuations:
Abnormal earnings growth - $55.7/share
Residual earnings (capitalized after 2 years) - $41.8
Residual earnings (capitalized after 5 years) - $40.7
Average -$46.1
Hence, considering that the current market price is $41.27, we can conclude that KO is fairly valued, if not slightly discounted. We think that EPS might grow at a faster pace than 3%, hence providing further potential. Investing in KO today will not provide stellar returns, but considering the stability of the company and the low return environment in which we are operating, a return of 7/10% is definitely something we are interested for a solid long term investment.
Conclusion
Coca-Cola is one the most iconic and historical American brands. Recent declines in revenues might deceive an investor to think that Coca-Cola is overvalued or that its business is deteriorating. However, revenues have been declining mostly due to currency effects or strategic changes such as the re-franchise of the bottling business. We believe that these strategic changes will increase the company's flexibility and profitability, without reducing its competitive advantage. KO is not a bargain at current prices, but considering its quality, this is a good entry point for a 50% position. Today we invested in KO.
As always, thank you for reading. If you wish to follow our future articles, just click the "Follow" button next to our name at the top. If you would like us to cover a company, please let us know in the comments. Thank you for reading!
Disclosure: I am/we are long KO.
I wrote this article myself, and it expresses my own opinions. I am not receiving compensation for it (other than from Seeking Alpha). I have no business relationship with any company whose stock is mentioned in this article.