Shares of China Southern Airlines (NYSE: ZNH), the largest Chinese Air Carrier are attractively priced and are trading at a discount from the highs. Financial profitability and efficiency measures are showing signs of recovery in the recent quarter. Increased global growth and overseas travel by the Chinese could continue to add to this growth story.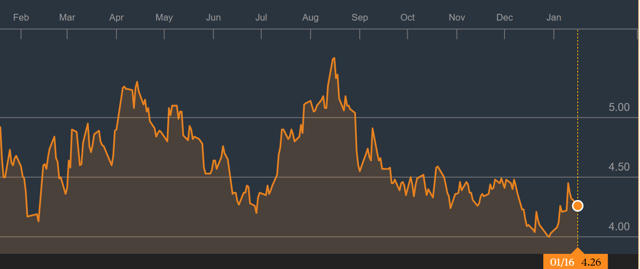 (China Southern: 1055 HK, common stock price chart, from Bloomberg.com)
China Southern has its head-office in Guangzhou, the southern entrance to China and has branch fleets bases in the provinces of Henan, Huber, Human, Hainan and the special economic zone of Shenzhen. It serves 193 destinations in 35 countries globally through more than 500 aircraft. It is also 60% shareholder of 4 regional airlines- Xiawen Airlines, Shantou Airlines, Guanx Airlines, and Zhuhai Airlines.
China Southern is world's 8th ranked airline by revenue, 4th largest by passenger volume and 6th largest by fleet size. Its two closest competitors are Air China and China Eastern Airlines. Recently, China Southern has expanded internationally with flights to Australia, Frankfurt, New York and London.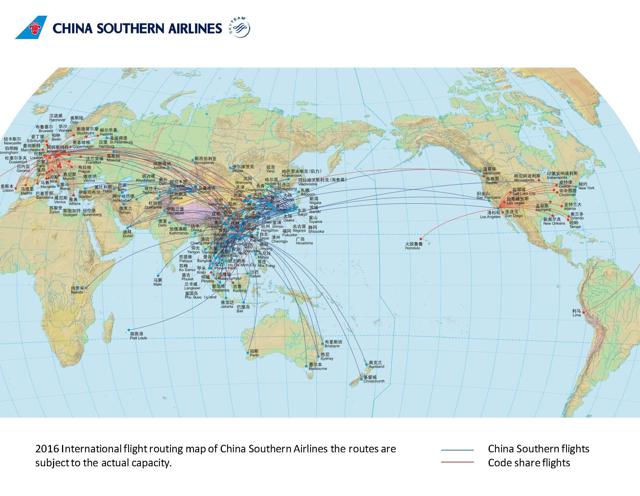 (China Southern Airlines: Route Map, source: flychina.com)
Valuation is attractive vs. peers:

(China Southern Airlines, comparison of relative valuation measures with peers, data from Bloomberg)

(China Southern Airlines, comparison of profitability and efficiency measures vs. peers, data from Bloomberg).
China Southern Airlines' ROIC is above its cost of capital, thus indicating value creation for its stakeholders. Its ROIC/WACC metric is above 1. This measure was used by Buffet recently while making investment in airlines.
Forward EV/EBITDA is lowest for China Southern compared to its peers. It is trading at 87% discount to the median EV/EBITDA for the group. Its forward EV/EBITDA is lower than its two closest competitors Air China and China Eastern, but has higher dividend yield and ROIC vs. these 2 closest competitors.
Shares of China Southern also trade closer to the lower end of its 5-year forward EV/EBITDA range (3.8x-8.7x).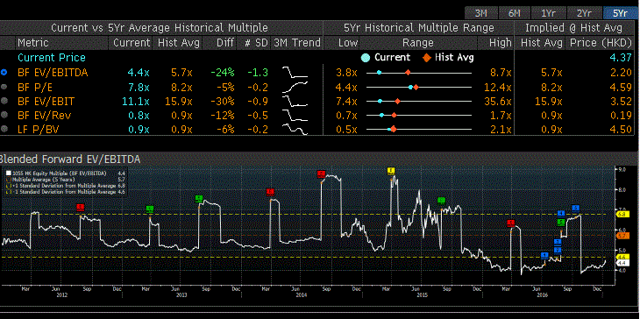 (China Southern Airlines: Comparison of RV measures vs. historical data, data from Bloomberg).
Share price peaked at HKD 9 in June 2015, then have been in a downtrend. The reason for the downtrend appears a decrease in the revenue growth and operating margin. This seems to be related to the slow Chinese growth during this period.
Revenue growth, operating income, operating margin have shown signs of recovery in Q3, 2016 earning report. Operating margin expanded to 13.9% in the most recent quarter. It is still much higher than Q2, 2015 (5.4%) when the stock price peaked. The company has also shed its long-term debt compared to Q2, 2015 (when stock price peaked).
China Southern was one of the 84 companies identified by Nomura whose Hong Kong listed shares trade at a discount compared to mainland listed shares. Nomura expects this valuation gap to narrow after the opening of the recent HK-Shenzhen link.
SWOT Analysis:
Strengths (internal):
It revenue is growing the fastest among top 3 Chinese air carriers.
It has the largest fleet and the lowest jet fuel cost among top 3 airline giants in China.
It is optimizing its debt structure by swapping USD-dominated obligations to RMB-dominated obligations.
Passenger capacity increased 10.5% year-over-year (YOY), cargo capacity increased 8.1% YOY, and cargo+mail traffic increased 9.1% YOY (November 2016 release).
Weaknesses (internal):
Revenue growth (YOY) needs to pick up.
Opportunities (external):
The

company stands to benefit from the increasing consumer wealth in China and increased Chinese travel to foreign countries. It is expected that by 2020, 200 million Chinese will travel internationally per year.

The

company also stands to benefit from the agreement between China and Australia on traffic rights expansion. China Southern has 36% share of this market and stands to benefit the most.
Threats (external):
Increasing oil prices may eat into the

company profits by increasing fuel costs. Chinese Airlines do not hedge against fuel costs.

Possible economic downturn in China may affect overseas travel y the Chinese and pressurize its profits.
Rising U.S. dollar may affect the

company's profits as operating costs like airport fee are dominated in U.S. dollars.

Chinese economic stability measures including Yuan devaluation may reduce air travel demand.
Conclusion:
We consider shares of China Southern as a buy at this level. In a conservative scenario, if shares have about 30% upside if they trade at 5-year average historical forward EV/EBITDA. In a bull scenario, shares could have more than 80% upside if they trade at EV/EBITDA = 8.13x (similar to median for peers) or the company's 5-year upper end of the range EV/EBITDA (8.7x).
Disclosure:
This article was first made available to the subscribers of Trident Asian Research (tridentasia.com). This article represents our own opinion and is not a substitute for professional investment advice. It does not represent solicitation to buy or sell any security. Investors should do their own research and consult their financial advisor before making any investment.
Disclosure: I am/we are long ZNH.
I wrote this article myself, and it expresses my own opinions. I am not receiving compensation for it (other than from Seeking Alpha). I have no business relationship with any company whose stock is mentioned in this article.