South Korean Economy
Bloomberg ranked South Korea as being the country with the world's most innovative economy in 2016, ahead of the United States, Japan, and even Germany. The Bloomberg Innovation Index considers six factors, among them Research and Development, patents, high-tech companies, manufacturing, and education. Given that South Korea started out as a poor agriculture-based society, the country sure has come a long way. Today the nation has the world's 11th largest economy, 7th largest, and is the leader in innovation.
But despite South Korea's success over the last 50 years, there are nagging problems that are holding back economic expansion. Their economy is primarily dependent on exports, which means that they rely on trading partners such as China, the United States, and the Eurozone. These countries are, for the most part, still in recovery mode. And while the global economy is recovering, South Korean exporters are being squeezed at the low end by expanding Chinese manufacturers, and at the high end by Japanese with a weak yen.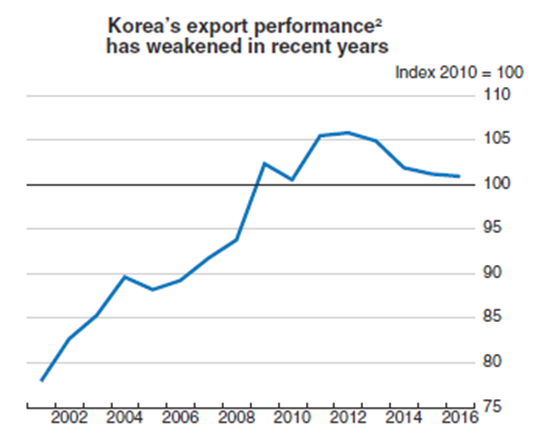 South Korea's export performance (Source: oecd.org)
Another area of concern is that South Korea suffers from overpopulation and the population is aging rapidly. They have one of the world's lowest birth rates. Child-rearing is very expensive, with the average family spending up to half of their income on one child's education. Parents feel compelled to provide private tutoring for their children due to a very competitive educational system. Korean workers are highly educated and spend a lot of time at work. They don't have the time, the money (and perhaps the desire) for starting a family.
On average, South Koreans have large personal debts, estimated to be as high as 150% of disposable income. In the late 1990s, South Korean banks turned towards private credit and away from company loans after the Asian financial crisis. In order to attract customers, mortgages were crafted with a two or three-year repayment holiday at the start. The purchased property could be expected to rise in value, and sold at a profit before any house payments were ever made. But household debt has grown by approximately 13% per year, and now the real estate market is stagnating with owners unable to sell their property. To make matters worse, most loans (up to 90%) have a variable interest rate with high interest payments. When interest rates start to rise, payments will also.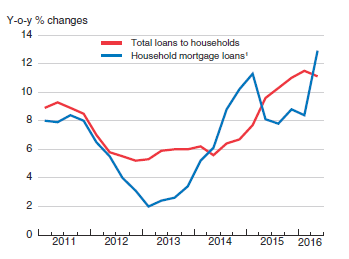 Household debt (Source: oecd.org)
Large conglomerates called chaebol dominate the South Korean economy. There was a time when the chaebol were well respected as they were responsible for South Korea's amazing economic success story. But they are now perceived to be far too powerful, and stand in the way of the country's attempts to stimulate a services-oriented economy powered by small businesses.
South Korean Politics
Government collusion and influence-peddling has plagued South Korea for years and it should not come as a surprise that President Park Geun-hye, the first female president, was recently impeached for a scandal involving Samsung's (OTC:SSNLF) vice chairman Jay Y. Lee. Samsung is accused of making millions of dollars in donations to a friend of President Park Geun-hye in exchange for approval to merge two Samsung affiliates and consolidate his control over the company.
Prime Minister Hwang Kyo-ahn has taken over as acting president while the courts decide whether to remove President Park Geun-hye from office. If this does happen, then an election will be held in 60 days. In addition to the impeachment, an arrest warrant has also been issued for Samsung's Jay Y. Lee.
These political events will likely stall any government initiatives towards economic reform, such as restructuring the chaebol, tackling household debt, and coming to grips with the aging population.
South Korea Country ETFs
There are essentially two options for investing in South Korean equities. The first option is the iShares MSCI South Korea Capped ETF (NYSEARCA:EWY), while the second is the Deutsche X-trackers MSCI South Korea Hedged Equity ETF (NYSEARCA:DBKO). With Assets Under Management (AUM) of $2.8b and $30m respectively, these are the only ETFs that will be examined. There are five other ETFs in the same space but they don't have sufficient AUM to garner further attention.
DBKO is US dollar hedged. That is the primary difference between it and EWY. As far as sector allocation and stock holdings are concerned, the two ETFs are almost identical.
EWY and DBKO sector allocation
| | | |
| --- | --- | --- |
| Sector | EWY | DBKO |
| Info Tech | 36.75% | 37.25% |
| Financials | 14.11% | 14.39% |
| Discretionary | 13.95% | 14.14% |
| Industrials | 10.78% | 8.97% |
| Materials | 8.80% | 9.21% |
| Staples | 8.04% | 8.15% |
| Energy | 2.59% | 2.63% |
| Health Care | 1.69% | 2.16% |
| Telecom | 1.27% | 1.20% |
| Utilities | 0.24% | 1.91% |
EWY and DBKO top 5 stock holdings
| | | |
| --- | --- | --- |
| Company Name | EWY | DBKO |
| SAMSUNG ELECTRONICS LTD | 22.76% | 23.07% |
| SK HYNIX INC | 4.13% | 4.18% |
| HYUNDAI MOTOR | 3.31% | 3.36% |
| NAVER CORP | 3.2% | 3.25% |
| SHINHAN FINANCIAL GROUP LTD | 2.85% | 2.89% |
As can be seen from the chart below, DBKO is much less volatile than EWY, due to the currency hedge, and may be an all-around better choice for investors who don't want exposure to the South Korean Won.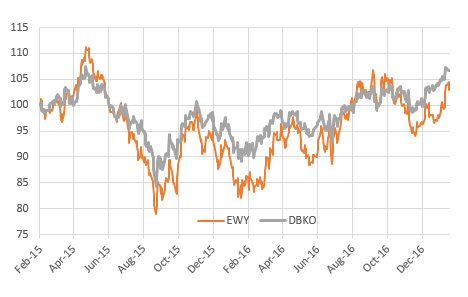 EWY and DBKO stock chart
"The Republic of Samsung"
When we think of Samsung, we think of smartphones and their patent battles with Apple. But the Samsung Group is a network of at least 80 subsidiaries. In fact, Samsung is the largest Chaebol in South Korea and is responsible for a whopping 20% of the nation's GDP. Apart from smartphones, the Samsung Group also includes armored vehicle manufacturing, oil tankers, and appliances, and on and on. In some circles, South Korea is referred to as "The Republic of Samsung."
Samsung's stock weighting is 23% in both ETFs, far higher than any other stock. Therefore, there is no point in analyzing any company other than Samsung.
Summary of major divisions (Source: Morningstar.com)
| | | | |
| --- | --- | --- | --- |
| Division | Products | Net Revenue | Portion |
| CE | TV, monitor, printer, air conditioner, refrigerator, washing machine, medical equipment, etc. | 334,097 | 22.50% |
| IM | HHP, network system, computer, digital camera, etc. | 766,941 | 51.60% |
| DS Semiconductor | DRAM, NAND flash, Mobile AP, etc. | 362,992 | 24.40% |
| DP Business Unit | TFT-LCD, OLED, etc. | 195,090 | 13.10% |
| | Sub-Total | 558,908 | 37.60% |
| Others | - | -174,596 | -11.70% |
| | Total | 1,485,350 | 100.0% |
What catches my interest in the above table is that pretty much every product that Samsung makes is a commodity, whether it be TVs, printers, appliances, cameras, etc. Commodities are low profit / high competition. I guess that should be expected from a company the size of Samsung.
Samsung is the world's largest supplier of OLED TVs, but the they are too new to the marketplace and won't make a dent in the bottom line for a couple of years.
The semiconductor business is cyclical, but DRAM at least, appears to be on the upswing as investors in Micron Technology, Inc. (NASDAQ:MU) have already discovered. If there is going to be a surprise in one of Samsung's divisions, then it would probably be in semiconductors. But Samsung's semiconductor business accounts for less than 25% of the group's total revenues.
And then there is the smartphone business. What can I say? Besides the battery safety issues, the business is challenging. The market has matured, and there is increased competition from low cost Chinese manufacturers.
My conclusion is that Samsung is highly diversified, and with an improving global economy, Samsung profits will improve as well. But there are no bullish surprises that we should hope for.
Conclusions
The South Korean is primarily dependent on exports, and exports have been in a slump since 2012. Future growth will depend on the improving economies of China, the United States, and the Eurozone. China has become more competitive at the low end, with smartphones for example. The United States is threatening to become more protectionist, and the Eurozone is still struggling economically.
Rising political opposition to trade will disproportionately affect the more open economies of East Asia. South Korea falls into this category. A faster-than-expected slowdown in China would be devastating to South Korea. The U.S. Federal Reserve's anticipated rise in interest rates or the next few years could negatively impact global growth.
Economic reforms are necessary in South Korea before the country can reach new heights. The large conglomerates are stifling small and mid-sized businesses. The population is aging rapidly and there are no solutions in place to accommodate the changing demographics. Household debt is high and will dampen GDP growth.
As for the specifics of the ETFs EWY and DBKO, they both hold substantial amounts of Samsung. Due to the diversity and magnitude of Samsung products which are mostly commodities, I don't see any earnings surprises coming around the corner. Samsung growth will be commensurate with the global economy.
South Korean ETFs should be avoided at this time.
Disclosure: I/we have no positions in any stocks mentioned, and no plans to initiate any positions within the next 72 hours. I wrote this article myself, and it expresses my own opinions. I am not receiving compensation for it (other than from Seeking Alpha). I have no business relationship with any company whose stock is mentioned in this article.
Editor's Note: This article discusses one or more securities that do not trade on a major U.S. exchange. Please be aware of the risks associated with these stocks.