How well have the CEFs handled the recovery in Emerging Market Bonds?
I have been looking at my position in emerging market income as the asset class has gone through a welcome recovery. After a prolonged slide, the category picked up through the first half of 2016 then fell sharply after the US election. It's been on a steady march back since.
To get a sense of the category's performance these charts show 3 yr and 1 yr results for the top-rated emerging market bond mutual fund, T. Rowe Price Emerging Markets Bond (MUTF:PREMX) and the largest ETF, iShares JPMorgan USD Emerging Markets Bond (NYSEARCA:EMB).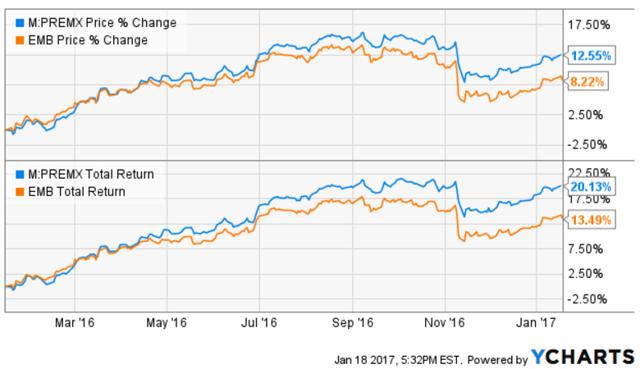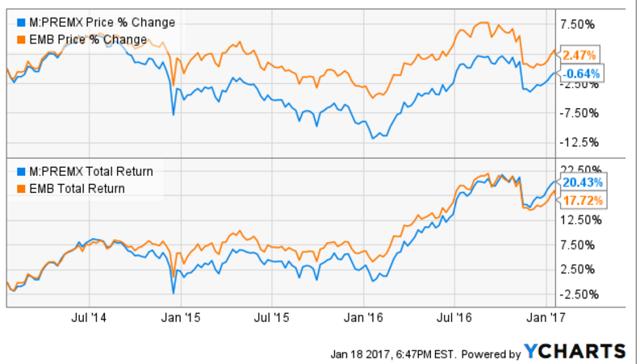 My own portfolio holds exposure to emerging market income in a small position in the closed-end fund, Stone Harbor Emg Mkts Total Income (NYSE:EDI). I have moved between this fund and its sister fund, Stone Harbor Emerging Mkts Income (NYSE:EDF), several times depending on relative valuations for the funds. For the most part it's been a depressing ride but it has provided steady income and the past year or so has been encouraging.
So, let's add those funds to the charts to get a sense for how they have performed. For the past year, they have performed quite well, throttling the mutual fund and ETF.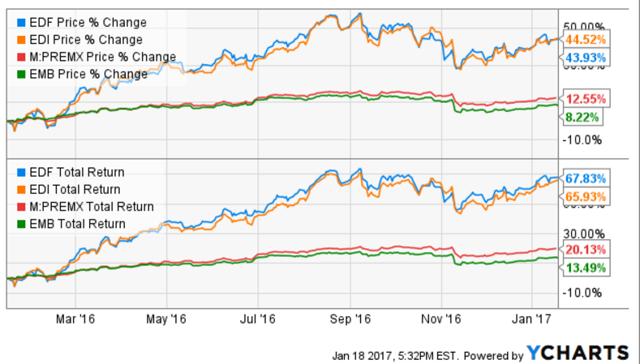 But, volatility is the hallmark of closed-end funds. They can, as seen above, outperform in good times for their category, but the flip side of that coin is under performance during lean periods.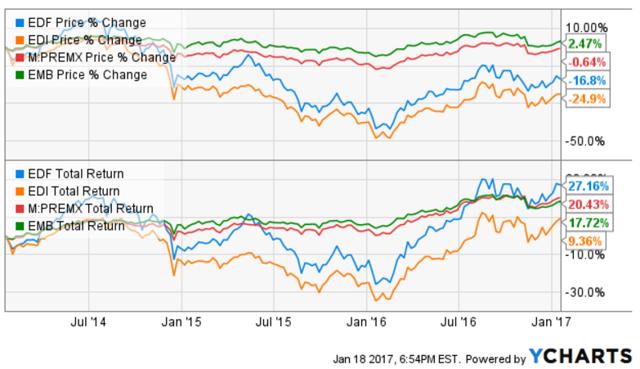 As the next chart shows both funds have had extensive erosion of the NAVs over the past five years (data from Yahoo finance).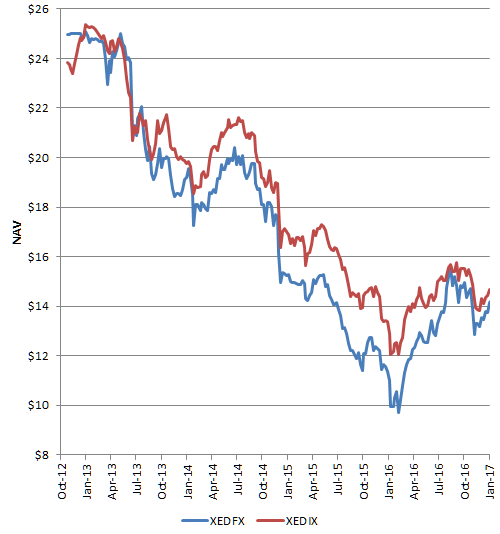 ETF and ETI: Distributions
Let's turn to a look at their distributions. Both funds have managed distribution policies and both have paid a constant monthly distribution since their inceptions ($0.1511 for EDI and $0.1800 for EDF).
EDF's distribution came without any return of capital from the fund's inception (12/23/2010) through its July 2014 payment. EDI had no return of capital from its 10/26/2012 inception through May 2016. Since those dates there has been a steady return of capital as a significant component of the funds' payouts.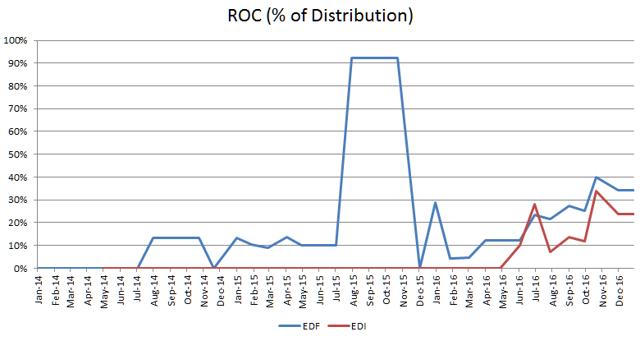 And those payouts are exceptionally high (14.2% for EDF and 12.6% for EDI).
This does, of course, give cause for concern. How sustainable are those high distributions? Although Stone Harbor has been reluctant to reduce the distributions, with this level of return of capital (especially for EDF) one of two results seems to be inevitable. First, the funds continue to draw capital to pay their shareholders leading to extensive erosion of NAV. Or second, the fund cuts distributions to a sustainable level. In these cases would seem to require a cut near 30%. With a 30% cut both funds will still be delivering high yields (near 10% for EDF and near 9% for EDI) but those cuts will certainly be accompanied by a sharp decline in share value. Such declines typically occur as CEFs cut their distributions, especially when the unsustainably high yields that necessitate the cuts have driven valuations are out of line with the category.
The CEFs
To see the extent to which EDF and EDI have stretched valuations at market, let's look at the whole CEF category. There are six funds with total assets over $100M: Morgan Stanley Emerging Markets Domestic Debt Fund, Inc. (NYSE:EDD), Stone Harbor Emerging Markets Income Fund , Stone Harbor Emerging Markets Total Income Fund , Western Asset Emerging Markets Income Fund Inc. (NYSE:EMD), Morgan Stanley Emerging Markets Debt Fund Inc (NYSE:MSD), Templeton Emerging Markets Income Fund (NYSE:TEI).
The portfolios are, of course, unique but they are structurally similar among the funds. The exception is EDI which adds about 7% equity in the mix of various debt instruments.
Distributions
First, distributions for the category which we see in this chart.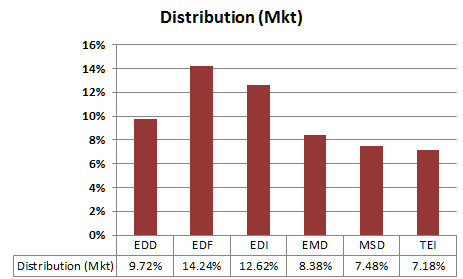 EDF and EDI stand out as yielding exceptionally high income. This high income has led to a willingness by investors to pay premium valuations or settle for minimal discounts. Let's look.
Discounts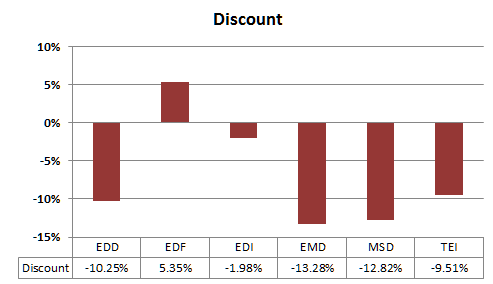 As we see, the premium/discount status for the Stone Harbor funds is out of sync with the category: EDF carries a premium and EDI has a small discount. With the upturn in emerging market debt, have investors not only shown no sign of apprehension on EDF and EDI, they have bid up the entire category as well. Z-scores are uniformly positive with a single exception: EMD at six months.

Certainly, at this time neither EDF nor EDI looks like a good buy for anyone but the most aggressive yield-seeker. EDF holds a premium and EDI has a scant discount. Both have Z-scores at the high end of the category. And both are returning capital at levels that are dangerously destructive to NAV values.
UNII
To underscore the precarious position of the Stone Harbor funds in the category we can look at undistributed net investment income, UNII. UNII data are notoriously difficult to nail down. Funds report it at variable intervals, and the available numbers are often out of date. This next table shows the values given for UNII by cefconnect. I've divided the fund's monthly distribution (or quarterly distribution divided by four) by the UNII to make comparisons straightforward. I've also included the dates for cefconnect's numbers. I've not gone to the sponsors' websites to determine if there is more recent data available. I'd certainly suggest anyone considering a new purchase of any of these funds do so as part of the routine due diligence.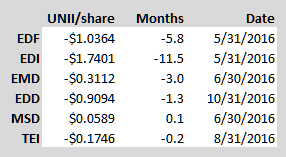 So, the numbers here are consistent with EDF's and EDI's high levels of return of capital. Normalized to the monthly distribution rate, their negatives are two to four times that of the nearest fund.
MSD looks to have the best fundamentals on earning its distributions. The fund is the only one that lists positive undistributed net investment income (UNII). It is also the only one that has raised distributions, going up 17% last with its last quarterly payment. Its distribution has moved up and down over the years in response to market conditions. While EDF and EDI have held their distributions steady, the other four funds have all cut and raised them at times. MSD is also the only fund of the six that has not been paying out return of capital on a regular basis during the category's extended decline.
Leverage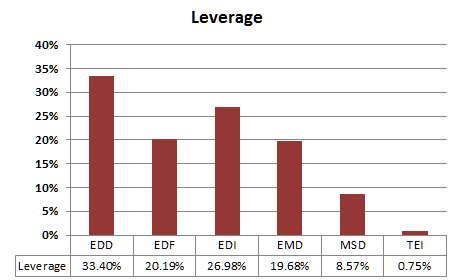 MSD has the second lowest distribution yield in the set. But it also has more modest leverage than all but one of the others. TEI which is unleveraged has the lowest distribution rate.
On the discount metrics EMD looks like it's worth consideration. It has the deepest discount. Its Z-scores that are low for the category and even delve into negative territory for the past six months. The yield is 8.4%, well below the Stone Harbor funds, of course, but above the rest of the pack. There could be some question regarding how threatened might that distribution yield be. EMD tends to reduce its distribution before it becomes unsustainable. UNII is the most negative of the non-Stone Harbor funds and it has been returning capital albeit at a lower normalized level than the Stone Harbor funds. . If you really must get more than 8%, I think it's the choice at that level, but I'd forgo the extra 90bps of yield and go with MSD which l consider a much safer fund at this point
Another Choice
Finally, I would encourage anyone interested in a solid holding in this category to not dismiss the open-end mutual fund from T.R. Price, PREMX. The fund is paying 6.5%, lower than the CEFs but it's doing so without leverage. What's impressive is how PREMX has dominated the total return stats through the cycle. It has not kept pace with the CEFs through the past year's recovery but over the last 3 and 5 year periods it leads all of them.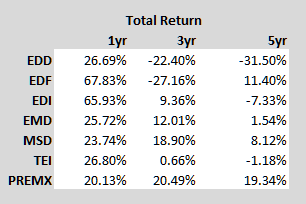 In an inherently volatile category, there's a lot to like about PREMX's ability to tamp down that volatility and maintain a strong performance. That ability is clear from the Sharpe and Sortino ratios (3 yr) where you'll also notice MSD is the best of the CEFs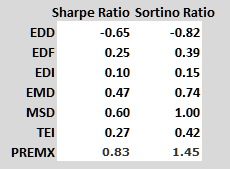 Although I generally prefer CEFs and ETFs over open-end funds, in this case it's hard to overlook the advantages of PREMX. I choose it as something of a benchmark for the category, but as I delve into it, I'm favorably impressed.
Disclosure: I am/we are long EDI.
I wrote this article myself, and it expresses my own opinions. I am not receiving compensation for it (other than from Seeking Alpha). I have no business relationship with any company whose stock is mentioned in this article.
Additional disclosure: I expect to exit my position in EDI soon. I am not an investment professional and this article does not constitute investment advice. I am passing along the results of my research on the subject. Any investor who finds these results intriguing will certainly want to do all due diligence to determine if any security mentioned here is suitable for his or her portfolio.