It might be a busy banks results season but I've had two separate Trump related nightmares this week, both of which were informed by some active debate on Seeking Alpha.
The first of these was a troubling vision of what might happen if the liberal Economist Paul Krugman were ever called into the Oval Office to explain economics to the 45th POTUS in person. I am sure it would be messy, but since it also seems very unlikely we can move on to the second nightmare. Sadly this one seems much closer at hand.
The concern stems from the recent discussion about whether Trump had killed the Trump trade and related to his complaints about the strength of the USD and Chinese currency manipulation.
In one sense of course, investors shouldn't get too distracted when politicians say something transparently silly about the economy. Back in 2013, UK PM David Cameron tried to position his government's austerity policies as benefiting the nation by debt repayment. It is a potent idea: we get on top of the debt and then the cash flow will improve. Just, it wasn't true at all: UK government debt was rising. What Cameron was trying to do was more modest, namely control the deficit as a percentage of GDP. However, he took the chance to present his policies as far more impactful.
In the event, Cameron was rebuked by the UK's official statistics watchdog, not that too many people noticed.
Trump's recent comments though are more troubling because China is central to the dollar path and China, it seems, is central to Trump's trade policies. The matrix of my nightmares is that Trump causes the Chinese economy to destabilize further due to his trade policies (or simply his administration's language about trade policies), which in turn causes the dollar to strengthen. In response, Trump rhetorically blames the troubles caused by the dollar level on Chinese currency manipulation when, in fact, the PBOC is intervening to support the CNY.
My own impression, while I accept Trump is probably smarter then he often appears, is that he might not have yet got on top of the mutual exclusivity of his various statements about China, trade, the USDCNY and USDMXN, and is thus laboring in a state of cognitive dissonance and what breaks that, I don't know. Come to think of it, since Krugman got his Nobel for groundbreaking work as a trade economist perhaps he and Trump will be getting together after all....
US Banks
All this matters for banks investors because the strong dollar was a key restraint on the Fed's raising cycle through 2016 and valuations now assume 2-3 hikes annually through 2017-18 or a drop in corporate income tax to about 20%. Good decision making will be aided by understanding the twists and turns of the Trump-China drama that will soon unfold.
With this in mind, how are US Bank valuations looking this week? The following table is based on closing prices from 18 January.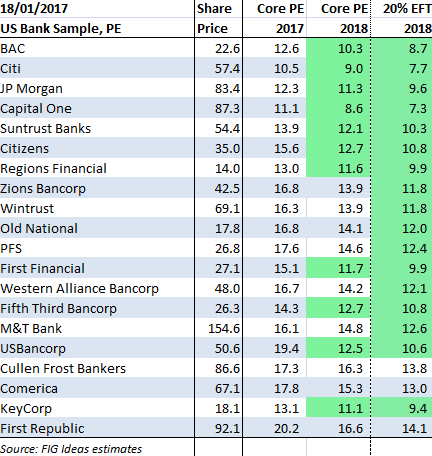 The highlighted cells show PE ratios below 13x EPS for 2018 at current tax rates, and for 2018 under a tax rate of 20% when it is interesting that most banks come in under this level. You can argue that the central column (2018, current EFT) contains a number of names that are attractive since it is quite possible that an acceleration of growth under Trump would lead to upgrades in the EPS numbers underlying these PE ratios.
Conclusion
The Trump trade could at any point give way to the Trump Dump or perhaps just the Trump Dissonance (without wishing to sound like a Jason Bourne movie). But for now, the bank sector seems to be pricing in better growth over the next two years but not better growth and significantly lower tax rates. I would emphasize the cheaper regionals, Bank of America (NYSE:BAC) and Citi (NYSE:C) in a portfolio now, but will happily debate with those who disagree.
Disclosure: I/we have no positions in any stocks mentioned, and no plans to initiate any positions within the next 72 hours.
I wrote this article myself, and it expresses my own opinions. I am not receiving compensation for it (other than from Seeking Alpha). I have no business relationship with any company whose stock is mentioned in this article.