Income investors are no doubt aware of the dividend aristocrats and the benefits that come from investing in them. Aristocrats have historically beaten the S&P 500 (NYSEARCA:SPY) over the long term, by several percent a year over the past 10 years, while doing so with less risk.
Two of the biggest ETFs targeting the dividend aristocrats are the ProShares S&P 500 Dividend Aristocrats ETF (BATS:NOBL) and the SPDR S&P Dividend ETF (NYSEARCA:SDY). These two funds account for nearly $20 billion in investor money and both have rewarded shareholders with 5-star performance. Despite their similarities and high correlations to each other, there is enough differentiation between the two that investors shouldn't automatically assume that the two are interchangeable. In this article, I'm going to examine these two funds to see if either carries an advantage over the other.
Benchmarks
The first major difference in the two funds is the investable universe they utilize.
NOBL uses the S&P 500 as its basis and targets the index's components that have increased their dividends annually for at least the past 25 years. The benchmark will include a minimum of 40 names and be equal weighted with no individual sector comprising more than 30% of the fund's assets. As of the end of 2016, the fund had 50 names in the portfolio.
SDY casts a wider net. Its benchmark, the S&P High Yield Dividend Aristocrats index, uses the S&P 1500 Composite Index as its baseline so the fund's focus on all market caps will tend to skew the portfolio smaller and a bit more aggressive. Beyond that, the benchmark only requires a 20 year history of rising dividends. It's a minor difference that won't help distinguish the funds to any great degree but it's worth noting. The fund currently has more than 100 holdings.
Sector Composition
Not surprisingly, the sector composition of the two funds is fairly similar.
NOBL is overweight in consumers (38% vs. 26%), industrials (20% vs. 17%) and healthcare (13% vs. 6%) while SDY has greater investment allocated to financials (15% vs. 8%), utilities (9% vs. 2%) and real estate (8% vs. 2%).
The near ⅗ allocation to consumer and industrial stocks in NOBL strikes me as a bit heavy for areas of the market that are a bit expensive but that type of allocation is to be expected given the cash-rich nature of many of these businesses. SDY is the more rate sensitive of the two portfolios. Financials should do well in the rising rate environment but the utilities and real estate holdings could struggle.
Market Cap
As mentioned earlier, the all cap nature of SDY is going to give it a lean towards smaller companies and is likely the primary differentiator between the two funds.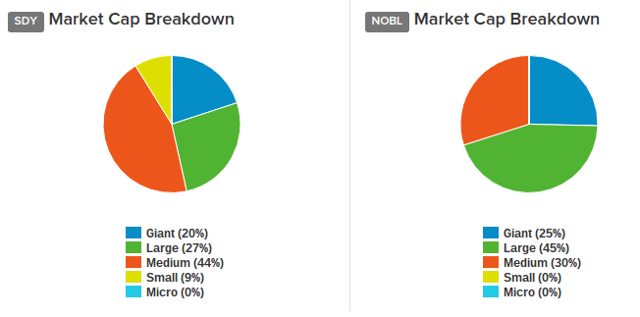 While SDY is categorized as a large cap value fund by Morningstar, its style box puts it closer to the mid cap value area. The fund's asset allocation essentially confirms this, as it has essentially equal allocations to large and mid caps with about 10% dedicated to small caps. NOBL looks a little more like a traditional large cap value fund even with the 30% allocation to mid caps. Morningstar rates SDY as slightly more value oriented, a contention that I'd agree with based on the overall composition of the two funds.
Fundamentals, Expenses and Dividend Yields
Neither of these funds is terribly cheap as both sport forward P/E ratios in the 20-21 area but SDY seems to be a little less expensive comparatively. It has a P/B ratio of 3.0 and a P/CF ratio 11.7 compared to the 3.6 and 13.5 ratios, respectively for NOBL.
Expense ratios for the two funds are identical at 0.35%. That's a little high considering you can get other large cap dividend ETFs such as the Schwab U.S. Dividend Equity ETF (NYSEARCA:SCHD) and the iShares Core Dividend Growth ETF (NYSEARCA:DGRO) for under 10 basis points but it's not completely unreasonable.
The funds both quote similar yields around 2.6% although a look at the trailing 12 months tells a little different story. Looking back over the past couple years, SDY yield has consistently topped the NOBL yield by around 50 basis points.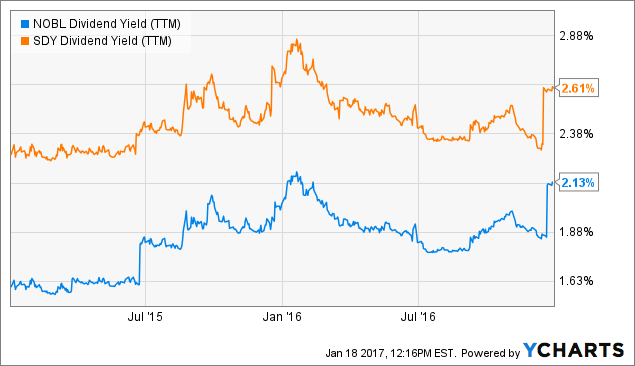 NOBL Dividend Yield (TTM) data by YCharts
Portfolio Risk
NOBL has traditionally been riskier than SDY but the difference hasn't been significant. The historical standard deviation of daily returns shows NOBL to be roughly 5-10% riskier than its counterpart.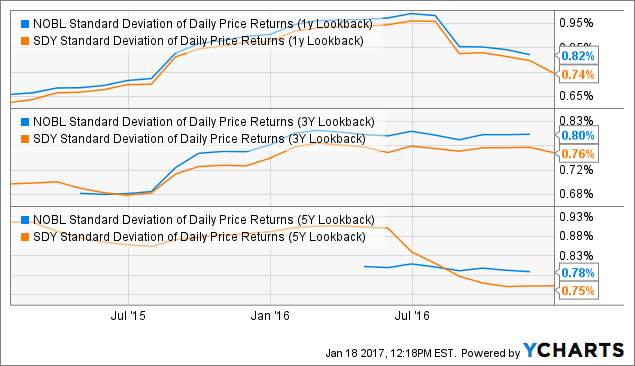 NOBL Standard Deviation of Daily Price Returns (1y Lookback) data by YCharts
That may be a little surprising considering NOBL dips further into the mid caps and small caps than its counterpart but keep in mind that Morningstar rates it as slightly more value oriented as well.
Historical Returns
When examining how the funds have performed in the past, it's probably easier to look at the backtested results of their benchmark indices.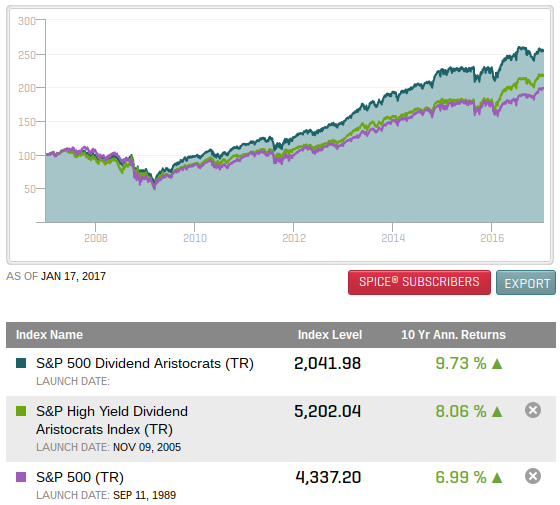 The S&P High Yield Dividend Aristocrats Index, the index that SDY is based upon, has beaten the S&P 500 by a little more than 1% per year over the past decade. The S&P 500 Dividend Aristocrats Index, the benchmark for NOBL, has outperformed by nearly 3% per year over the same time frame.
Despite the outperformance of mid caps and small caps over the past 10 years, the dividend aristocrat universe is one instance where being more heavily weighted in smaller companies wouldn't have paid off.
Conclusion
Considering that both funds have beaten the S&P 500 over the long term, carry below market average risk, pay above average dividend yields and maintain 5-star ratings from Morningstar, it's kind of difficult to declare one of them a winner and the other the loser when, in reality, both are great funds.
NOBL has beaten the S&P Dividend ETF's performance over the past decade but has done so with somewhat higher risk and a historically lower dividend yield. SDY is more diversified with twice as many holdings and searches across all market caps for strong dividend growers.
NOBL looks more like a traditional dividend fund in that it's heavy in consumer and industrial stocks whereas SDY's focus is on yield first. I think it ultimately comes down to investor preference and which characteristics (yield, diversification, etc.) are most important. In reality, you really can't go wrong with either fund.
----------
If you're interested in more ETF analysis and dividend income strategies, please consider following me by clicking on the "Follow" button at the top of this article next to my name. Even if you don't, thanks for taking the time to read!
----------
Disclosure: I/we have no positions in any stocks mentioned, and no plans to initiate any positions within the next 72 hours.
I wrote this article myself, and it expresses my own opinions. I am not receiving compensation for it (other than from Seeking Alpha). I have no business relationship with any company whose stock is mentioned in this article.