"...silver ewers, lengths of holland, wheatmeal, tobacco, revolvers...Yet seldom were these articles conveyed home, since, as a rule, the same day saw them lost to some more skilful gambler." - Nikolai Gogol, Dead Souls
Currency valuations are important for several reasons. Among tendered notes, the United States dollar is probably the most closely watched. The effects of a rising dollar are manifold: commodities, multinational corporate earnings, and the debt of nation states can all be affected.
If anyone has an exact formula to precisely value what a floating exchange rate should be it is unknown. I subscribe to the perspective, which is in contrast to that found in at least one microeconomics text, that expectations for changing interest rates drive valuation and that fundamentals such as the current account determine the magnitude of the movement. As all signs suggest a domestic orientation toward protectionism that could include tariffs - perhaps beginning as soon as Friday with instructions to the new treasury secretary to label China a currency manipulator - the media is chock full of commentary about the effects of a strengthened current account on the dollar.
Foreign exchange can affect corporate earnings. It also might eliminate hundreds of thousands of jobs. It is going to be a persistent consideration to the Federal Reserve System. Action on borrowing costs is probable to remain on hold until March, after a recent and substantial rise in treasury yields.
click to enlarge)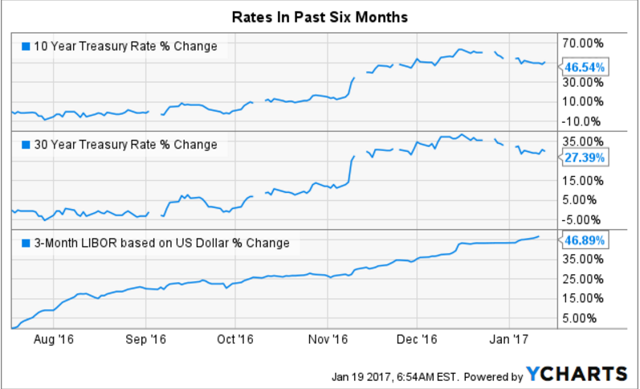 Stocks perhaps have further near-term upside. However, commentators behind some 2016 headlines describing tail risks to equity markets could even be confronted with something closer to the real thing in the future. Meanwhile, all indications are that every domestic effort is being made to flood the market with oil. There could still be a severe recession even if energy costs remain subdued; however, a decline in the business cycle itself might not defeat the stock market. For that, a combination of factors including surging fuel and/or currency could be necessary.
In the meantime, President-elect Trump has been following through on his political mandate, communicating that drug prices are too high, that offshoring labor has consequences, and that weapons are too expensive, among other issues. Some of these matters are new at the forefront, resulting in a need for adjustment among investors.
Gold, being a commodity precious metal and haven asset, is influenced by everything discussed above. It had been declining with rising borrowing costs and has recently bounced in the past two weeks. It can perhaps find some stability in the near term with an effort to keep interest rates and the dollar subdued. One way to trade gold is through the ETF (NYSEARCA:GLD) that tracks its price.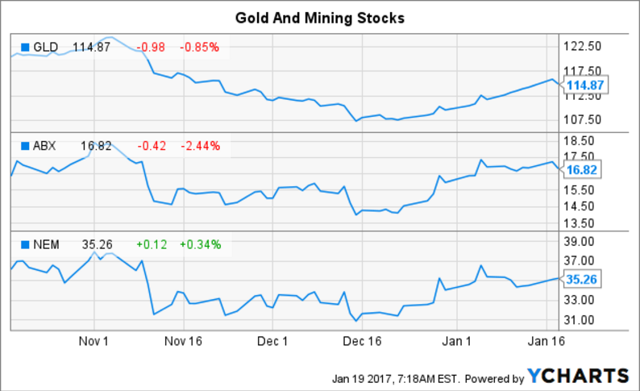 Gold mining stocks can also have appeal. Among them, Barrick Gold (NYSE:ABX) is consistently identified as the world's largest, and among the lowest cost, producers, though it has exposure to copper. It has made substantial headway at eliminating debt. The firm should announce quarterly earnings in mid-February. Newmont Mining (NYSE:NEM) is a close competitor, without exposure to the building material, though there are several legal and regulatory issues disclosed in its SEC filings that might merit caution.
Here is a Simply Wall Street graphic comparing balance sheet considerations:
click to enlarge)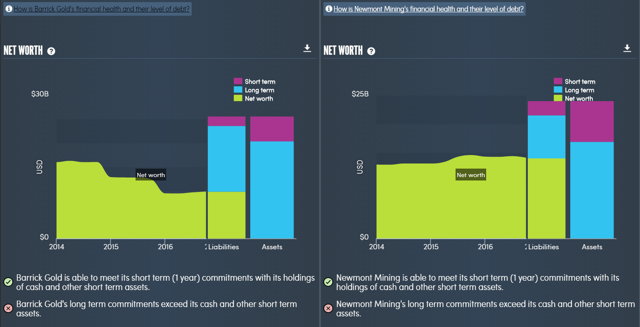 Because the dollar's valuation is such an important issue, it can result in active effort to keep interest rates in check. Meanwhile, a transition is underway in which varied industries are being confronted with aspects of their businesses that may not be consistent with national objectives. As a result, the downside in gold could be limited over the next several weeks, at least.
Disclosure: I am/we are long ABX.
I wrote this article myself, and it expresses my own opinions. I am not receiving compensation for it (other than from Seeking Alpha). I have no business relationship with any company whose stock is mentioned in this article.