Introduction
Once a superstar on the Street, GNC (NYSE:GNC) is in dire need of a fresh start. Shares plummeted over 60% in 2016, resulting in the loss of hundreds of millions in market cap. Since its peak in 2013, the company has shed over $5 billion in shareholder value. To put it lightly, current investor sentiment is bearish. Analysts everywhere are slicing earnings and fair value estimates, Piper Jaffray being the most recent, slapping a $7 price target on the stock. Even CEO Robert Moran openly admitted the company needs to "fundamentally change the way we operate." All this pessimism resulted in a massive selloff throughout the past year, and while the stock is off to a decent start in current year, hope for the future seems to be dwindling.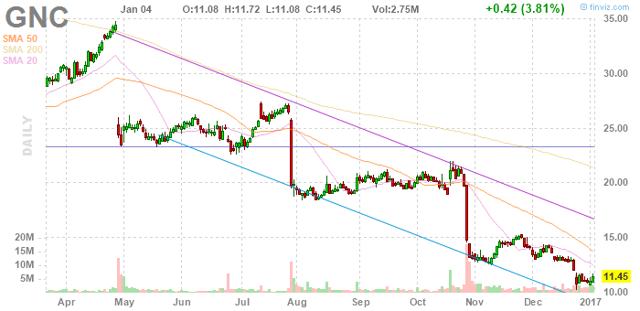 Surviving the Times: A Few Thoughts on Strategy and Industry
Amazon (NASDAQ:AMZN), Wal-Mart (NYSE:WMT), and Costco (NASDAQ:COST) GNC are luring away GNC's customers at a rapid clip, leaving management scrambling for solutions. In a move that appeared desperate, GNC temporarily closed stores on Wednesday, December 28, to launch an initiative called "One New GNC." During the shutdown, leadership announced its intent to implement a new loyalty program and mobile app, and discussed the need to revamp its current pricing structure. Wall Street loathed the move, punishing shares by 4.5%.
Keep in mind, the concern surrounding GNC's business model is not that their products are somehow inferior to their competitors'. Rather, the real issue relates to the perception of convenience for the consumer. It's not as if Wal-Mart, Amazon, or Costco offer more effective supplements; rather, they offer the same items in a more convenient manner, oftentimes at a slightly lower price. Unlike online streaming to Blockbuster, or Digital photography to Kodak, e-commerce is not necessarily a death sentence for GNC. However, the company must re-examine and augment certain aspects its strategy. In my opinion, GNC must differentiate themselves by concentrating heavily on user education and customer service, and price match, when feasible. Best Buy (NYSE:BBY) used a similar strategy in its own fight against Amazon with fantastic results. In 2013, the company launched an initiative focused on cutting costs, offering competitive prices, and providing excellent customer service. BBY hit a low of $11.29 in 2013, but currently trades around $42, due to the success of their strategic initiatives.
As a general recommendation, GNC should taper its growth rate in new stores, and on focus on implementing the strategic initiatives noted above in its existing locations. Studies on maturing companies show that a constant emphasis on growth oftentimes ends up diminishing shareholder value. When a firm's growth phase appears to be over, it's best to leverage existing infrastructure to attempt to grow revenues at a rate faster than expenses, thus generating earnings growth, thus creating value. Attempting to aggressively open new stores to spur growth is at best a risky endeavor, and at worst an inevitable disaster. The reason for the latter, intuitively, is that new infrastructure ties up capital (weakening liquidity) while increasing expenses (potentially shrinking profits- if top line growth cannot offset these marginal costs).
The overall direction of the supplement industry poses additional important questions, which every prudent investor should consider. Studies released over the past several years cast doubt on the effectiveness of supplements, and even suggest many could actually damage a user's health. I cannot claim to possess the skills necessary to evaluate the legitimacy of these studies, but when in doubt, it's generally best to trust science. Here is where I believe GNC might hold a competitive advantage over its peers. While employees at GNC might not be "experts," they are trained to understand various vitamins, herbs, and supplements nonetheless. In an era when the efficacy and safety of said products is increasingly in question, consumers might feel compelled to purchase from an established, reputable source, and may wish to ask in-person questions about what precisely they're putting in their bodies. Admittedly, the average GNC employee might lack the knowledge to sufficiently answer such questions, but perhaps consumers are more likely to trust a real person over a big-box employee, or a written product review online. Or, alternately, since supplements are somewhat of a low-cost commodity, consumers might not feel the need to consult an "expert" in person. If the latter thesis proves true, GNC is deep trouble.
Given the competitive landscape, expectations for top and bottom line growth should be extremely conservative, if not downright pessimistic. Online retailers such as Amazon, and value focused brick-and-mortar retailers like Wal Mart and Costco will continue to pose a legitimate threat to the company. It might be tempting to view GNC as a potential value play, but don't be fooled, shares are not yet approaching a reasonable estimate of intrinsic value.
Poor Asset Composition and Massive Debt
1.5 billion dollars in long term debt looms imposingly on GNC's balance sheet, a majority of which bears interest at variable rates. The largest loan, with a balance of 1.17 billion as of September 2016, matures in March, 2019. GNC lacks the assets pay off this debt in full. As of 3Q 2016, the company holds cash of $37.2 million down a staggering 77% from the same quarter last year. Additionally, inventory is up 13%, from $551.8 million as of 3Q 2015, to $621.9 million as of 3Q 2016. These trends are extremely concerning for a firm so highly leveraged. PPE and intangibles comprise a majority of the remaining asset balance, both which provide little utility in alleviating the company's liquidity issues. Management will likely make every effort to extend the maturity date on its note, but in order obtain favorable terms, they need to demonstrate operational and financial improvement. The firm could raise cash through the issuance of common stock, but doing so would severely dilute the value of shares currently outstanding.
Note the screenshots below from the company's most recent 10Q, illustrating total debt per the balance sheet, and various detail per the notes.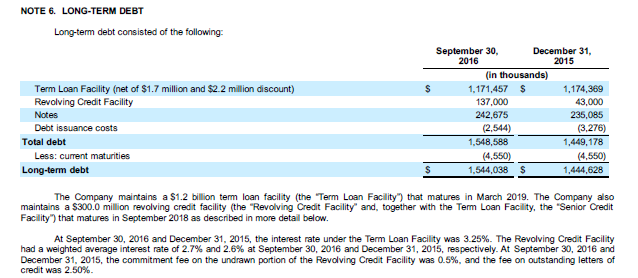 Per GNC's 2015 10k, the remaining balance on the term loan, a monstrous $1.2 billion, is due in full in March, 2019.

Over the past several years, investors have watched debt steadily increase, while operating cash flow and liquid assets have shrunk. Should this trend continue, shareholder value will erode even further.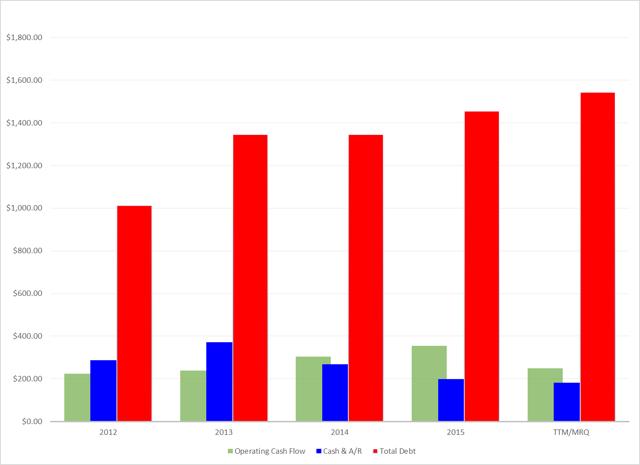 Shrinking Top and Bottom Lines
As illustrated in the table and graph below, growth is slowing significantly. Trailing twelve-month revenue is roughly 2% lower than 2015 revenue, however, this figure could improve with strong 4Q sales. Nevertheless, gross profit, operating income, and net income should all decrease by as much as 13% in 2016. Additionally, note the deterioration in gross, operating, and net margins. Gross margin and operating margin are both on track to drop approximately two percentage points FYE 2016. Assuming slowing growth in top and bottom lines, efficiency must improve to create value for shareholders. Assuming declining top and bottom lines, most certainly a legitimate possibility, it is absolutely imperative for margins to strengthen.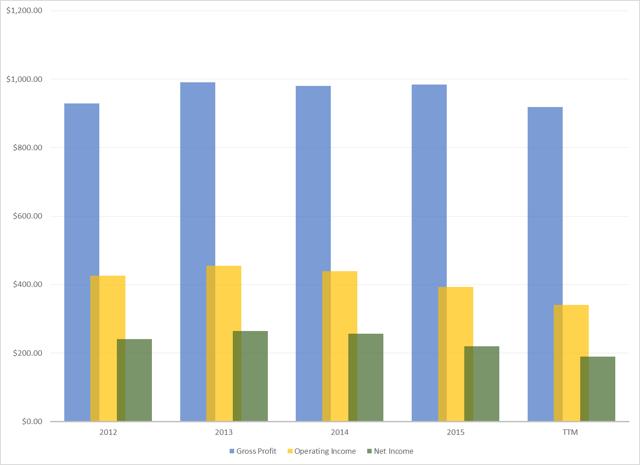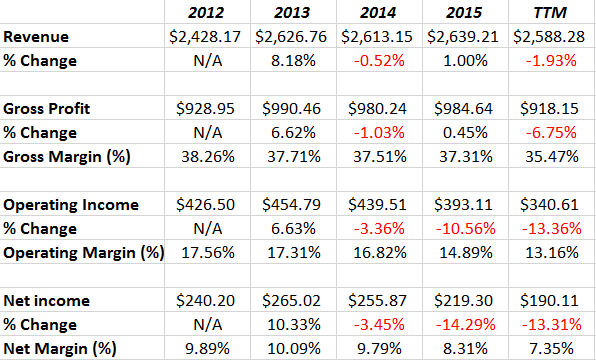 Valuation Ratios
Some analysts cite favorable metrics such as price to earnings, price to free cash flow, and price to sales as evidence supporting a bullish stance on the stock. Indeed, on the surface, these figures seem promising. With a price to earnings ratio around 4 and a price to free cash flow ratio around 5, GNC might appear undervalued. However, when considering the firm's financial condition, along with diminishing growth and recent poor share performance, the relative valuation figures appear quite appropriate. Price to earnings seems low, but this is reasonable given declining net income. Price to free cash flow might look favorable, but again, many expect cash flow to continue to weaken. Dividend yield currently sits at 7%, quite attractive on the surface, but not when considering the company's dwindling cash balance and massive debt. In sum, do not be enticed by these metrics; they all appear reasonable given the circumstances.

Fundamental Valuation
In valuing the company using a basic DCF model, I assume year zero free cash flow to the firm of $198.77 million, GNC's trailing twelve-month operating cash flow, minus capital expenditures of $50.77 million. To determine free cash flow to equity, I add trailing twelve-month net borrowing of $418.21 million, and subtract trailing twelve-month interest expense, net of tax, of $41.45 million. Thus, free cash flow to equity in "year zero" equals $575.53 million.
My cash flow forecasts are conservative, but reasonable. I generously assume a 1% growth rate in operating cash flow, and a steady decline in capital expenditures. In all periods, FCFE is impacted significantly by large payments on debt. In year 2, I assume the company will pay the $137 million outstanding on their current LOC in full (see figure above). Additionally, I assume an extension will be granted on the term loan due in March, 2019, and that the firm will shell out 75% of the total balance during the periods. These payments yield a total annual impact on FCFE of $175.72, determined by taking 75% of $1.17 billion in term debt, and dividing by five periods.
In calculating the cost of equity, I utilize a risk-free rate of 2.55 %, representing the yield on a 10 year U.S. treasury note. I assume a market rate of return of 9.84%, implying a risk premium of 7.29%. My beta calculation blends the standard deviation method and a bottom-up approach, and comes in at .646. Thus, the cost of equity used in my model is 7.26%, determined by adding the risk-free rate to the market risk premium multiplied by the stock's beta.
The assumptions discussed above, and illustrated below, yield a fair value per share of $8.55, 34% below the stock's current market price of $11.44.


Final Recommendation
GNC's poor recent performance and weak financial position have depressed shares considerably, but likely not yet to a point below intrinsic value. Any potential upside at this point is overshadowed by the company's looming debt, deteriorating financial condition, and challenging competitive landscape. I consider GNC a "sell", and assign a fair value of $8.50 to the stock. If the company is unable to renegotiate a majority of its debt, however, it would not surprise me to see shares fall into the $5 range over the next 12-18 months. Avoid going long for the foreseeable future. If you're interested in trading the stock, monitor the debt situation during the coming periods, and look for an opportunity to either go short, or purchase put options.
Note: on 1/19/17, Goldman Sachs downgraded shares of GNC, and assigned a price target of $8 a share. The stock is currently down 12% as a result.
Disclosure: I/we have no positions in any stocks mentioned, and no plans to initiate any positions within the next 72 hours.
I wrote this article myself, and it expresses my own opinions. I am not receiving compensation for it (other than from Seeking Alpha). I have no business relationship with any company whose stock is mentioned in this article.