While a major source of oil production upstream Alaskan operations don't get a lot of time in the media, which isn't entirely justified in light of recent developments. ConocoPhillips (NYSE:COP) and to a lesser extent its partner Anadarko Petroleum Corporation (NYSE:APC) are major players in the state with a series of projects worth keeping on your radar.
For some background information, the National Petroleum Reserve of Alaska (abbreviated NPR-A) is to the west of Prudhoe Bay. Set aside by president Warren G. Harding/ Calvin Coolidge in 1923, the NPR-A is home to an immense amount of hydrocarbons. It wasn't until the 1990s that leasing activity started up, with commercial production not starting until the CD5 project came online in 2015.
Major discovery
The More Alaska Production Act of 2013 helped spur additional drilling activity in the state to find oil & gas prospects that would offset natural declines from mature fields in the North Slope region. With a greater incentive to invest in exploration endeavors, ConocoPhillips (78% stake and operator) and Anadarko (22% interest) were able to locate the Willow prospect in the Greater Moose Tooth unit in the National Petroleum Reserve of Alaska.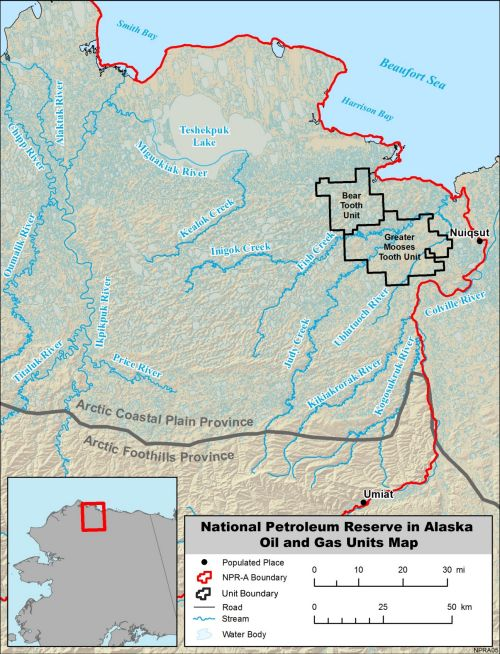 Source: BLM Alaska
The Willow prospect was located by the Tinmiaq 2 & 6 wells that were drilled in early 2016. Respectively, those wells discovered 72 feet and 42 feet of net pay. Located 28 miles west of the Alpine Central Facility in the Alpine Field, the find houses 300 million barrels of recoverable oil. To get a better idea of what to expect ConocoPhillips is launching a 3D seismic program in January 2017.
It won't be until 2023 at the earliest that the Willow Field starts producing a commercial amount of oil, after the Tinmiaq 2 well produced a sustained 3,200 bo/d (44 degree API) during a 12 hour test period.
When it does it will be the beneficiary of midstream infrastructure nearby and Conoco's cost reduction efforts that pushed its average Alaskan cost of supply down to $40/barrel. As Alaskan upstream realizations are based on the Alaskan North Slope benchmark (known as ANS), which trades close to Brent, production streams tend to realize slightly stronger prices than WTI.
ConocoPhillips is aiming for a peak production rate of 100,000 bo/d gross from the Willow prospect, depending on its appraisal efforts. That would represent around a fifth of Alaska's current crude oil production, a huge amount from just one find. One that could revitalize the entire oil & gas industry in the state, making this a key resource to keep in mind.
To capitalize on the find Conoco and Anadarko won the lease rights to 594,972 gross acres across 65 tracts in the Western North Slope area from the federal government. In a state lease sale ConocoPhillips by itself won 74 tracts covering 142,280 gross acres in the same region.
Significance to ConocoPhillips
During 2015, ConocoPhillips produced an average of 178,000 BOE/d net from its Alaskan operations which included 158,000 bo/d net (in other words an 89% oil mix). The Greater Prudhoe Bay Area represented just over half of that but where the real growth will be going forward is in the Western North Slope region. That includes the Alpine Field, its various satellites, and now the Willow prospect.
The Western North Slope region pumped out 30,000 BOE/d net to Conoco on average in 2015 (a level that has since moved higher), making it a relatively small portion of the firm's overall production base. However, Conoco's high 78% interest and operatorship position shouldn't be underestimated.
While its Alaskan unit has seen its production steadily decline over the past few years (a decades long trend) discoveries like the Willow are what could turn that picture around.
78% of 100,000 gross bo/d is 44% of its current net production base in Alaska, which on top of its other projects in the region could turn the division into a growth generator. As these projects sport favorable economics, steady low-decline cash flow streams, and actual breakeven rates in a $40s ANS/Brent world, investors shouldn't discount the favorable impact of major Alaskan discoveries.
Other noteworthy projects
Going back to the CD5 development, that was another venture between ConocoPhillips and Anadarko Petroleum. The first phase came online in October 2015 and a second phase was launched in early-2016 to bring the site to full capacity, which should have been completed by the end of 2016. At its peak, the CD5 development should pump out 16,000 BOE/d gross.
The CD5 project is an extension of the Alpine Field in the North Slope region, which Conoco (78% interest and operator) and Anadarko both have a stake in. As ConocoPhillips brought the project online ahead of schedule and in a cost effective manner, this is a strong vote of confidence for future NPR-A developments.
Building off of the CD5 expansion, Conoco aims to bring the Greater Mooses Tooth 1 development online by the end of 2018. This is another Alpine Field satellite which will leverage the infrastructure Conoco builds at the CD5 complex. At its peak, the GMT 1 venture should produce 30,000 bo/d gross. This is another NPR-A project, and construction is expected to begin soon.
There is also the GMT2 project in the works which would be tied into facilities at the GMT1 development. It still needs regulatory approval and most likely won't reach first oil until at least 2020, but Conoco is showcasing that it has a series of projects in the works that could do more than just counterbalance natural decline rates and generate real production growth.
Over at the Kuparuk Field (55.3% interest, operator) Conoco's Drill Site 2S development came online in October 2015. ConocoPhillips' interest in the Greater Kuparuk Area ranges from 52.5% - 55.5%. During 2015, this asset produced an average of 51,000 bo/d net to Conoco.
While not quite as interesting as the Western North Slope area, this division does have the Northeast West Sak project to look forward to. Construction is expected to start this year with first-oil guided by the end of 2017. The venture is developing the West Sak reservoir in the Kuparuk Field and aims for a peak production rate of 8,000 bo/d gross.
Final thoughts
ConocoPhillips and its partner Anadarko Petroleum Corporation's Alaskan venture doesn't really get the attention that this asset deserves. Maybe the Willow find will begin to change that a little bit, especially when considering the possibilities there will be other discoveries in the not-so-distant future.
Investors should keep in mind that ConocoPhillips' ongoing production costs are far below where oil prices are at today. For new projects, an average cost of supply (which is different than incremental well returns at unconventional plays, ConocoPhillips' CoS guidance takes a lot into consideration and should be viewed seriously) around $40/barrel makes this an asset worth developing in the current environment. Returns even in a $60 Brent world a couple of years from now should be very solid.
This is another piece on what makes ConocoPhillips a solid upstream firm worth considering as an investment, which investors can read more about in this article here. One needs to look at each part of the firm's asset base to truly get an idea of what ConocoPhillips is doing to do to generate value for shareholders in the years ahead. Alaska is going to be part of that story, especially now that the National Petroleum Reserve of Alaska is on the development table.
Disclosure: I am/we are long COP.
I wrote this article myself, and it expresses my own opinions. I am not receiving compensation for it (other than from Seeking Alpha). I have no business relationship with any company whose stock is mentioned in this article.