HollyFrontier (NYSE:HFC) has been one of the major beneficiaries of the rising crude production in the U.S. Its 5 inland located refineries with a relatively high Nelson complexity of 12.2 were perfectly located to profit from additional supply of crude. It buys crude at a discount and sell product at a premium in local markets. This because of its superior location compared to the Gulf Coast refineries. New pipelines have diminished this effect to some extent but an advantage will exist as long as crude is produced close to the refineries. Additionally the potential for the Brent spread to widen again when prices of oil rise give an opportunity for additional profits.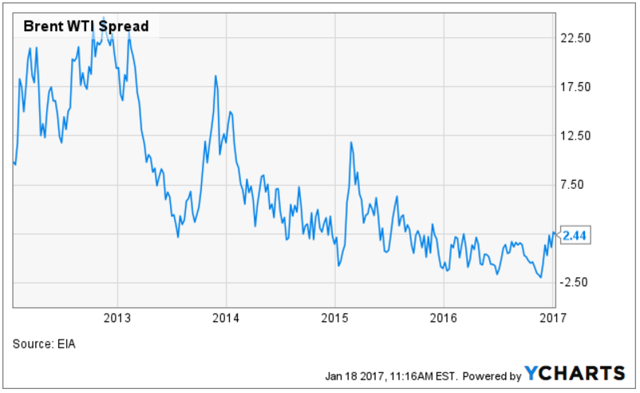 Midstream
To source the necessary crude and transport product the refineries need infrastructure. The vehicle through which HollyFrontier participates in this infrastructure is an MLP named Holly Energy Partners (NYSE:HEP).
HollyFrontier owns 37% of HEP of which 2% is GP interest. The distribution to HollyFrontier amounted to more than $100M in combined LP and GP distributions in 2016. What is interesting to note is that distributions are increasing rapidly and the GP distributions in particular are increasing rapidly.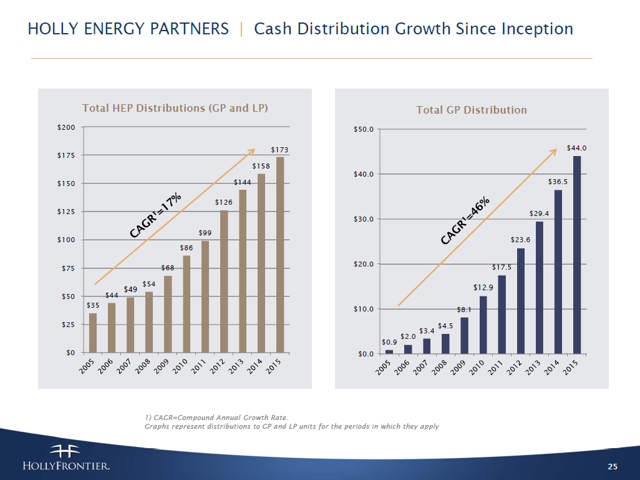 The acquisition of Petro-Canada
As most investors found out in 2016 the margins in refining can swing violently. To be better protected against these swings most of the largest producers are integrated. With the acquisition of Petro-Canada HollyFrontier expands in the production of specialty Lubricants which have an higher and more stable margin. Furthermore, Petro-Canada is the sole producer of Base III oils in North America. With the acquisition it also acquirers additional knowledge and a sales force which can be used to make better use of its Tulsa Lubricants facility. The acquisition is done at a time that few people want to invest in the refining space. The acquisition is done below replacement cost and immediately accretive to EPS. Petro-Canada is bought for $845M of which $257M is working capital. Ebitda is expected between $100-200M while maintenance and turnaround cost are estimated to be between $25-75M a year. In addition HollyFrontier expects $20M in synergies from 2018 because of the integration with the Tulsa facility and combined sales and distribution.
Risks
The refining industry is cyclical and is characterized with very low margins. Compression of these margin can have large effects on the profitability of the entire refining industry and is largely outside the control of companies. New investments in capacity to process the additional supply of crude can potentially lead to lower profit margins as the crack spread declines due to competition. Overcapacity is a real danger for the industry as cars become more efficient and more electric vehicles are sold. Diminishing the demand for gasoline the primary product of refineries.
Focusing on niche products like lubricants can be an effective strategy to get higher and more stable margins which is the primary reason for the acquisition of Petro-Canada.
A risk for HollyFrontier is that declining transport cost because of new pipelines will lead to a declining difference in product prices between its markets and the Gulf Coast while discount at which it can buy crude decreases as well. Additional pipelines however also allow HollyFrontier to access new markets and source crude for efficiently. Transport cost while declining will still give local producers an advantage which benefits HollyFrontier with its inland positioning.
Low debt
Low debt level creates optionality, it makes it possible to buy Petro-Canada while others in the industry may have to cut their dividends. Since this industry is very cyclical having low debt levels is prudent since moderate looking levels of debt can become large very quickly when the cycle turns. After the acquisition of Petro-Canada the debt level of HollyFrontier is still low. It does not hold a net cash position anymore but net debt is only 11.5% of its capitalization more in line with its conservative competitors (when the higher market cap is taken into account).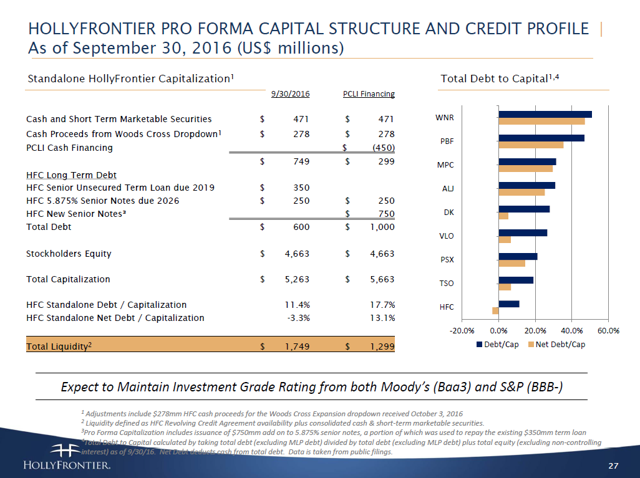 Valuation
HollyFrontier is expected to earn around $1,025M in EBITDA from its core operations and $100M from the Petro-Canada acquisition for a conservative total of $1,125M EBITDA. Taking the expectations of high costs it needs to spend $125M on maintenance, $125 to comply with new regulation, $150M in turnaround and $75M on Petro-Canada which totals $475M.
Management expects to invest $100M in growth projects internally which leaves us with $ 550M to cover dividend payments of $233M. Even when the growth projects do nothing to grow the company and new legislation does not improve the tax and RIN's situation. Then HollyFrontier still trades at a free cash flow yield of 10.3% and a dividend of 4.35%. Which makes it an attractive proposition given its low debt level and strategic position.
Supporting Documents
Disclosure: I am/we are long HFC.
I wrote this article myself, and it expresses my own opinions. I am not receiving compensation for it (other than from Seeking Alpha). I have no business relationship with any company whose stock is mentioned in this article.